THOUGHTS
My thoughts lately have been all over the place. A mixture of work related mundane things to do, the desire to get out more but also to save
 money. I can't stop thinking about this summer and where Mr Italy and I will venture off to next. I'm also thinking he should take an English exam with the school I work in. He's incredibly good at English, so I think perhaps he should take the Proficiency exam. Maybe it'll help him find work in the future? He could take a TEFL like me and we could find work in China! But I think he'd much rather work with animals than teach English. We both want to do a great deal of volunteering with animals, but once we're a bit more stable financially.
There's only 3 months (14 weeks precisely) until the end of my contract here in Somma Vesuviana, Naples. There's a long weekend in April off for Easter holidays. Could we make a quick trip to Sardinia? Don't really have the money. Will come back to this. Also thinking about spending a week in Sicily at the end of my work contract. I want Mr Italy to show me around his beautiful island! I want to laze around on a beautiful beach and meet all his friends. I really gotta get on with learning Italian. Will come back to this.
The next salary will pay off my credit card
 on the exact same day that the 12 months of 0% interest expires, yay me! No savings. Need to look into getting another credit card. I'd like to put my flights to Kenya on it and if possible, not have any interest. Oh yes, Kenya! I'm going to Kenya in July and staying for 2 months. I'm so excited!!!!! I'm going to be a volunteer English teacher. It's about time I did something good. I'm hoping somehow Mr Italy can tag along. He needs some adventure and Africa would get him right out of his comfort zone (which is of course, where all the magic happens!) but expenses for board, food, flights, vaccinations, bla bla bla, it's not really an option for him. Will come back to this in a few months…
I'll fly home from Kenya near the beginning of September to switch over the clothes in my case back to suitable European teacher-type clothes. We're thinking of Spain or Portugal, somewhere touristy (and warm) so we can both find work easily and make a load of friends. I was thinking about China, but the fact that I won't be able to afford flights home at Christmas deterred me. Christmas is the one holiday I truly love and I shan't miss it! So for now, we've gotta stay closer to home.
Music
Canada- Milow
"I'm gonna move to Canada yeah I've made up my mind,
leave everything behind.
I'll catch a plane,
fly away from this rain.
I'm gonna move to Canada
I'm gonna meet Neil Young,
I just know we'll get along.
Show up at his house, convince him and his spouse.
I'll pick up my guitar and play a couple of my songs, that I'll sing at the top of my lungs.
Mr Young will be impressed and offer me a record deal,
and tell me to call him Neil.
We'll have a ball until Canada's too small.
Then I'll pack up my guitar and I will move to the US to be a sensation of success.
After Canada the USA's a piece of cake,
all the sales records I'll break,
"the best things since the Beatles"
is what magazines will write,
with my guitar and band I will conquer every town,
me, the singing rock'n rock clown.
–
Still wanna move to Canada
but for now I'll just stay here.
I think it's best for my career,
when I get home from the office
where I've worked all my life.
I pick up my guitar and play a couple of my old songs
and I think "damn",
Neil Young would've loved these songs.
Maybe next year.
Maybe next year.
Maybe next year.
Maybe next year…
Oooooooooooooooooh, maybe next year.
Ooooooohoooooooooooooh."
I adore all of Milow's beautiful songs. He explores different people and relationships by taking on various persona's. I love "Canada" in particular because it reminds me to live in the present. To not say "one day" or "maybe next year". It reminds me that if I want to do something, I need to think about it, set a goal, and go and do it. The line "when I get home from the office where I've worked all my life" – oh god, it hits you, whether you work in an office or not, the message is clear.

Vienna- Billy Joel

"Slow down, you crazy child
You're so ambitious for a juvenile
But then if you're so smart tell me,
Why are you still so afraid?
Where's the fire, what's the hurry about?
You better cool it off before you burn it out
You got so much to do and only
So many hours in a day

That you can get what you want
Or you can just get old
You're gonna kick off before you even get halfway through
When will you realize… Vienna waits for you?
Slow down you're doing fine
You can't be everything you want to be before your time
Although it's so romantic on the borderline tonight
Too bad, but it's the life you lead
You're so ahead of yourself that you forgot what you need
Though you can see when you're wrong
You know you can't always see when you're right (you're right)
You got your passion, you got your pride
But don't you know that only fools are satisfied?
Dream on, but don't imagine they'll all come true
When will you realize… Vienna waits for you?
Slow down you crazy child
Take the phone off the hook and disappear for a while
It's alright, you can afford to lose a day or two
When will you realize… Vienna waits for you?"
A classic song but it really sings true to me. I'm constantly rushing around, having 100 different thoughts simultaneously. I need to slow down. "Vienna" of course is a metaphor and can be whatever you want it to be. For me, it means all of my hopes for the future. All of the things I want to accomplish. Mostly it's travel related, but I've also been thinking a lot about going back to university (or at least taking some online courses). I'm interested in international development but also human rights. But then there's sociology, social psychology and philosophy. Religion, theology. History. I want to educate myself and maybe more importantly, I want to educate others.
But as Billy says, "you can't be everything you want to be before your time."
Reading
Last week I finally finished reading Into The Wild, I must've started it over a year ago! Once you get into the middle it's difficult to put it down. I loved the snippets of other famous texts, some were books found with Chris's body- passages he'd highlighted, others were to help you understand the context. Was the boy just a fool who poisoned himself to death with potato seeds or was he somewhat of a tragic hero, a young inspiring man who wanted an escape from our modern capitalist society? And could I do the same? I don't think I could bare the extreme solitude, and having someone there with you completely defeats the objective. I do want to go to "into the wild" though, just maybe not the cold, frightening, Alaskan wilderness.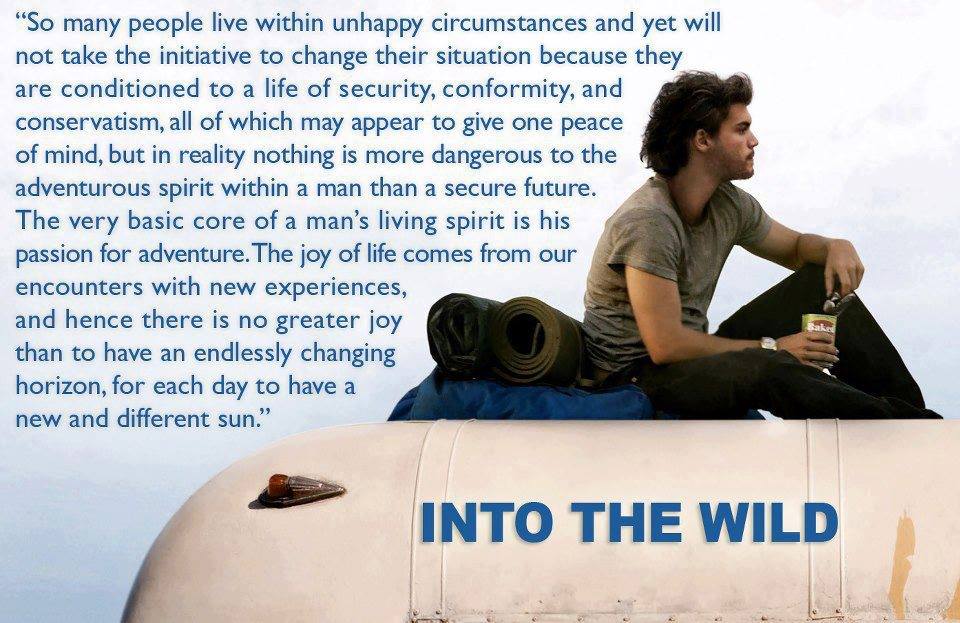 Now I'm reading an incredible book, also non-fiction, titled "I am Malala". I'm finding it truly fascinating, but for me learning about culture is always fascinating. The main point is powerfully summarised on the front of the book, "The Girl Who Stood Up for Education and Was Shot by the Taliban.". She's a very young woman from Pakistan and the book is exquisitely written. I'm finding myself reading a chapter or two as a TREAT to myself I'm enjoying it that much. What inspires me the most is how she shows that one person can create change. She has set up a fund, the Malala fund, she's met President Obama for goodness sake. Could I ever do something like that? I'd definitely stand up for empowering girls and women and for their right to an education.
The point is I don't want to just be a traveller, or a "wanderer". That's why I've gone some way into dealing with that by living in the country and working for the community. I don't get much out of the kind of travel blogs written by people desperately trying to see the whole world as quickly as possible; that's not what my blog (or life) is about.
Anyway, I know (kind of) what I want, or at least I know what I don't want: I don't desire material things, I don't feel a need to settle down or anything like that. I want to help people, and not in narcissistic kind of way… I want to volunteer my skills to help people, not participate in so-called "voluntourism" (your thoughts on this?). So I'm excited to think that my trip to Kenya will be my first step towards this goal.
REFLECTION

"Amidst the chaos of this fast-paced life, learn to stay still." – a friend
I think it's important to take a moment to reflect. What are my plans this year? Am I working towards some big goals? It's also important to think about all aspects of life. I learned this from one of my dearest friends, Adrian.
Am I satisfying all of my needs? I'm talking about beyond the career goals. What about my personal growth, my social life? Do I spend enough time with my family? Do I have many hobbies? What do I do just for fun- do I paint? Spend time gardening? Go camping on the weekends? Or do I let myself get ran down by work and chores and find myself mostly stressed and frustrated? Yes, sadly. I don't give my family or friends enough time, all of my hobbies have vanished, and I want to paint, garden and go camping! Why do I put off doing things that will make me happy?
But I'm working on it. I teach 6 days a week and suffer from Fibromyalgia- an illness which gives me headaches and makes me feel so damn tired. Still, this shouldn't stop me from enjoying what free time I have. It's time to stop complaining! – I'm doing something I enjoy (teaching English), I'm living abroad, I'm finally not long-distance with my partner anymore, next month I can pay off my credit card, and the months after are going to get me to Kenya! So the next 3 months are a bit of a compromise- due to my location and work there's no real social life, not much fun and not a great deal of travel, but in return I'm getting good work experience, a nice salary and the chance for my once long-distance relationship with Mr Italy to really grow and strengthen.
In my heart, however, I'm not content. That's of course why I won't be renewing my contract and staying here for another academic year. I've got to be more careful when applying for jobs abroad in the future, particularly on the location and working hours… Onwards and upwards we go through this world as it spins around, taking us along for the ride.