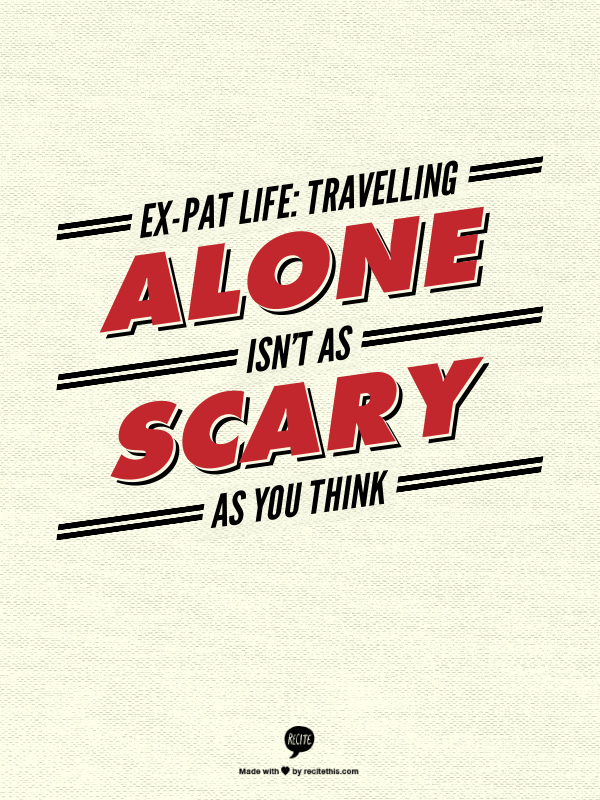 I don't know about you, but Geography was never my best subject. I rarely looked at maps as a child, not really until I started thinking about going to Vietnam to teach English. So, travelling alone tackling this big big world seemed a little daunting.
However- my aim isn't actually to go and tackle the world, to go and "do" South-East Asia or Central America, etc. Sure in the future I'd love to take some trips, but right now I'm just starting off and getting my feet in the sand, travelling alone one place at a time.
Some of the big worries I keep hearing from friends back home and people in general who want to travel are: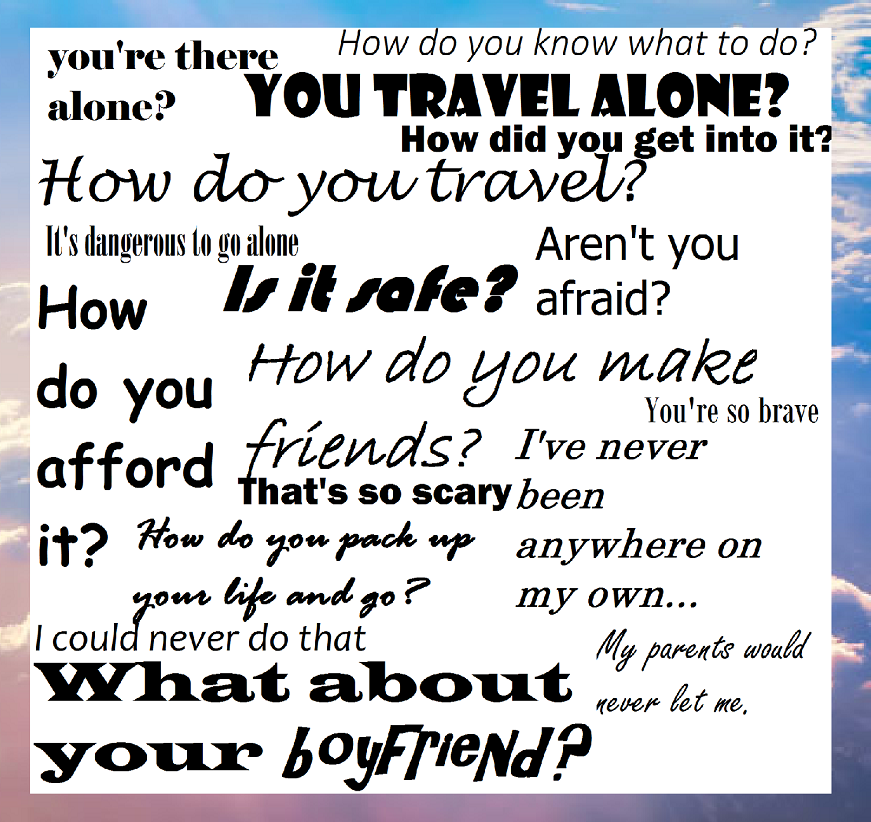 I can't answer every single question in detail in one post – and to be honest a lot of them, how how I travel / how I afford it etc, you can figure out on your own, just like I did. (If it isn't obvious yet, I work abroad and use the weekends/time off to travel).
"My parents would never let me" frustrates me the most. For anything my folks have or haven't done, now I'm an adult I have complete freedom. I don't require any financial help from them, which consequently means they don't make decisions about where I choose to live my life, what I choose to do, etc. It's absurd to me that some people my age expect their parents to fund their trips abroad! I worked in McDonald's for about 2 and a half years, between the ages of 16 and 19, which paid for all of my college resources and transport, food and clothes and anything I did in these years (I left home at 16), as well as paying for my TEFL qualification when I was around 18, flights to Vietnam and the Vietnam Internship fee, which I did shortly after I turned 19.
So, if you have your own money. Why won't your parents let you?
Ah, they think it's a waste of time? They want you to get a real job? They're worried about your future? Bla bla bla bla. I've never had any of these conversations with my parents. My mum worries sometimes because she hears things on the news, you know, so she worries about my safety abroad. My dad worries I might be a little too young/naive and get into trouble with 'bad people' – Dad, when have I ever got in with 'bad people' ?!
I'm lucky I guess that they really just want me to be safe, happy and healthy. When I left university the first time, Mum told me I was a failure. It hurt a lot but I knew she would realise that not doing something conventional doesn't make you a failure. The second time I left university, I was afraid to tell her about the job in Maldives. Teaching English doesn't make you rich and sadly a lot of people do it just as a passing through kind of job, like, as a means to travel. I teach English because I genuinely love teaching English. Being able to travel is the wonderful bonus that comes with it. Who says it's not a freaking real job? What, because it doesn't involve being boxed into a corner office and having your brain turn to mush selling insurance packages?
Now to be fair, I think I'm the youngest working ex-pat here. So for most ex-pats, everything I've just written means nothing. I've made so many great friends here, none of which I imagine still depend on their parents for something, especially money. In addition, a lot of people move abroad because the economy in their home country isn't great, high unemployment etc, so their family's are nothing but proud and happy for them.
A lot of my friends have their partners here with them, which is lovely. But don't think that you can't go travelling alone. I went to Vietnam and had my then-boyfriend living and working in England. It was when I came home we realised how not right we were for each other. You want to structure your life around a relationship that might not even be right? Imagine if I cancelled my plans for Vietnam because I didn't want to leave him behind. God don't even go there. My whole life would be nothing like it is today. I wouldn't have got the job here without my experience in Vietnam- it was absolutely crucial because it outweighed somewhat my lack of degree.
Then I met Mr Italy in my brief 3-month stay in Italy. We talked about him coming to England to work, me going to Italy to work. But both ideas were really difficult to materialise with our mutual lack of experience and credentials. When I first told him over Skype about the job in Maldives, I think he said something like, "That's like… Asia.." and he looked quite overwhelmed, maybe he worried for a minute if we could make a long-distance relationship work with that kind of distance. Then I reminded him what he wrote me in my valentines card:
"What we have is stronger than any distance."
Romantic, no? Straight away any worries he had melted away, and he was just as excited for me as I was for myself! I think it's very selfish when partner's try to stop each other from fulfilling their dreams, and ask questions like "But what about me?" – do you really need someone in your life like that?
So, we've talked about leaving the family and the boyfriend. If it's what you really want, it really isn't that hard. Your new friends become your family-abroad. How do I make friends? Uhh that's a pretty weird question- I mean how do you make friends at home? It's pretty much the same thing. I made friends with colleagues at work, on trips out with other ex-pats, found ex-pat groups on Facebook. You just meet people. Here in Maldives we live on a very small island – the 5th most populated one on the planet. We've got ex-pats working in journalism, business, teaching, medicine, advertising, finance, government (embassy kind of stuff), we got mechanics, pilots, engineers, restaurant staff, a massive tourism industry requiring jobs left, right and centre- hotel/resort staff; receptionists, cleaners, life guards, chefs, water sports instructors (divers, kite-surfing, jet-ski, snorkelling, you name it), waiting staff, bar staff, general managers, importing goods, customer relations, I mean the list goes on and on and on. And this is just Maldives.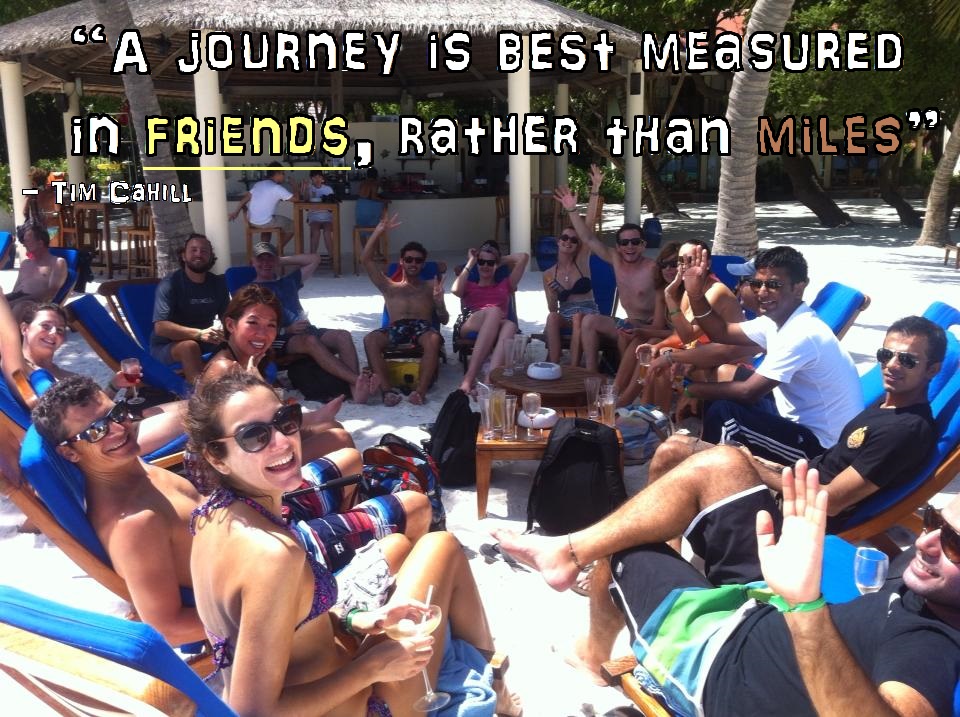 Here's a bunch of us at the beautiful resort Club Med on a day trip of sun, sea and booze. And because I know so many people are afraid of the unknown (and why not, it can be scary) here's a funny video my good friend made of the day:
Not so scary any more is it? Get this phrase "travelling alone" out of your mind. I'm rarely alone. I was invited out today to go down the pool and have a couple beers but I felt like staying in writing. What can I say, I like my own company sometimes. You should too.
The very last point I want to make is about being afraid of local people. Stop that. It's incredibly ignorant to make generalisations about entire races/religions/cultures. Learn a bit of the local language (all of it if you really want to immerse yourself), and live like a local. I'm not saying you have to wear a burqa (well, that depends, you probably do in somewhere like Saudi), but please don't travel somewhere and then just complain about the way they do something, especially the way they live, their norms and values. You can comment on them, of course, like talking about what you see or learn, but to say they're wrong, backwards, oppressive – these are harsh words and just show what little you've actually learnt. Which is sad. If you want it to be just like home; just stay at home.
Some final words to live by…. NB: I didn't know any of these people in the photos until I met them by travelling alone and introducing myself!
"The traveller was active; he went strenuously in search of people, of adventure, of experience. The tourist is passive; he expects interesting things to happen to him. He goes "sight-seeing." – Daniel J. Boorstin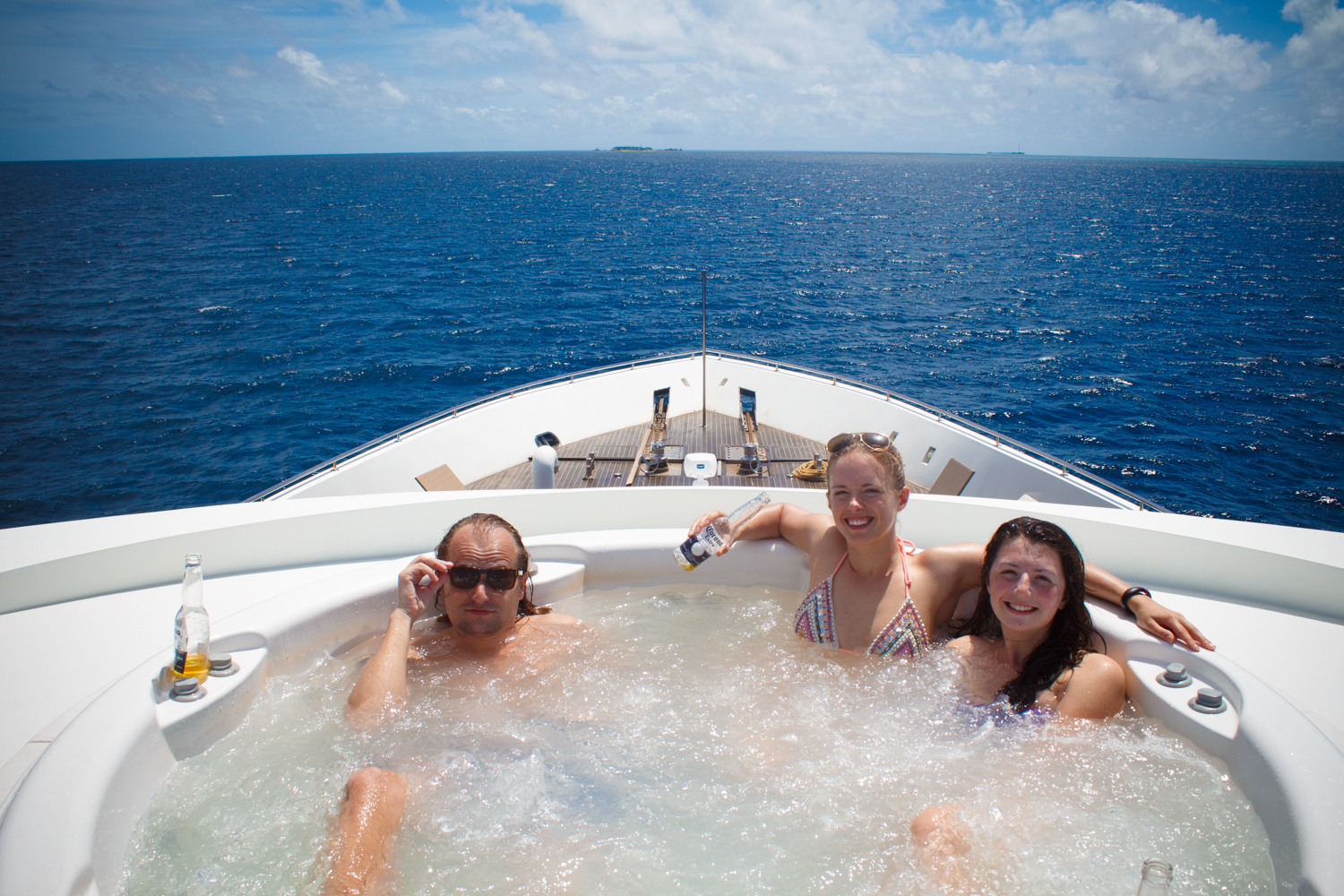 "The traveller sees what he sees, the tourist sees what he has come to see." – G.K. Chesterton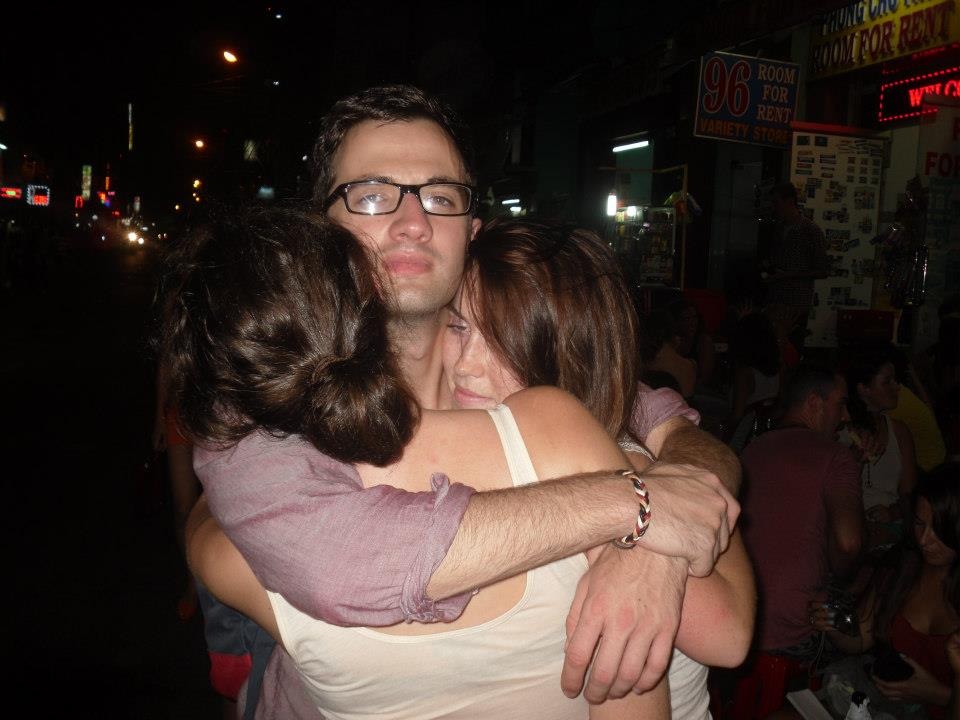 "A tourist is a fellow who drives thousands of miles so he can be photographed standing in front of his car." – Emile Ganest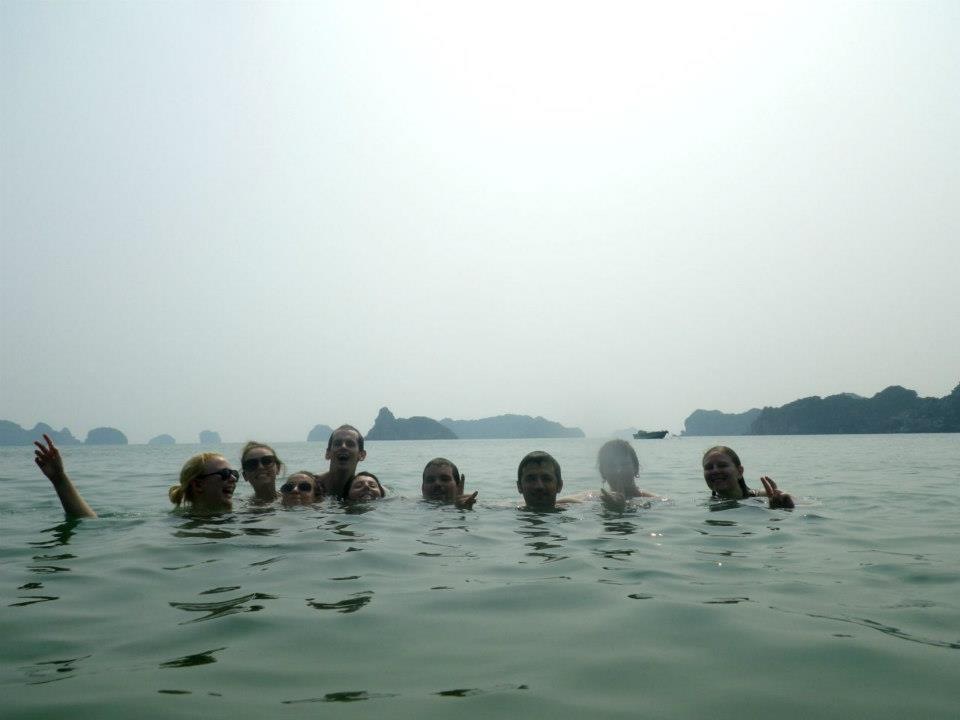 "Tourists don't know where they've been, travellers don't know where they're going." – Paul Theroux