There are a lot of mixed experiences online about staying with a host family. You're usually invited to stay with a host family for temporary work, volunteering or student exchanges. Most backpackers I see are making great use of websites such as workaway, where you can stay with a family and are provided meals for free while you do a couple hours of work- maybe on their farm or odd jobs around the house etc. Don't be put off by the idea of living with a host family. Host families, at least in my experiences, have become second families for me. While teaching English in summer camps across Italy, I had the unique opportunity of staying with five different families for two weeks each time (2 weeks was the length of each camp). They made me feel so welcome and really integrated me into their family. It was a fantastic insight into Italian life which is near impossible to find just by holidaying in the country.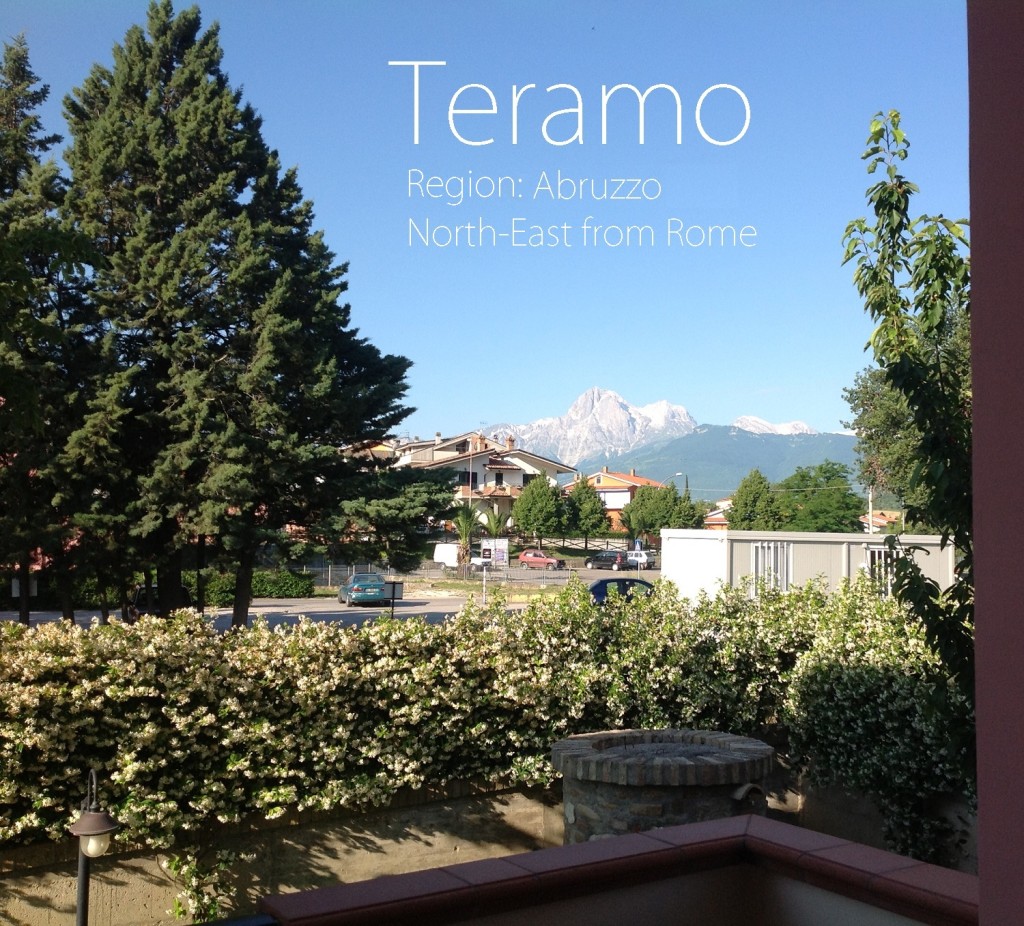 Teramo was the first place I'd ever visited in Italy. Although it's not really in the tourist limelight, it was extraordinarily beautiful with mountains all around, as you can see in the picture above, taken from my bedroom window.
My host family were wonderful people and extremely hard-working. Dad was a doctor and worked long hours, while mum was a cleaner and devout housewife. The two eldest children, my host brother and sister, were students at the University in L'Aqula, the main city here. The youngest child and my new best friend, was a student at the camp I worked at. The first weekend I arrived, Mum took us both out to the beach. It was a beautiful day and as the family couldn't speak English very well, my new host sister spent a lot of time teaching me words in Italian, and I helped her become more confident swimming in the sea!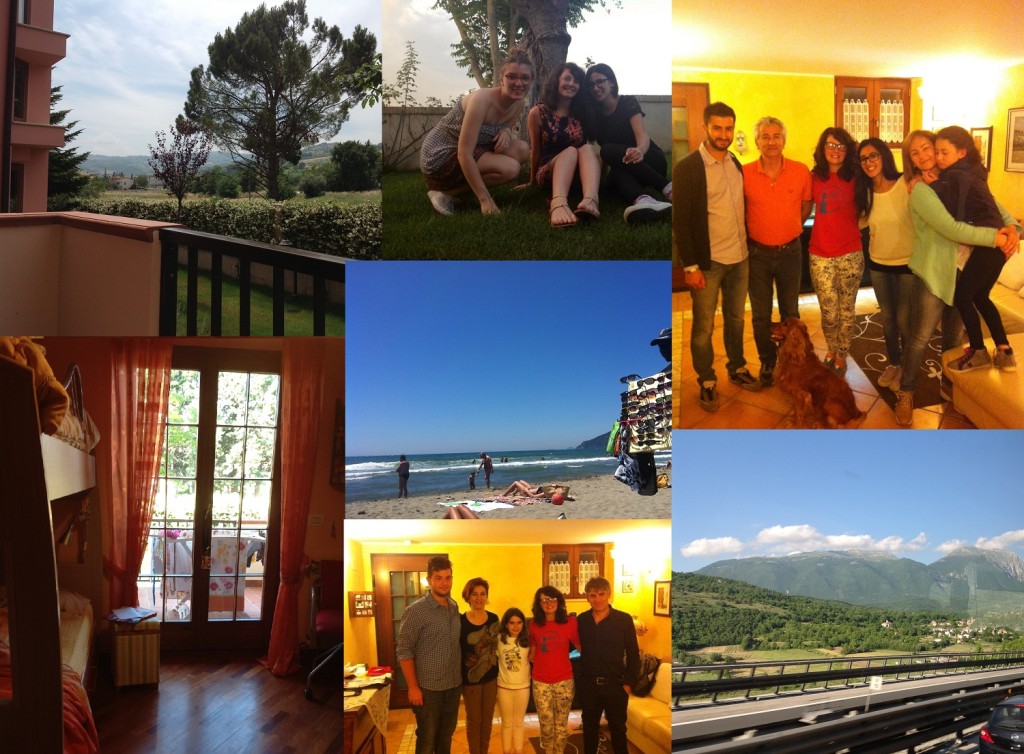 In the family home I was given the youngest sister's bedroom for the 2 weeks while she slept with her older sister. Mum changed the bedsheets every day, cooked delicious cherry pies, chocolate cakes and biscuits FOR BREAKFAST(!!!) as well as fantastic meals throughout my stay. The family had a beautiful big home with pink walls and a lovely garden where Mum grew flowers and fresh herbs for cooking. They also had wifi throughout the house (seems a silly thing to mention, but sometimes it's very important!). In the evenings all the family snuggled up on the sofa and watched TV together- a favourite for us was that one where people send in funny home videoclips of people falling over, it was perfect since there's not really any talking, so all of us could understand it and enjoy!
On my second (and final) weekend with this family, I was invited to join them visiting Grandma. This was a truly wonderful experience! My little host sister had a cousin the same age as her who also attended the camp. She had an older brother who could speak English really well, so I spent a lot of time chatting with him and my older host brother and sister and their friends. Everyone was at Grandma's house that day, I think it was her birthday. There was so much delicious food, mama mia, and I had a lot of fun playing with the kids in the sunshine. We exchanged details and have since sent each other some letters and I have some of the cousins on Facebook. A fantastic introduction to Italy!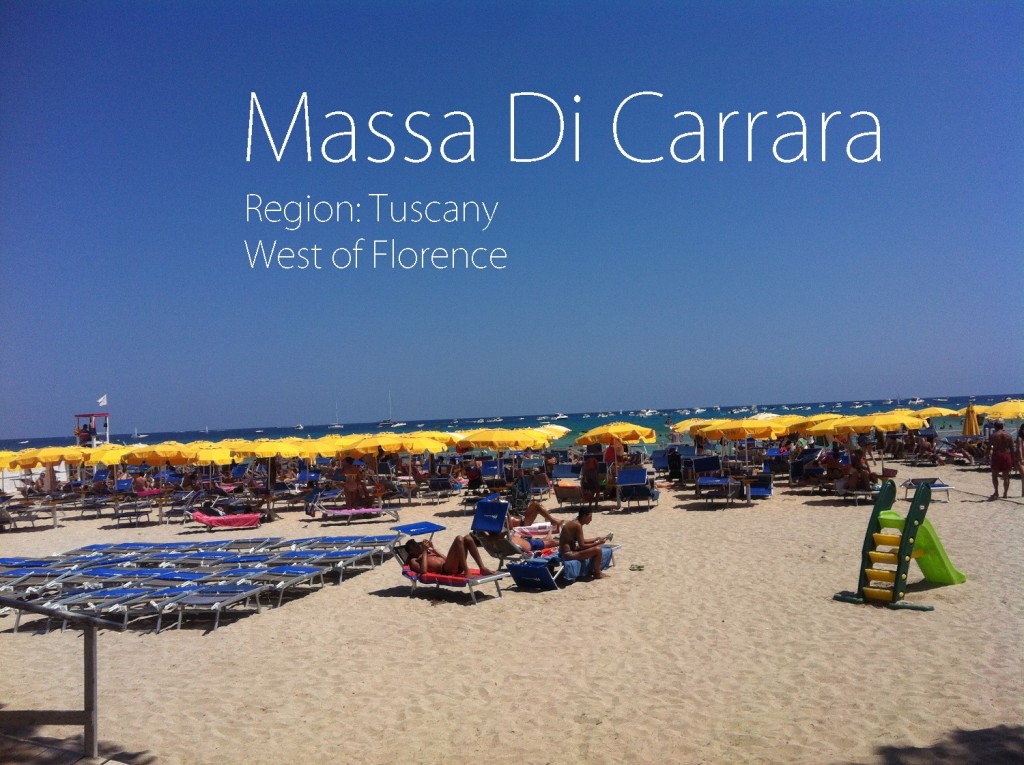 The next 2 weeks were spent in this lovely little town with my new host brother and sister and their mum. They were around the same age as me and could speak English incredibly well- both had graduated from university and the brother had spent 6 months in Europe on a student exchange. I was given my host sisters bedroom to sleep in while she stayed in her mums room, and mum stayed at her boyfriend's house. It's wonderful how hospitable host families can be! I didn't get freshly baked pies for breakfast anymore, or a wifi connection, but I did make two great new friends. My new big sister took me shopping all the time and my big brother took me out in the evenings and introduced me to all of his friends. Massa is extremely lively in the evenings, there were soooo many people my age around! It was a shame my Italian was so limited. One of the evenings was my 20th birthday and everyone made me feel so special, it was lovely.
On the first weekend, my big sister took me to the beach (photo above). The atmosphere was great, we found some deck chairs and relaxed. I dipped in and out of my book I was obsessed with and swam blissfully in the blue sparkly sea. Later on, I was just nodding off to sleep when I felt the ground beneath me shudder. I bolted myself up and looked around- I thought at first someone had just shook my deckchair while walking past- I then realised I was in the middle of an earthquake.
Every single person on the beach was stood up, frantically calling loved ones on their mobiles. I was just pretty shocked and not sure what to do. My phone didn't have any signal as the whole town was probably on the phone. My big sister managed to get through to her mum, who said the earthquake had shaken the house and made glasses drop from shelves and smash. It was a scary moment and I could feel the shudders four or five times throughout the day. Later I called my mum in England who quickly researched the earthquake online. She found out it wasn't a really bad one, nothing to get too worried about, and that actually it's quite common in this area. Imagine how it would've felt if I was alone or backpacking around with friends- we probably would have FREAKED out!
The next weekend, and my last one here, was one of the most incredible weekends of my life! My camp colleague's host family were very kind and invited me AND another camp colleague to join them on an amazing trip exploring the stunning Cinque Terre- a collection of five beautiful small towns along the coast of the region Emilia-Romagna. The views were spectacular- maybe it was at this point that I started to realise how work and travel could be combined for the future.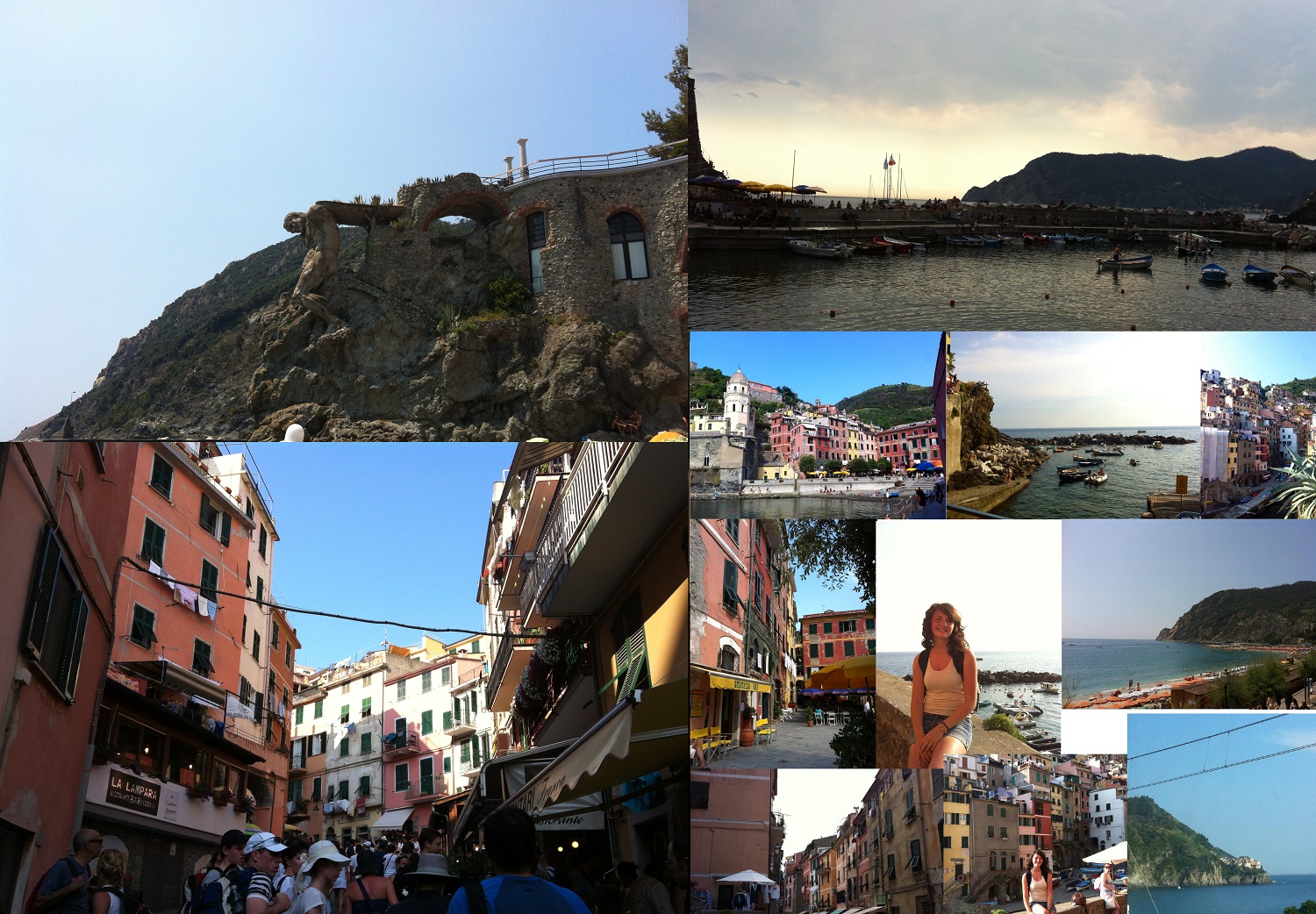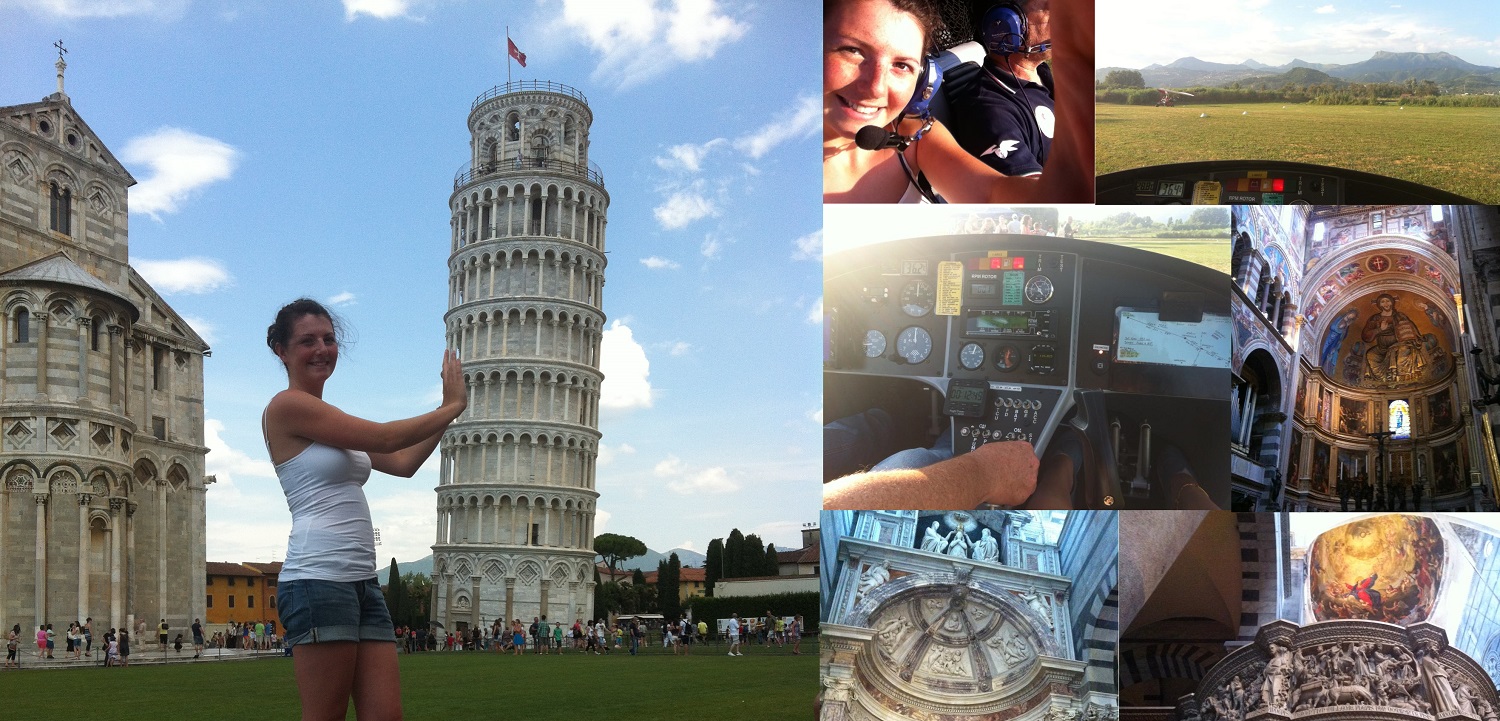 The next day they generously invited us to join them again, first on a trip to Pisa and then flying!! I felt like an Air Scout again. We spent the evening at their family home and had a delicious meal. I really felt I was living a scene similar to that in Eat Pray Love. How kind these families were, and how lucky I've been.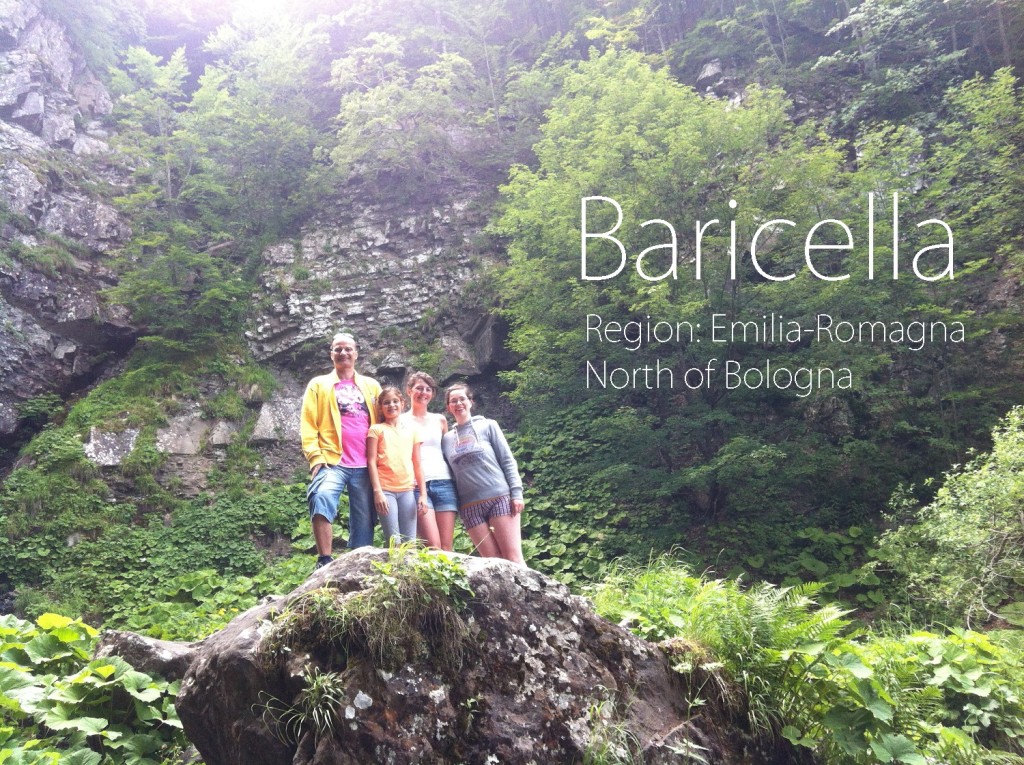 I spent my 5th and 6th weeks of my trip in Italy staying in a little town called Baricella, not too far away from Ferrara and Bologna- the birthplace of delicious bolognese sause! I had high hopes and certainly wasn't disappointed. My host family met me at the train station, and it turned out that they weren't only hosting me- they were also hosting a camp colleague of mine who I'd made really good friends with on the previous camp in Massa di Carrara. We were given a whole two-bedroom little bungalow to stay in, just next door to the family's apartment block. There wasn't any wifi and unfortunately for me, the cat-a-phobe, we shared the bungalow with two cats. It's not just that I'm kinda scared of them (they're so unpredictable), I'm sooo allergic to them too.
However, when I wasn't sneezing horrendously or trying to gently push the cat away so I could get out of the bedroom without letting him in and getting his hairs everywhere, I had a fantastic time socialising with my new family. Mum and dad could speak English incredibly well and so we had long, interesting discussions about various things- including more personal topics, but mostly about their beautiful dogs and daughter (who was a student at camp). Me and my colleague would spend all evening chatting away with them before going back to our cat house to sleep. We always had breakfast and dinner with them (we ate lunch at camp) and sometimes during the week we went out for dinner and explored the town.
We really grew close in the short time we got to know each other. The best day was on the weekend when we took a day trip out to the country-side, all of us together, including the two beautiful dogs. The place, roughly translated into English, was called The Horn of The Stairs, and it was absolutely stunning. The air was fresh, the weather wonderful, and all around we found magnificent waterfalls with water so clear you could drink it.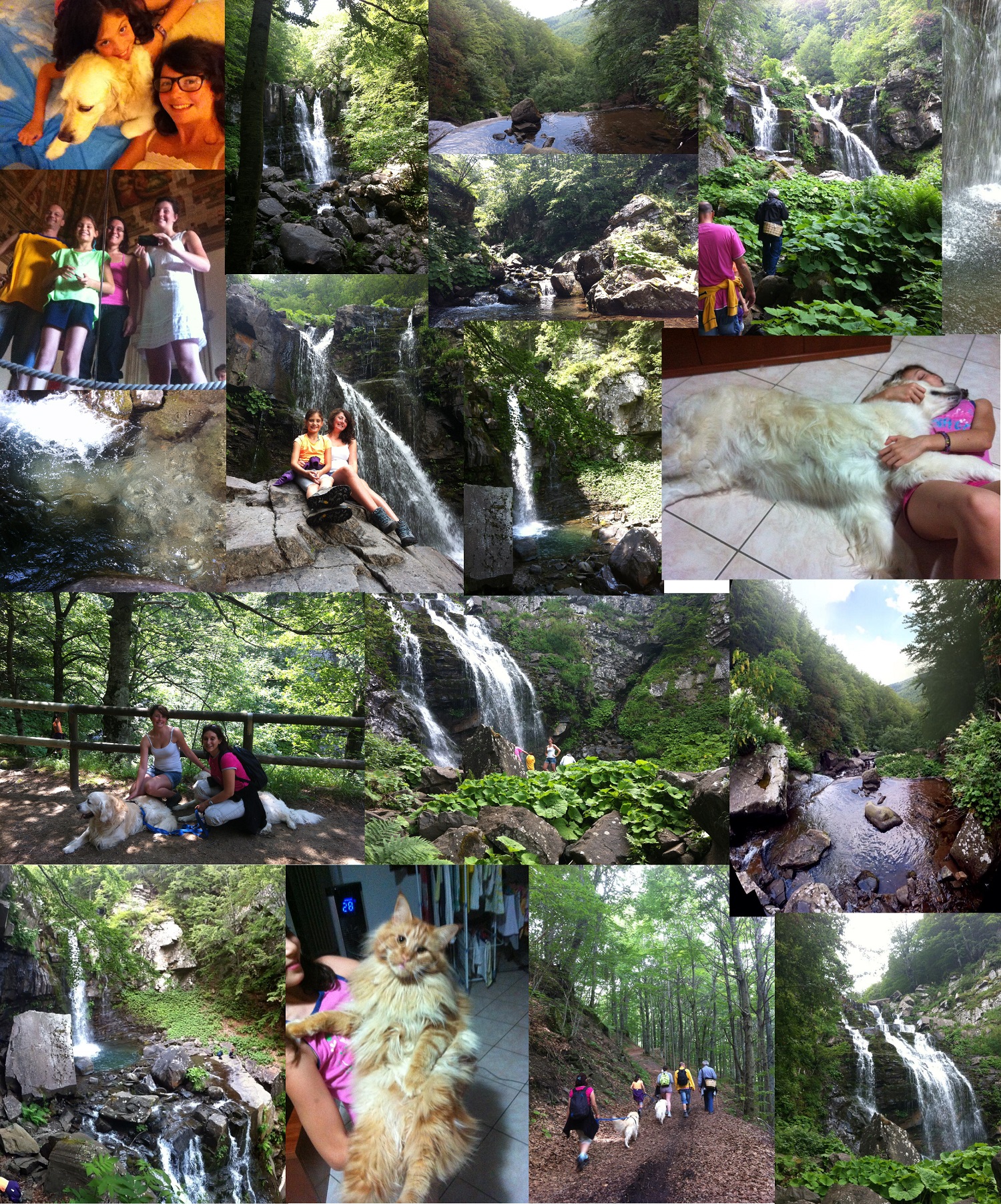 In the middle of this forest was a very inviting restaurant made with wood and decorated throughout with naturey-hunter's-man type things- bear rugs, deer heads etc on the walls, plus they allowed the dogs inside! What a feast we had. I've never eaten so many different kinds of steak- and all so perfectly cooked. Host family's, at least in my experience, are expected to provide you with food, but to go all out like this was a real treat! I just wish I'd taken some photos of all the food!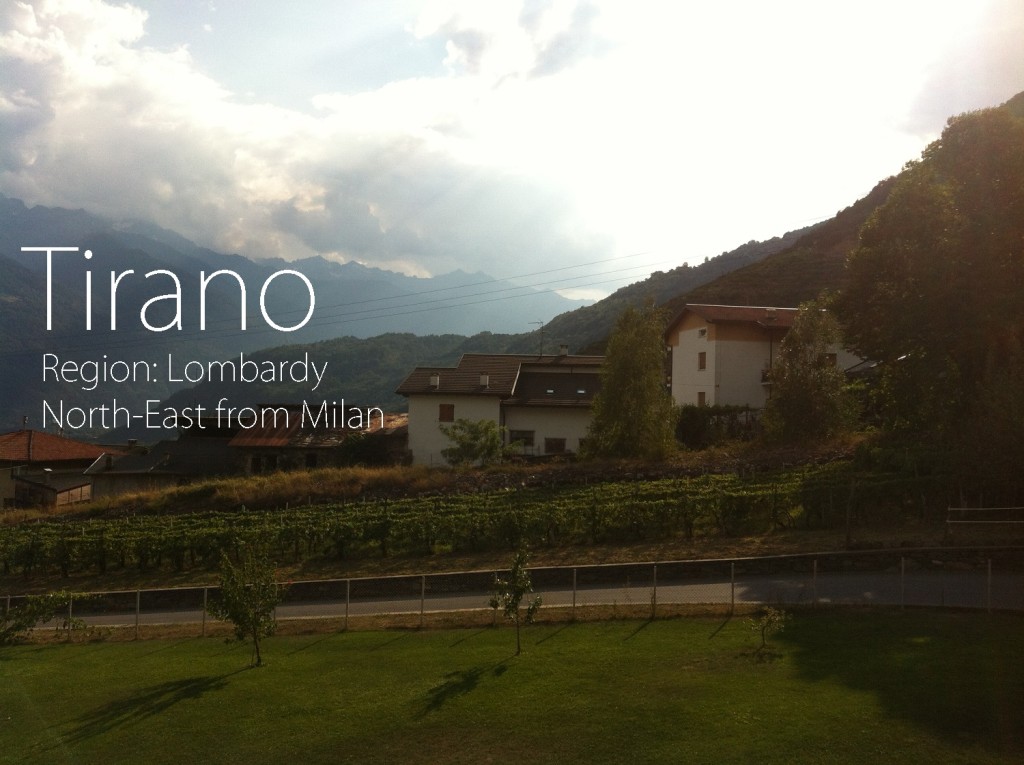 I couldn't believe my eyes as the train grew closer and closer to sweet Tirano- a very beautiful town up North near the border to Switzerland. The vast countryside and rolling mountains completely had me swooning. It was like nowhere I'd ever been before.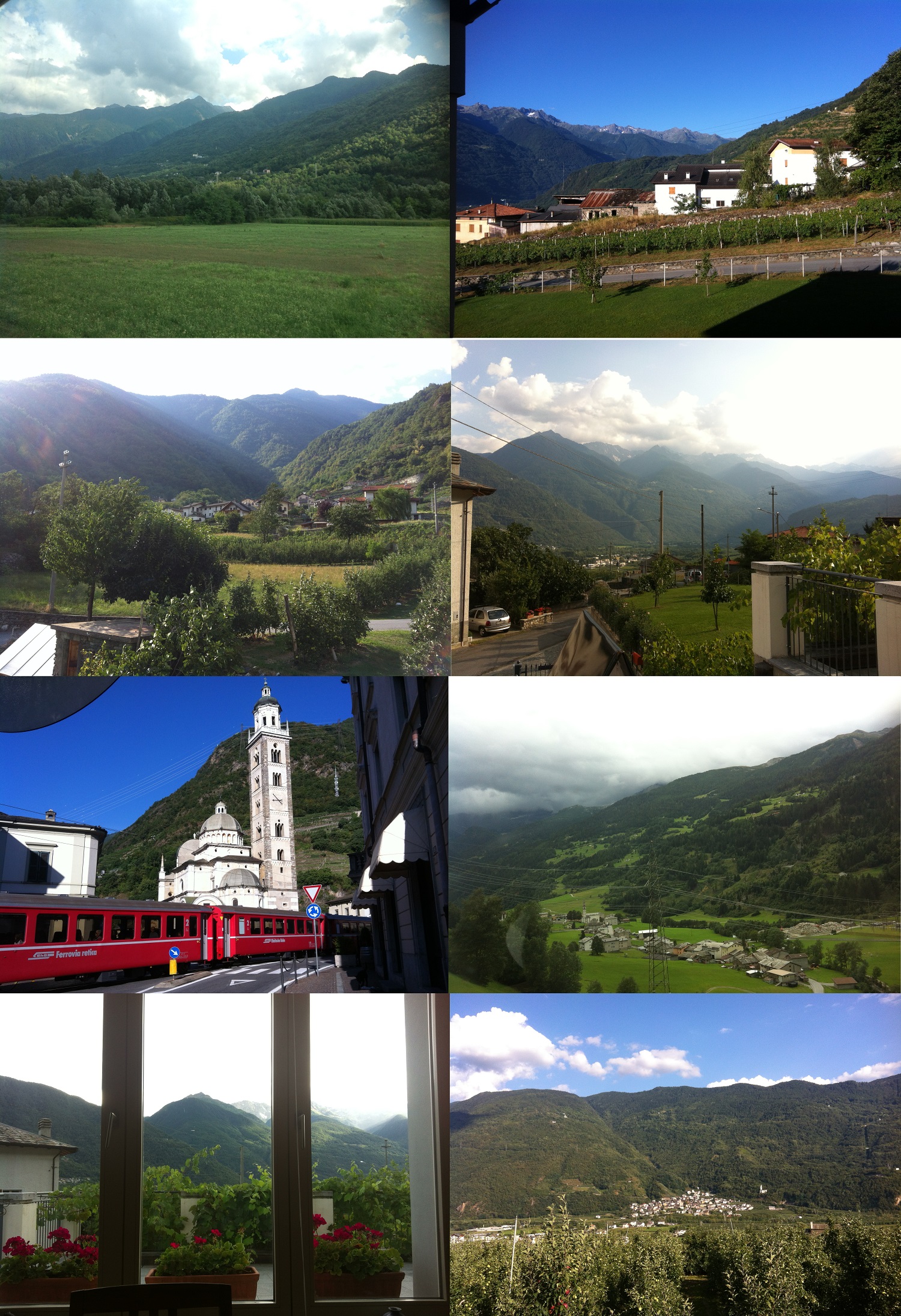 I loved Tirano for it's beauty but also because of how tranquil it was. My host family had a beautiful big house with four floors, and out of every window you could see tremendous views of the mountains. Here lived my new host Mum who worked extremely hard every day working in the city. Dad was retired after a long career in politics. He'd studied in England and could speak English incredibly well, and we got on like a house on fire. They had one daughter who quickly became like a little sister to me. She couldn't speak English really well but she was sweet and we had fun together. I was happy to see she was a normal little girl who rode her bike around and helped her parents in the garden. I think that's the countryside influence. Kids in the city are unbelievably different- what with their iPads and what not. My host family here didn't actually have a TV, and although they had wifi, we spent most of our evening time in the living room playing some board games or reading books. Or there were a few times when we did some yoga with mum. We also took the dog for a walk around sunny Tirano. I'd never felt so relaxed, it was like a retreat!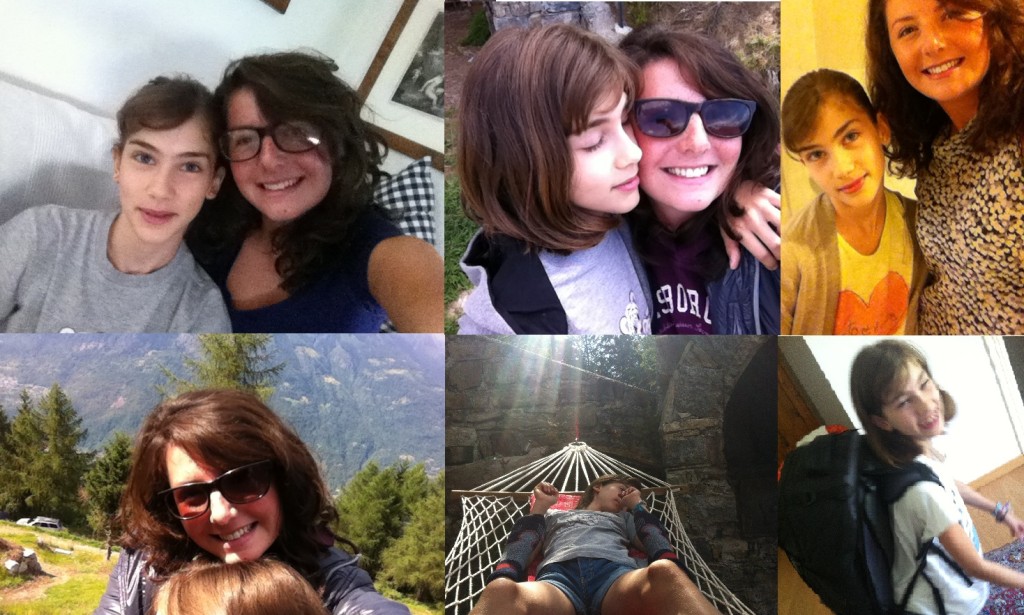 The first weekend with my new family was superb- they invited me to join them at their little cabin high up in the mountains- uh, YES PLEASE! This is the kind of stuff I always wanted to do as a kid but never could. The weather was fantastic, the views were to die for. We did a bit of hiking, me and my little sis went exploring, and we relaxed outside the cabin playing cards and chatting til the sun went down. I still haven't mentioned yet THE FOOOOOD- this family could cook, and I mean really cook. They used only fresh organic produce and cooked some of the most authentic and delicious Italian food of my life! And the food just kept coming, a starter, a main, a desert, fruit, ham and cheese board, a shot of limoncello, an espresso……. I could have stayed with this family for months. Dad had his own bees and made the most delicious honey. He also made his own jam. And bread. My mouth's watering just thinking about it.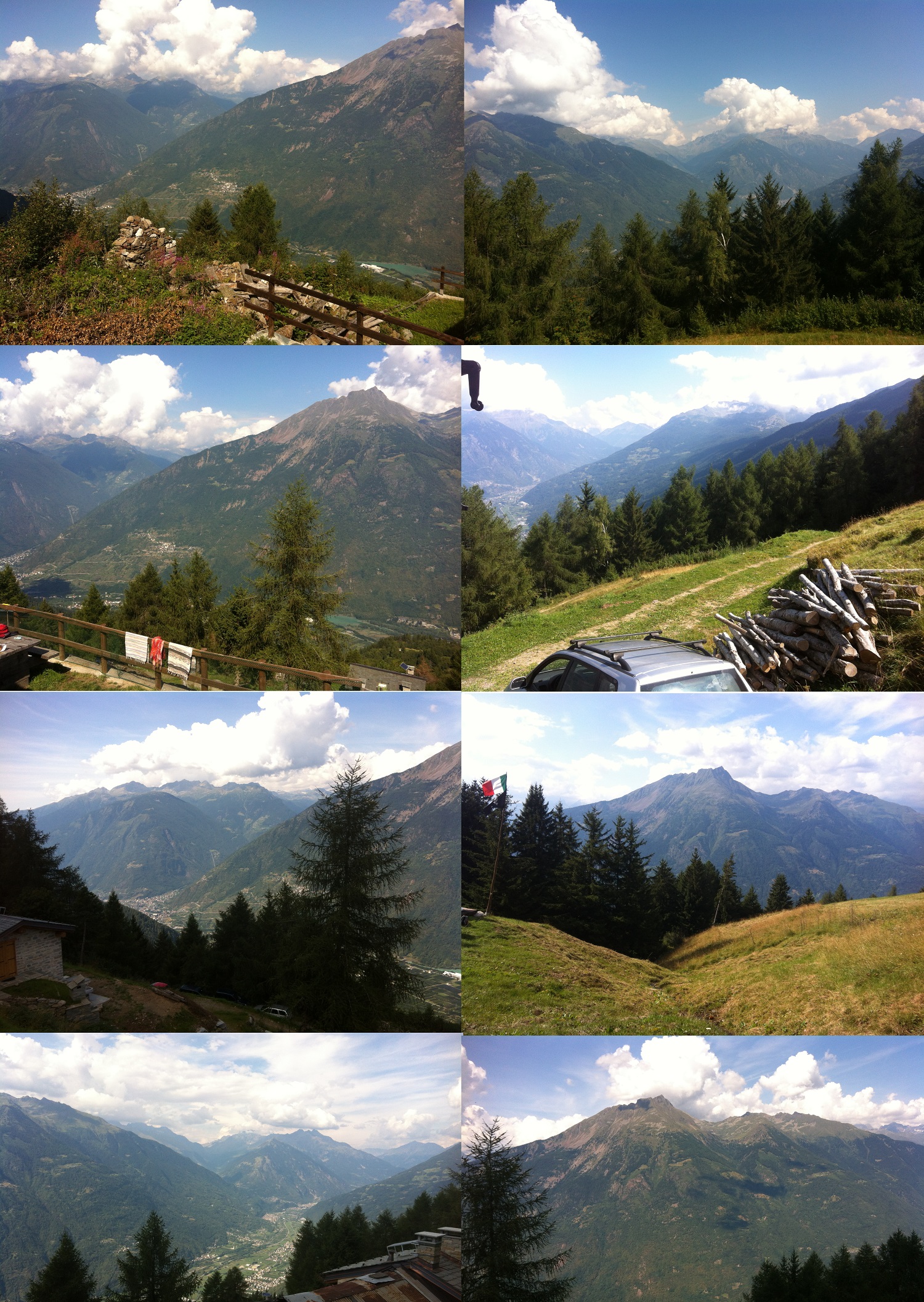 On the second weekend I was really very lucky indeed- I was taken to a wonderful town called Livigno. To get there, we had to pass through Switzerland as it was quicker than to drive around. But once there, I felt as if I was in a Swiss town! Livigno was incredibly beautiful, surrounded by mountains and fresh water streams. The town boasted many shops and I had a lovely time just slowly strolling around and taking a look- the prices however were astronomical, but they were top brands. We stopped for lunch in a marvellous restaurant which served local produce and the best ham, cheese and wine combination I've ever had!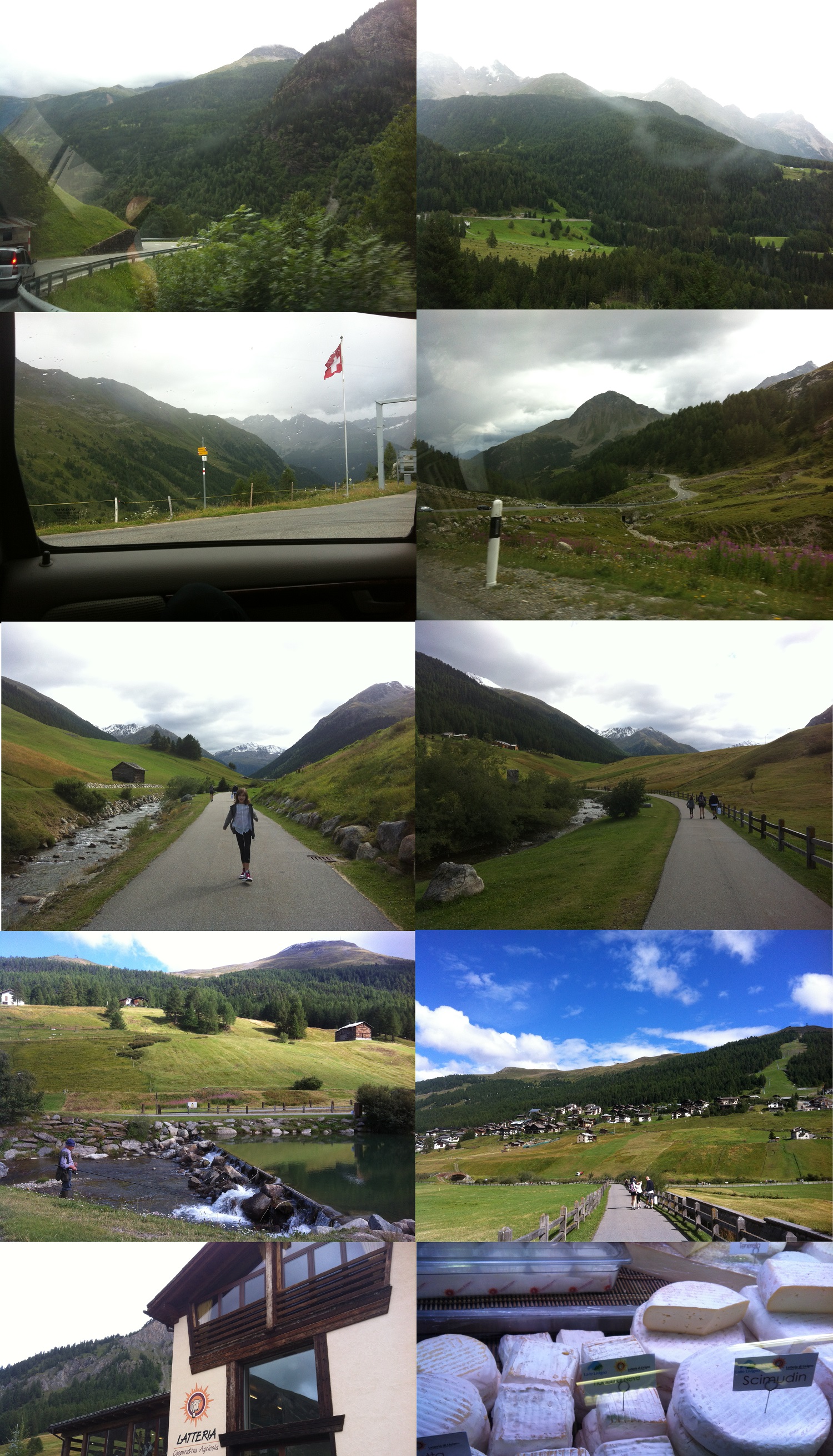 Travelling "off the beaten track" is getting quite popular recently, and for no wonder. I felt amazing being surrounded by real local people and being perhaps one of the only tourists there. The bonus- noone follows you around trying to get you to buy a key ring and there aren't hundreds of selfie sticks flying around everywhere. Teramo, Massa, Baricella and Tirano were a dream- I'm so happy I was able to experience it as I certainly wouldn't have had if I was merely backpacking around the top sights. It was also lovely to be with a family. Travelling alone can be a little lonely, especially if it's in areas where there isn't anyone who speaks your language. Also travelling with my own family is near impossible, I'm one of 6 and both my sisters have two kids each, my parents are divorced- we just could never travel all together. Growing up I've kinda missed out on "family trips" (apart from a week with my youngest siblings at a Haven caravan park). It was a really special summer and one I'll never forget.
What to expect when staying with a host family:
Not much time for yourself. As a foreigner, your host family will be really interested in getting to know you and your culture. They might also want to improve their language skills with you.

They shouldn't use you as a free babysitter but it's expected that you'll play a little with the kids and spend time with them.

Free food. In my experiences the host family has always told me to help myself to anything in the kitchen etc, but I tended not to unless directly offered something. Of course I ate with the family at meal times.

You might have to share a bedroom. It's not compulsory that a host family has a spare bedroom for you. In my experiences I've never had to share a bedroom but friends of mine have had to share with the kids.

There might not be any internet access, television, phone signal, you name it.

In some cases, a host family won't take you out and around. Some perhaps have to work on the weekend or they simply don't have the funds. Don't expect free tour guides!

The family might be offended if you lock yourself away in the bedroom on the internet all the time. Try not to behave like you might if you were really at home! They might also not like it if you go out most evenings and return late. Remember this isn't just about free accommodation, we must show respect. In Tirano a camp colleague of mine was saying with a family just around the corner and one evening they had a pool party and invited me along. My host family were fine with it but sweetly treated me a little bit like I was their teenage daughter out for the first time- they wanted me to call them when I got there, and again when it was over for a lift home (they didn't want me to walk in the dark!).

On the weekend try not to sleep in too late. They might have planned a great trip for you and you don't wanna look really lazy.

Maybe they can't speak your language very well, or maybe not at all. This is a GOOD thing! You'll be forced into learning their language, and believe me, you'll pick it up so quickly.

All family's are kinda weird (mine especially). They might have a strange way of doing things, for example I've seen 12 year olds still sharing the bed with mum and dad and kids having terrible screaming tantrums… it's probably best if you don't say anything.
Thanks for reading about my stays with host families while working in Italy. I'd be really interested to hear about some of your experiences- the good and the bad- and if you'd do it again. For me, it was the ideal set up for me to work, save some money, travel and have a deep insight into Italian culture and life. On the other side, I was only 20 years old and I didn't have a partner at the time (it was becoming single that actually led me to find work abroad over the summer!). Now that I've lived and worked abroad independently I'm not sure I'd work in summer camps again and stay with host families as I did.
However, I'm hoping to get myself involved in the volunteering sector in the future, where most charities or sites such as workaway etc offer board and stay with a host family in return for a few hours volunteering. Have you ever done something like this? Please comment below! This July I'll be volunteering in Kenya for 2 months and staying with a host family where I'll probably share a room with another volunteer. I'm really excited to teach English there and also for the whole experience itself! Is there anything I should prepare myself for? Please let me know!