Ok. First, I need to clear up a few things:
This is my personal blog about my experiences living and working abroad, hence "expat" in the title. Sometimes I will promote expat rates of resorts, guest houses and dive clubs, even souvenir shops– but I make it clear if it's an expat rate or a regular tourist rate. You are free to contact the places I've been to and ask for a similar quote (if you're a work-permit holder) but OBVIOUSLY rates will change. My stay in Maldives has mostly been during the low season… so consequently rates have been lower. Only one time I've quoted a price for a regular tourist, which was during my stay in Maafushi paying just $26 a night in a guest house. This was the actual rate on agoda at that specific time (remember Maafushi has over 30 guest houses all competing for business). Just a few days later it had gone up by about $15 dollars. Get used to that!
Secondly, if you book through a travel agency…. (I mean I can't believe I'm saying this…) don't expect cheap rates as the ones I am finding. Those guys need to make money too! My advice is to book through guest houses directly. TIP: Book through Airbnb. It's a great booking app/site and allows you direct contact with the guest house owner. I've also noticed rates tend to be much cheaper there than on agoda or booking.com. Otherwise find the website of the guest house you want to visit- if that's proving difficult, first choose an island to stay in (Never Ending Footsteps has written several excellent posts of local islands in Maldives) from there you can easily find a guest house using a simple Google search.
Now that malarkey's out the way we can focus on the matter in question! Huraa island.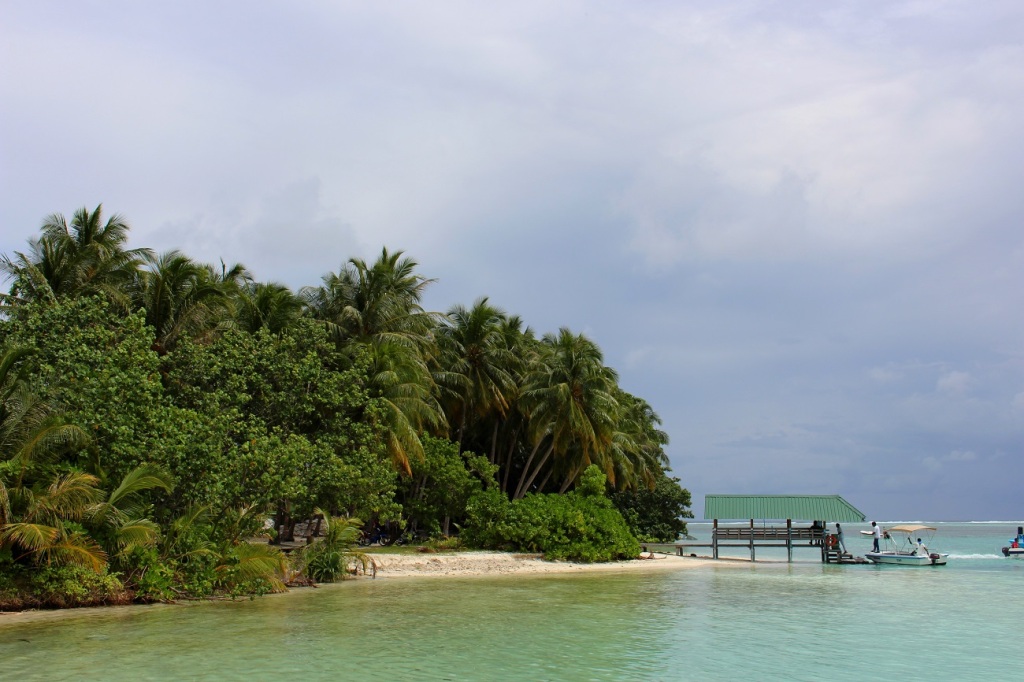 Last weekend I needed a weekend retreat. Things have been hectic at work with it being the last few days of the academic year combined with the opening of our Summer School. I also felt I deserved some congratulations as I've recently discovered I'll be moving to Italy next year as a CERTAINTY! With just four weeks left in this captivating archipelago… one must explore.
Huraa island is really not far from the airport at all, about 35 minutes by speedboat transfer ($130-$160), unless you accidentally rent a speedboat from foreign owners who have no idea what they're doing and use not one but 2 iPads with GPS to try to find the island, while almost destroying a reef and screaming at the poor captain the whole time… then it may take around 1 hour and a half. There's also a local boat service you can use leaving Male at 14:30 and arriving in Huraa at 16:00 for $2 each way (depart from Huraa at 8:10 arriving in Male at 9:40)- wish I'd have done that instead!
The weird thing about this island is it's literally right next to resort island, Four Seasons Kuda Huraa… not more than a 30 second boat ride between them. Sadly, the resort claimed a part of Huraa to use for their spa rooms and tennis courts, leaving an ugly towering fence looming over my beautiful guest house. I felt like, screw you, resort. Did you really need to segregate yourself from the rest of the island? Still…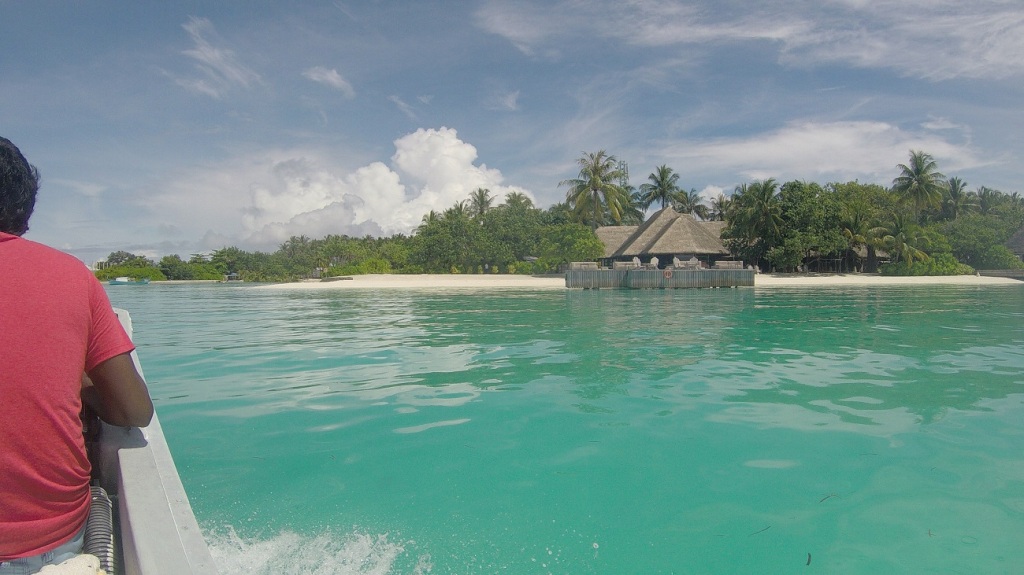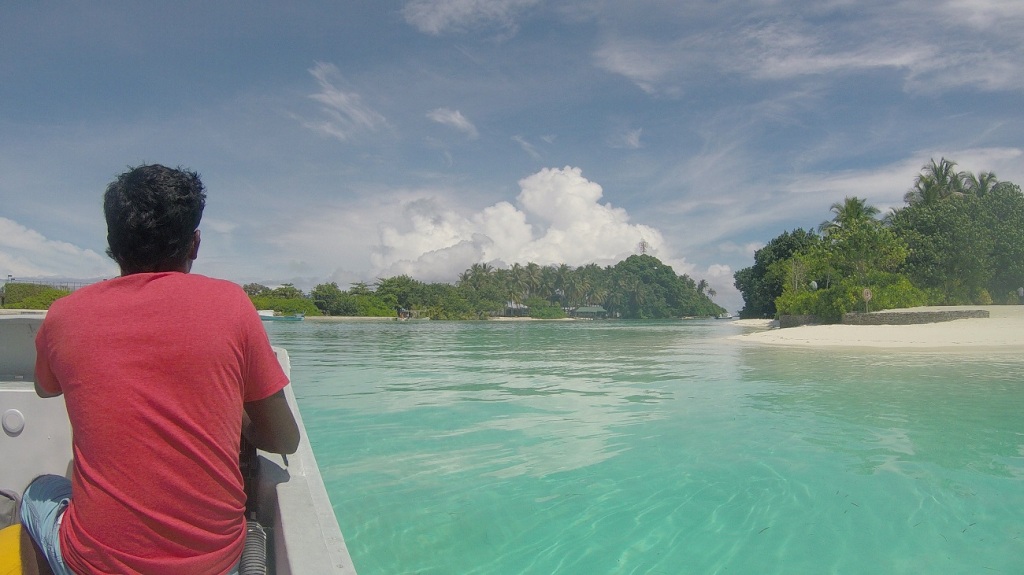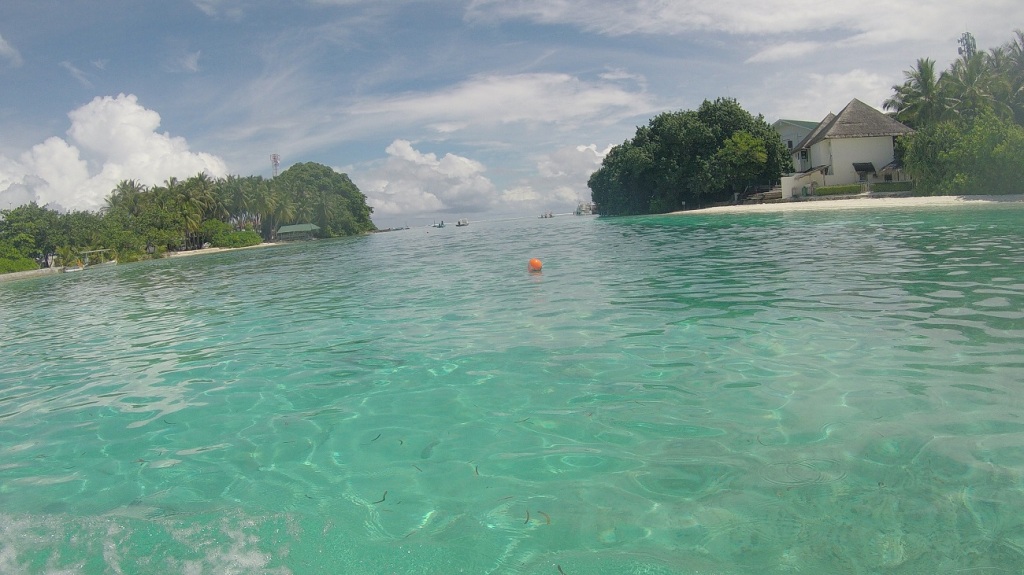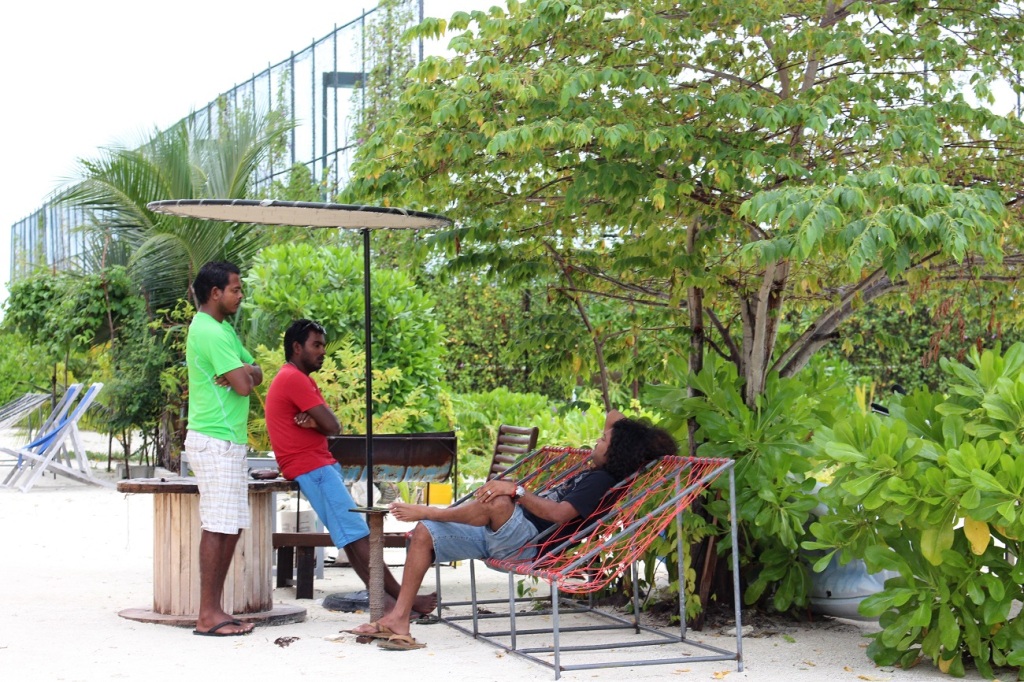 I stayed with Sea Shine guest house– and there's a reason why I used the phrase "stayed with" instead of booked with or stayed in; the guys were so cool! Despite our late arrival, they were there waiting for us and carried our heavy bags to the room. Anytime I went outside for some air, they'd ask how I am, any plans for the day or if there's something they can help with- and on top of that, one of the guys was telling me about his fascinating project: Open Hand Maldives; a not-for-profit, anti-drug organisation he tried to start up here in Huraa (after proudly turning 8 years clean of drugs), providing a drop-in clinic and professional support with trained personnel, and how the government is refusing to fund such a wonderful (not to mention seriously required) organisation.
Maldives NEEDS projects like these more than you can imagine. Yes, Maldives is a stunning place, and you probably can't see yourself getting bored with the white sandy beaches, diving and exploring. But for Maldivians? It's a different story. Boredom boredom boredom. Not to mention the fact that for a lot of Maldivians, growing up on a local island, days and days away from "civilisation", had them faced with physical, even sexual, abuse from their families or teachers, with no-one at all around to help. Sure, now there are some kinds of ethics in place but even just 10 years ago, local friends of mine were being beaten up black and blue for poor grades or for skipping a prayer service. This kind of upbringing requires therapeutic treatment. Ha, therapy in Maldives?! Practically non-existent. It's no wonder why the people are turning to alcohol and drugs, as well as criminal activity including gang fights.
Therefore I admire this Open Hands project and despise the government, whoever made the final say, in not funding it. I'd say boredom, depression and drug-use are what's really hindering any real progression for Maldives and her people. But it's a cycle that they just can't escape. If they stop using drugs, they'll feel bored and those same pangs of loneliness, lost, alone and confused start draining back into their lives (of course the drugs never eradicated those feelings, but helped to cover them up). Whether they revert back to drugs or not, surely depression will follow. A lack of opportunities plays a massive part, maybe even more important though is the lack of education about the world– when I saw a Nazi sign drawn on a wall, I asked my Maldivian friend why the heck is that there? He said "isn't it a symbol of power?" Shocked I asked him, "Don't you know what Hitler did?" and he said, "No, I mean… he was really powerful right? That's pretty much all they told us." He sat mesmerised and horrified as I told him about the war, the Jews, the camps, the gas. MAN, it makes me want to get out of teaching English and really TEACH, open up peoples minds and help in some way to set them free. But I'm getting carried away here, back to Huraa!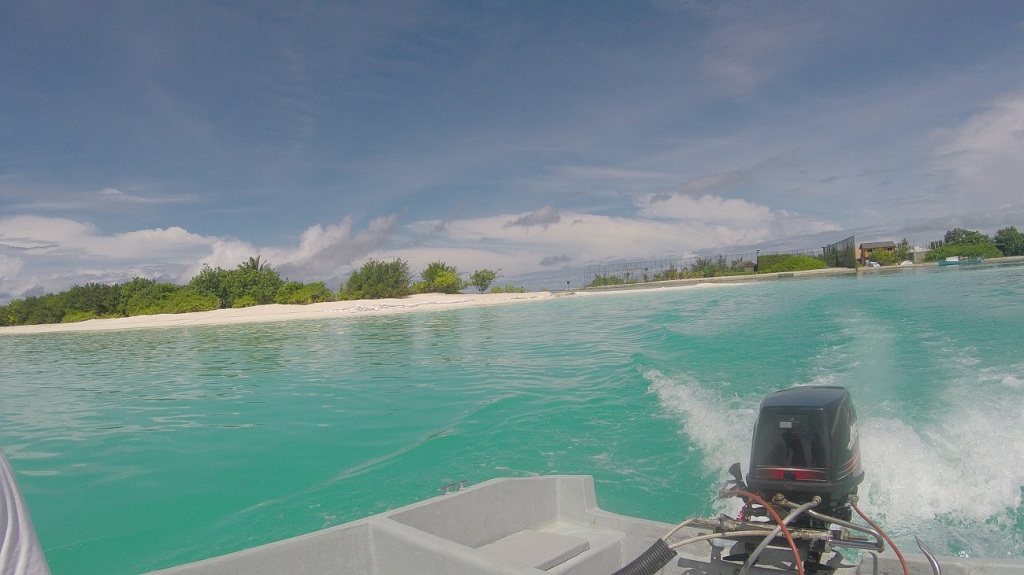 As I was saying, the guest house was wonderful. The rooms were spacious, clean and very comfortable. I know you want to know so I'll tell ya, booking directly with the guest house, they offered a tourist rate of $55 per double room per night, including breakfast but not including taxes and service charge ($15 cheaper than booking.com). An incredible deal!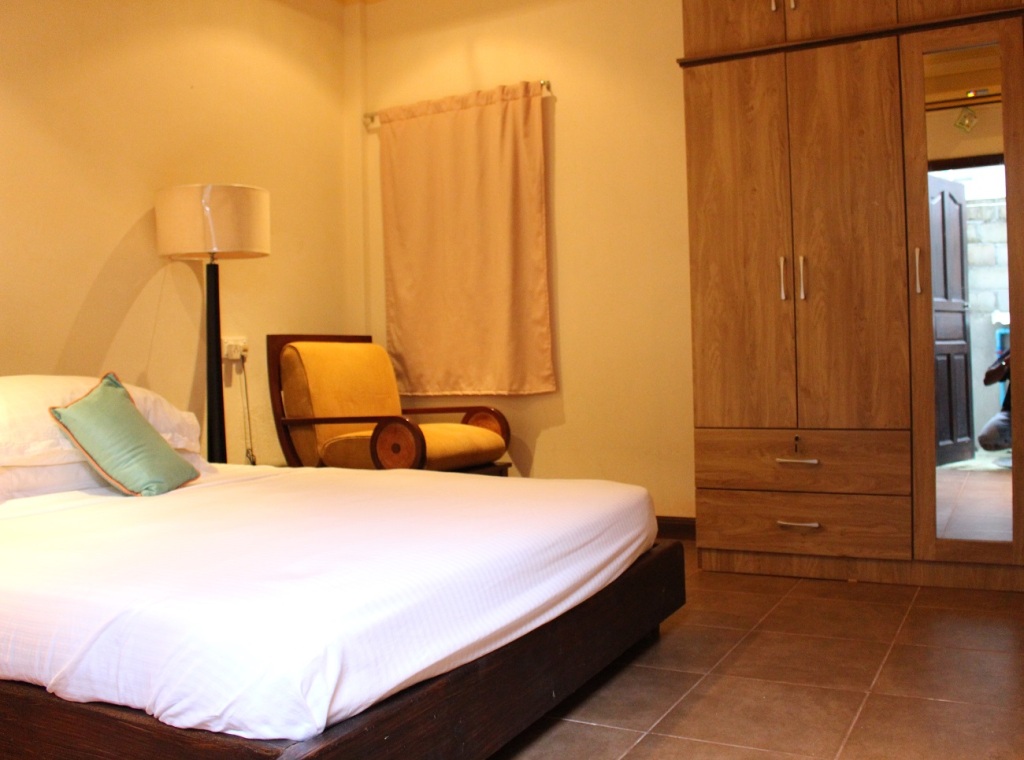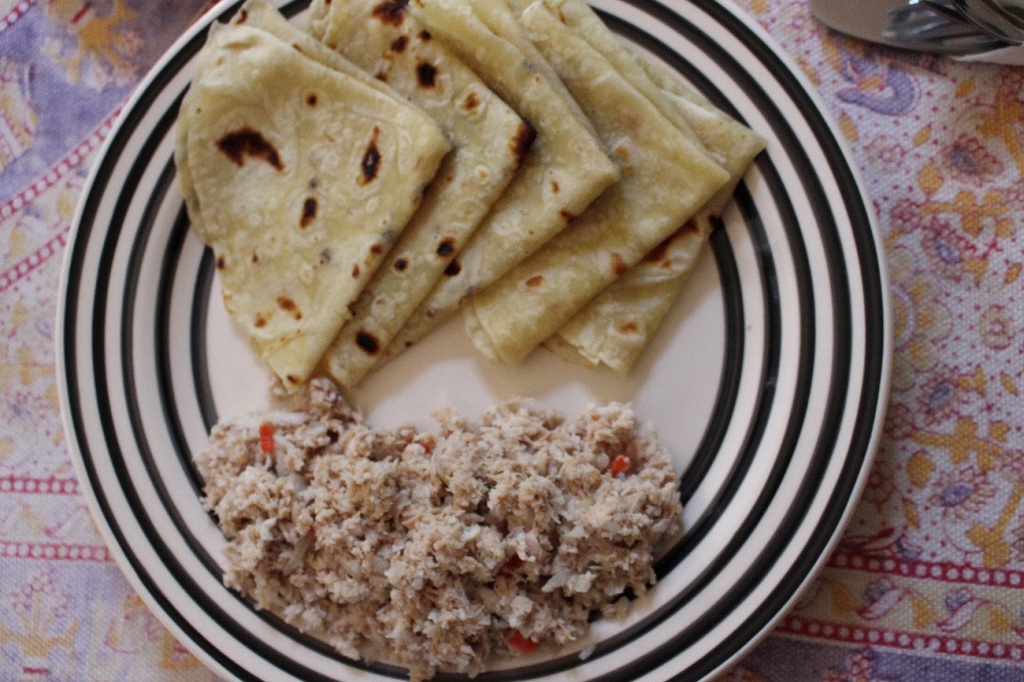 On Friday I scouted out the local dive club, Scuba Divine Maldives, and had an unbelievable dive with 4 or 5 majestic Manta Rays- one come up behind me without me realising and when I looked up I couldn't BELIEVE how close he was to me, my heart literally stopped in awe! They are magnificent creatures.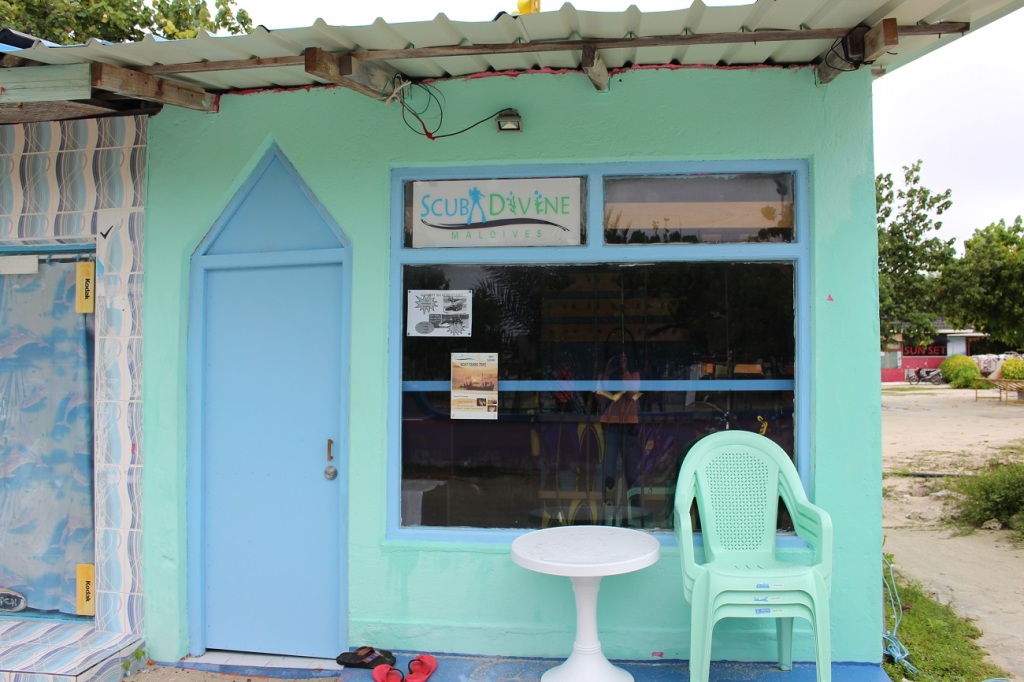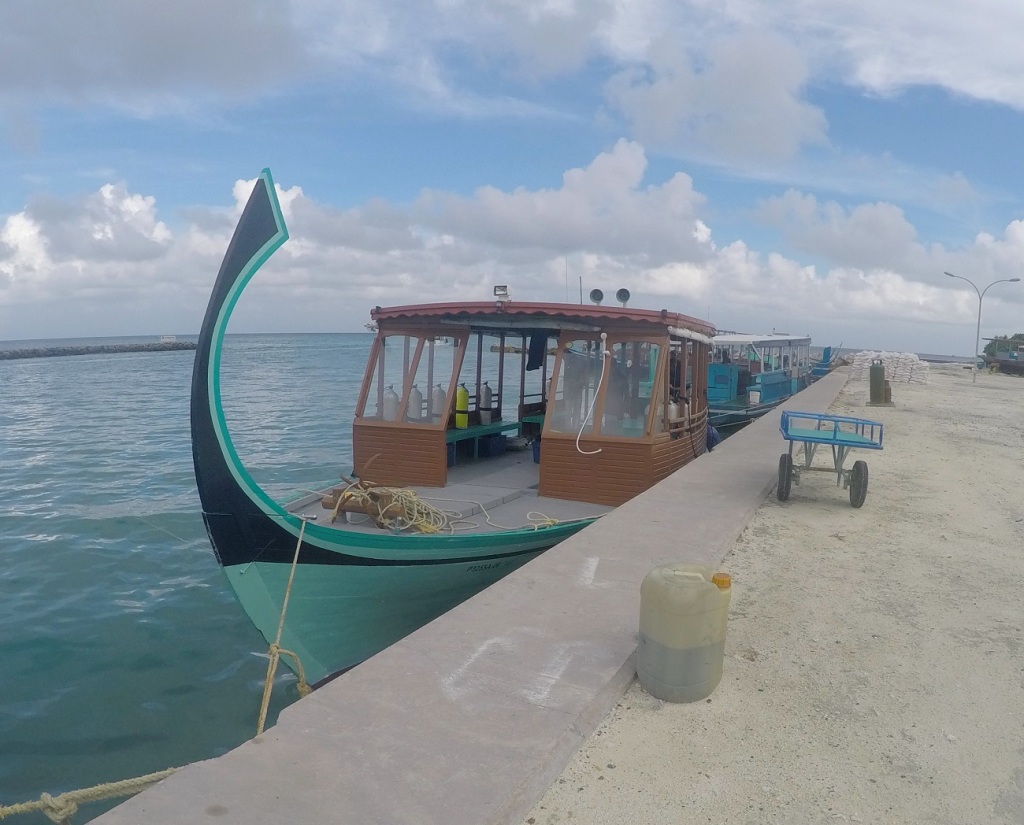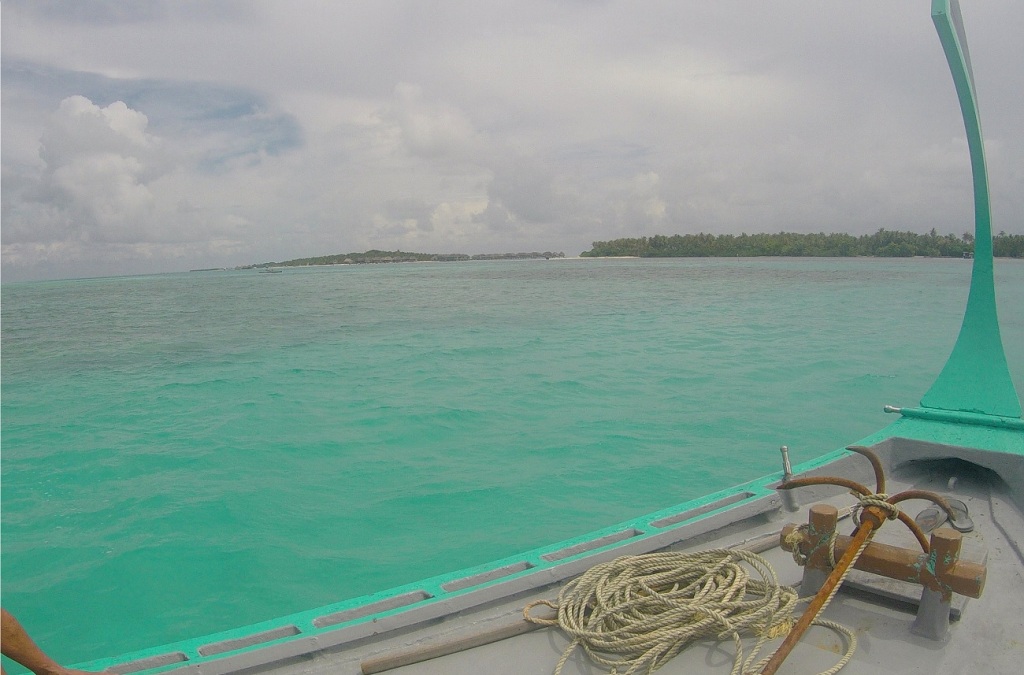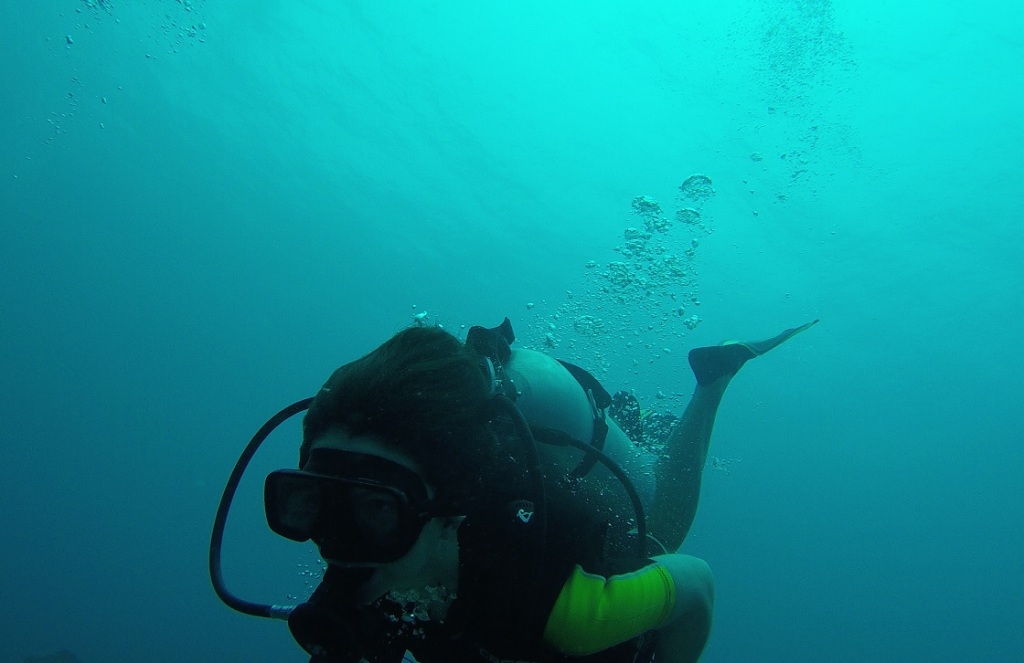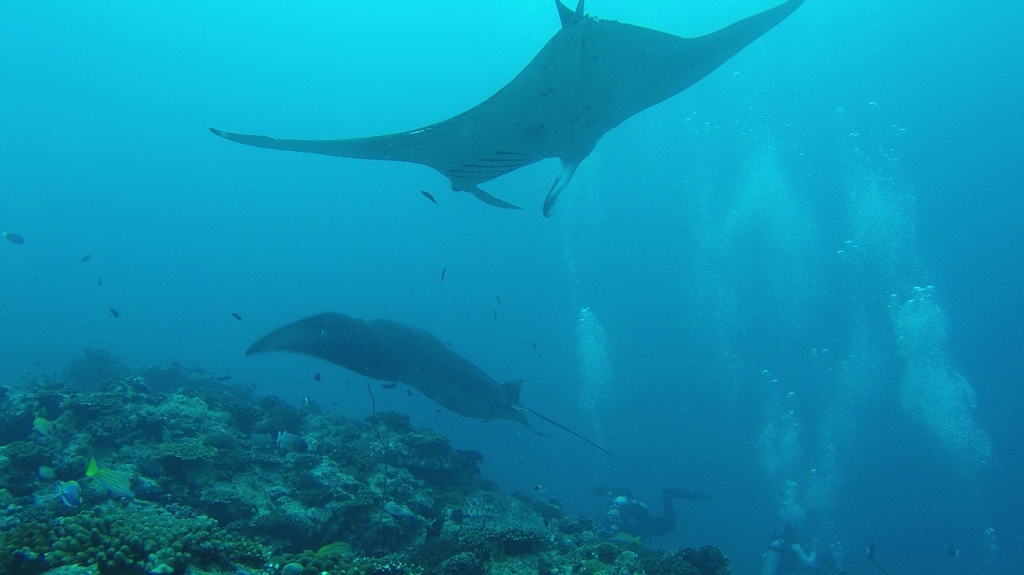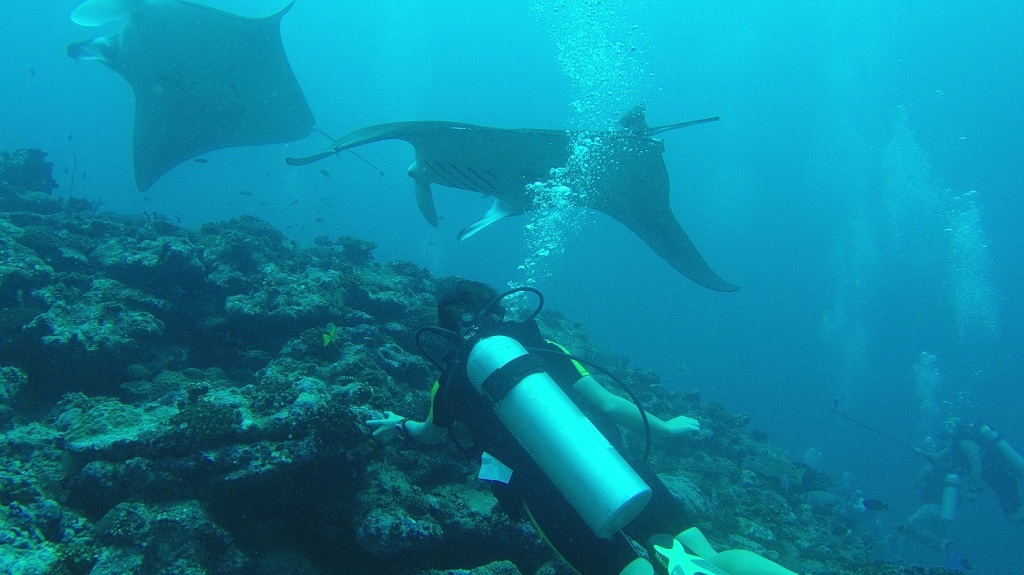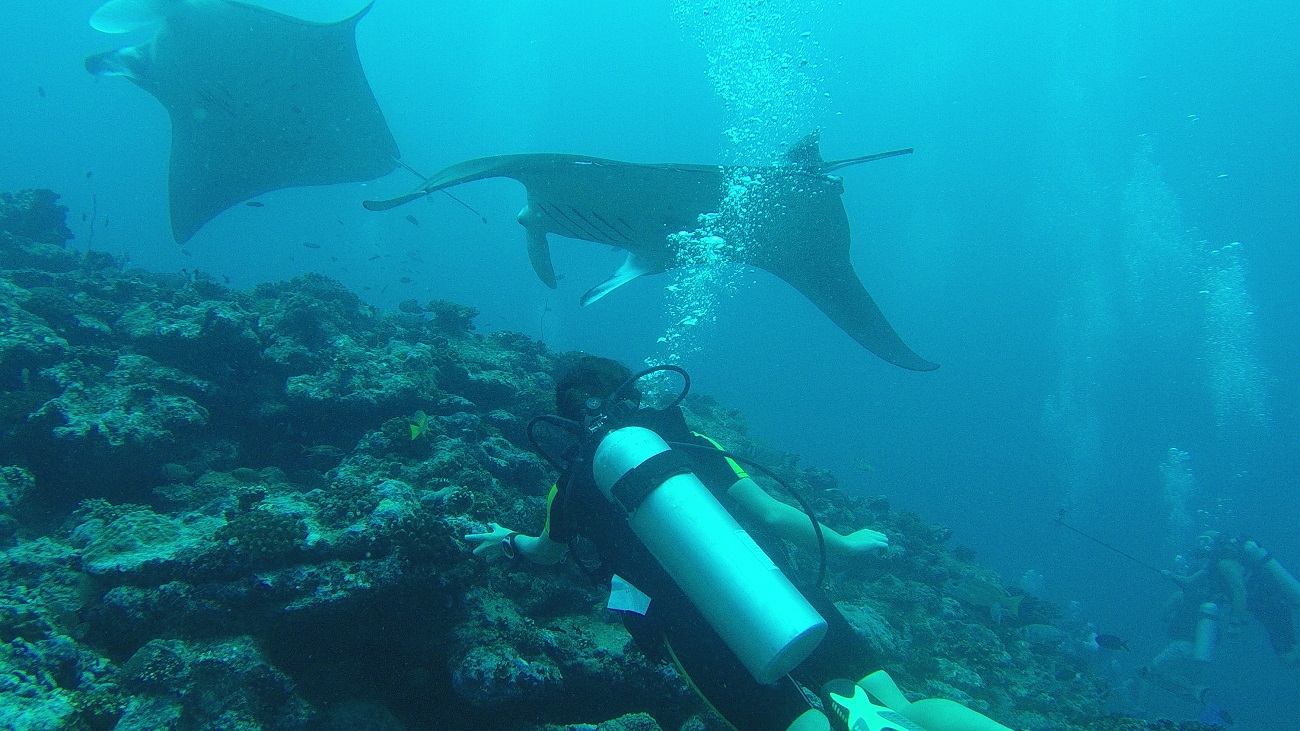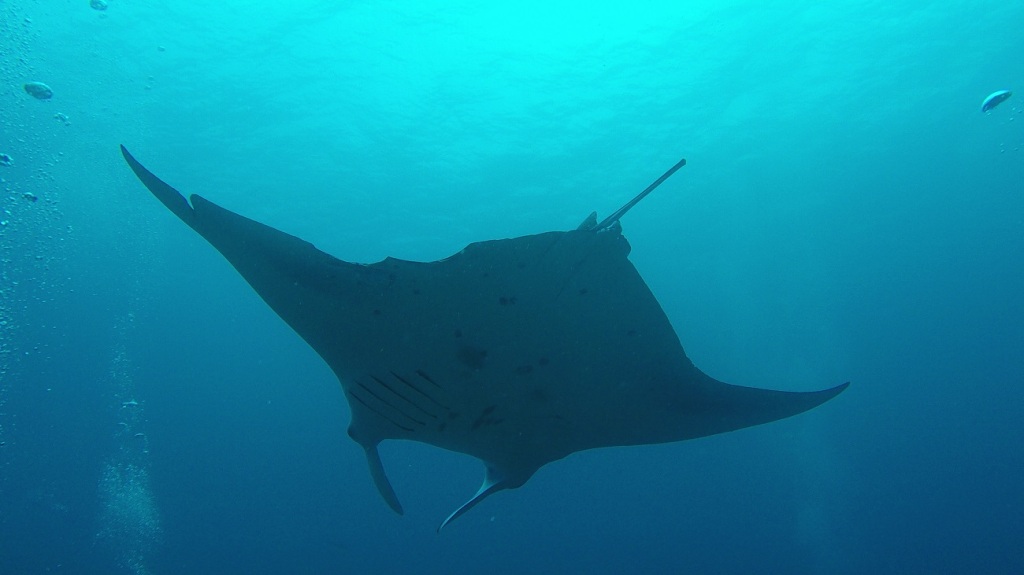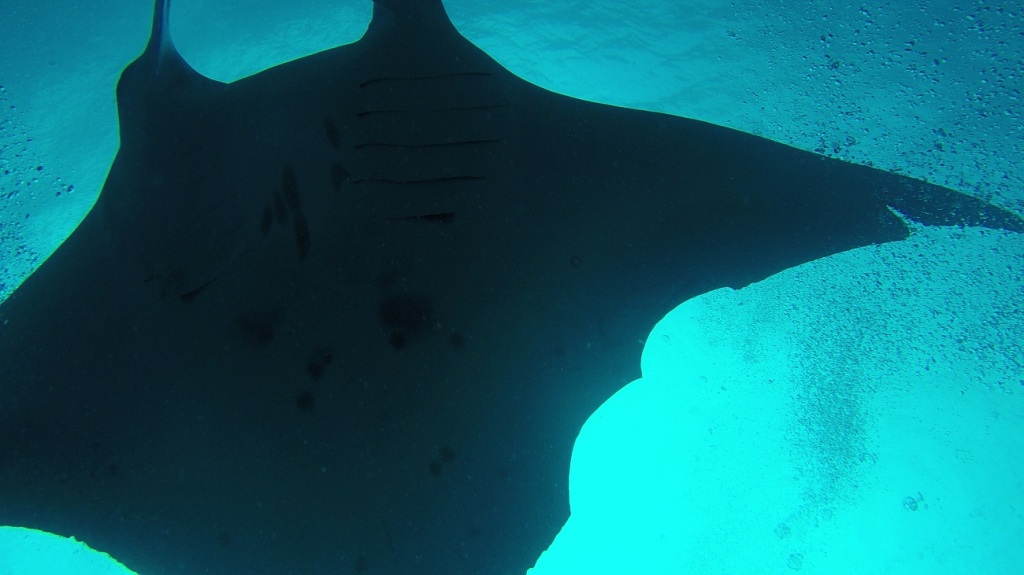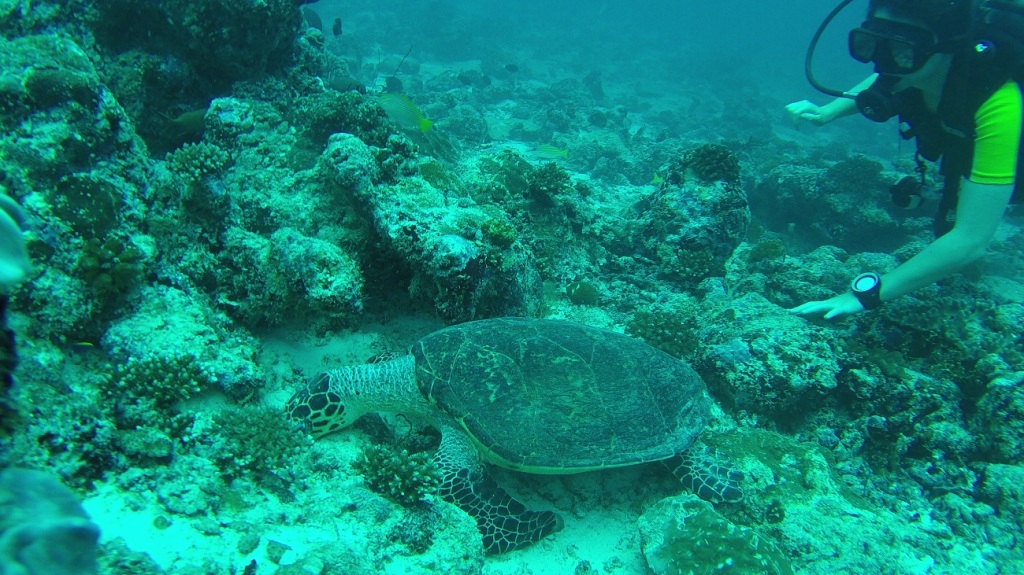 There were only 5 of us diving, but they put 3 instructors with us, so I felt so safe and relaxed in the water. The guides really took care of us but also let me explore… although I did get told off for gently stroking a turtle… I'm sorry, I couldn't resist! No but in all seriousness, don't touch, my friend learnt his lesson the following day when he almost got bitten by a great big turtle! I was laughing so much the water in my snorkel choked me half to death!
NB: For tourists: a single dive including gear rental 980 rufiyaa ($64), for work-permit holders and locals: 350 rufiyaa ($23). If you wanna know more about learning to dive in Maldives, check out my post here.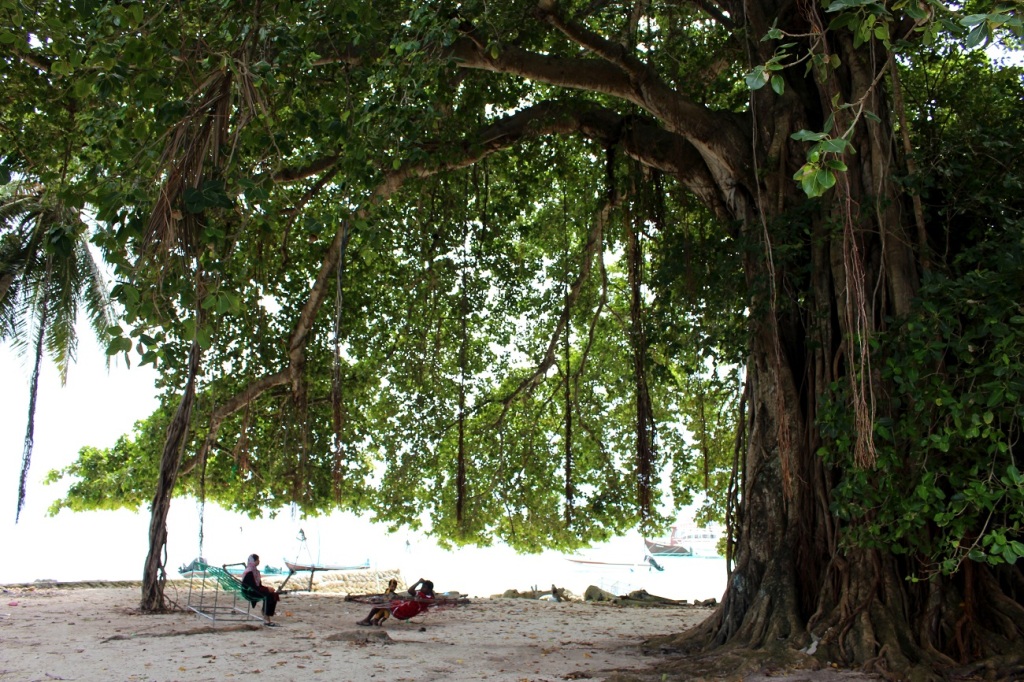 Now, since it was Friday, you gotta remember that it's a religious day over here, so don't even think about lunch until after 2pm. Luckily I'd packed some passion fruit with me so I snacked on those, before grabbing my camera and having a good old wander around the island. With all the men at the mosque, the island was very calm and quiet and I could hear only young children playing against the soft music arising from the mosque.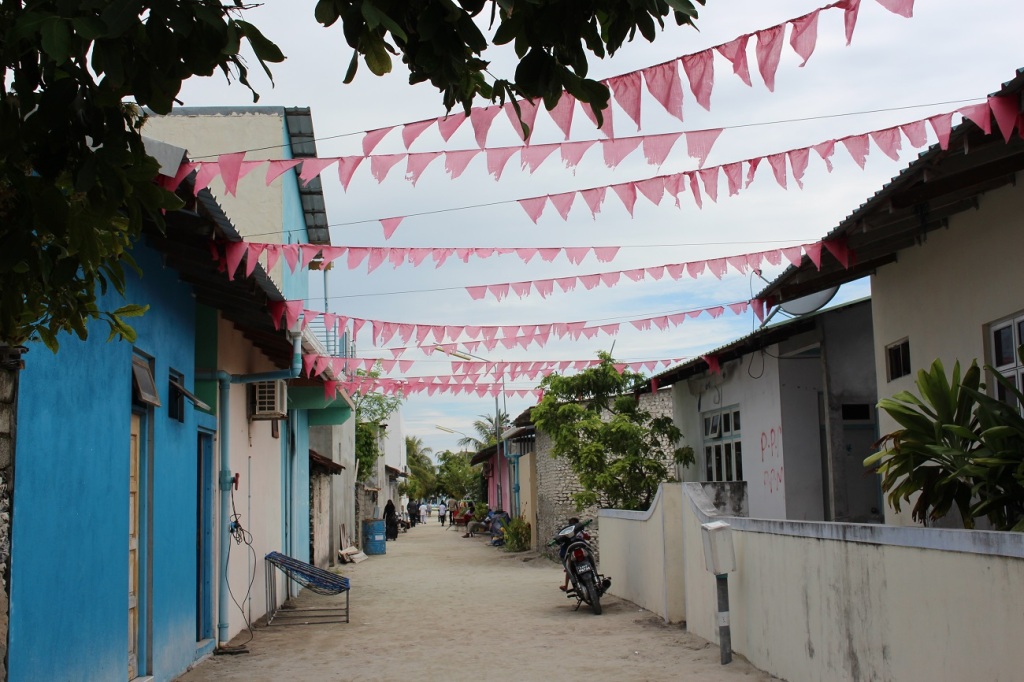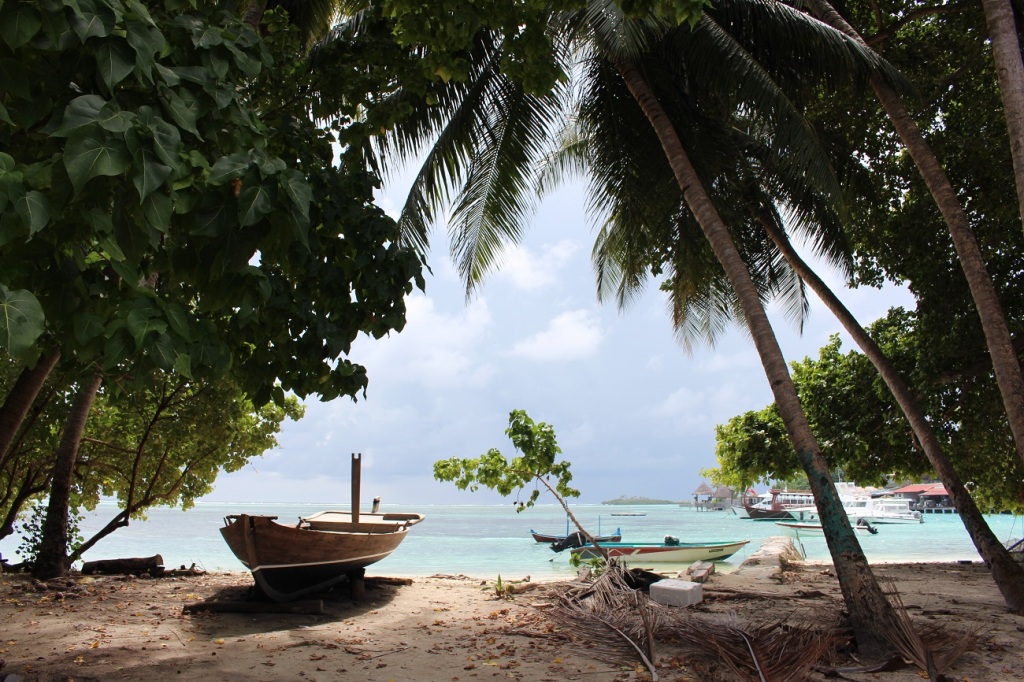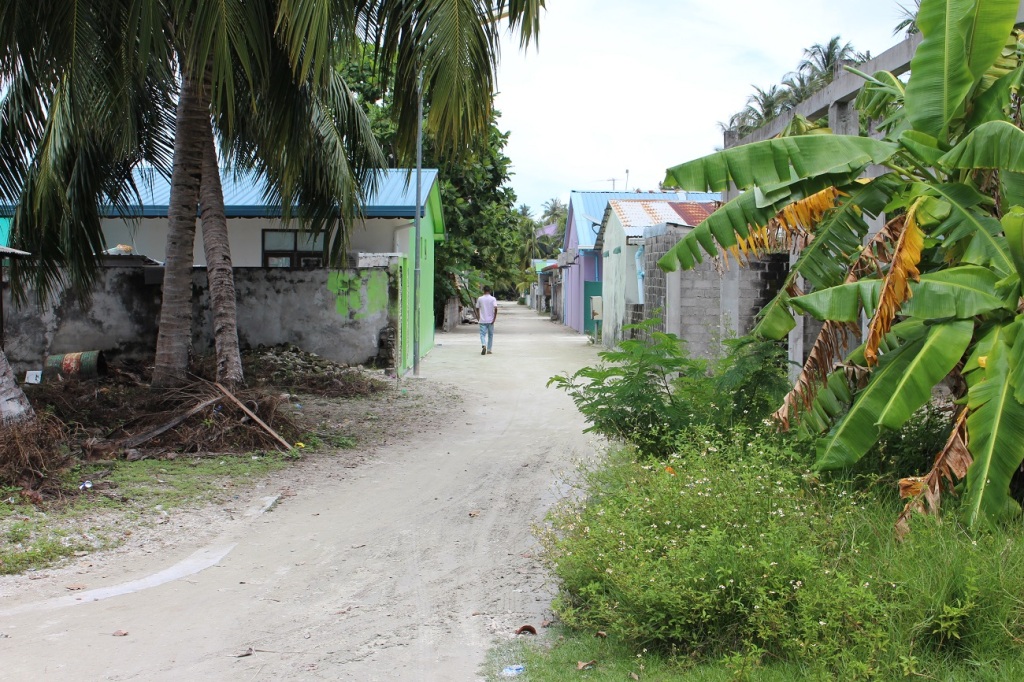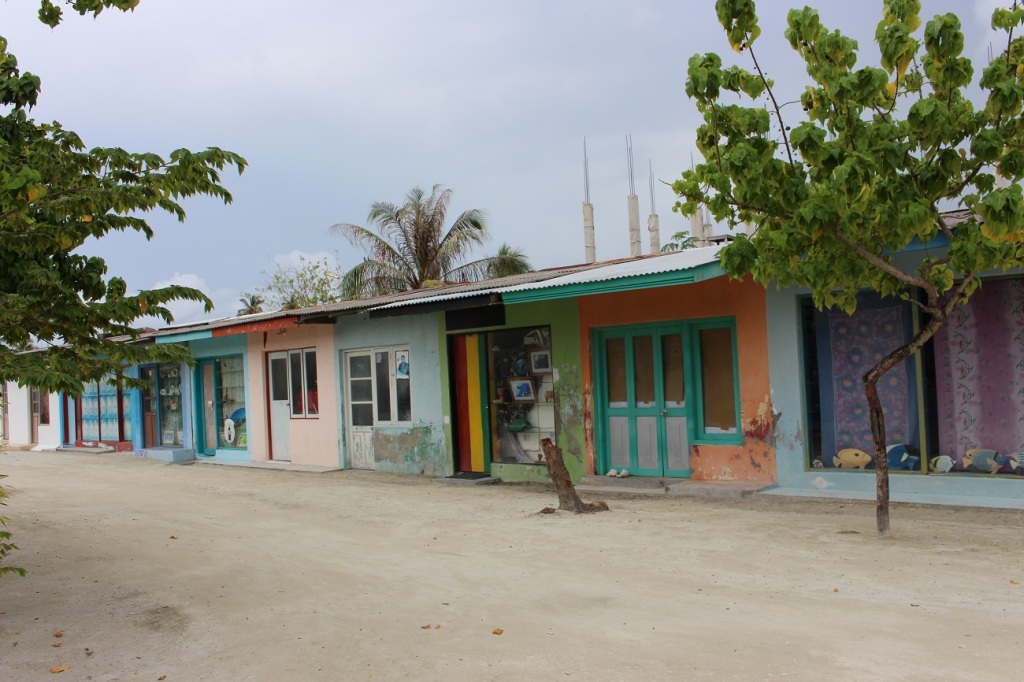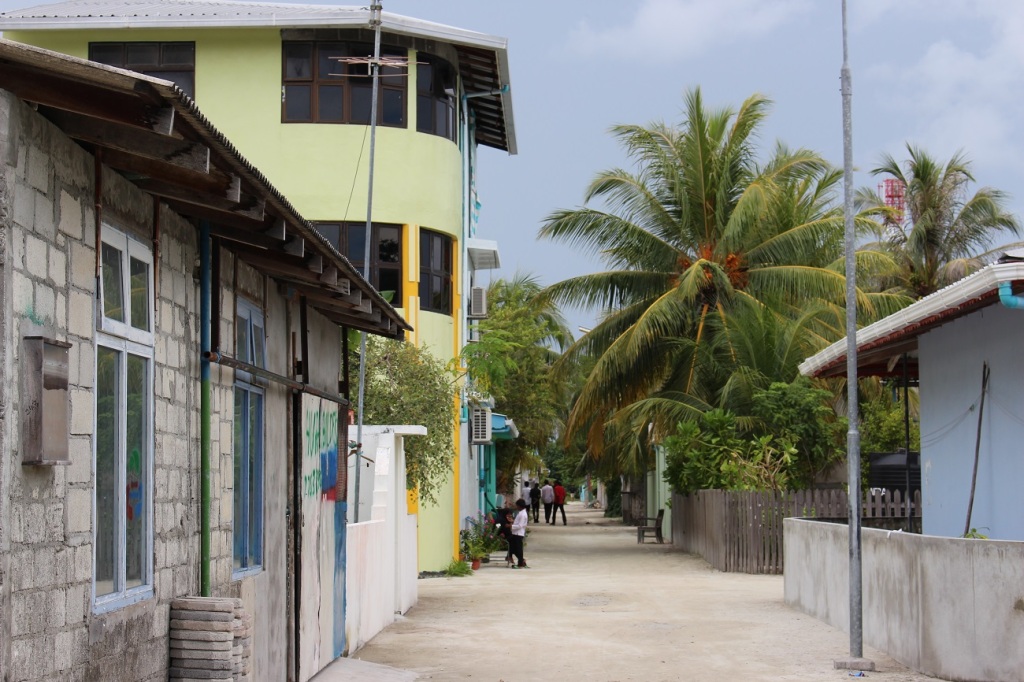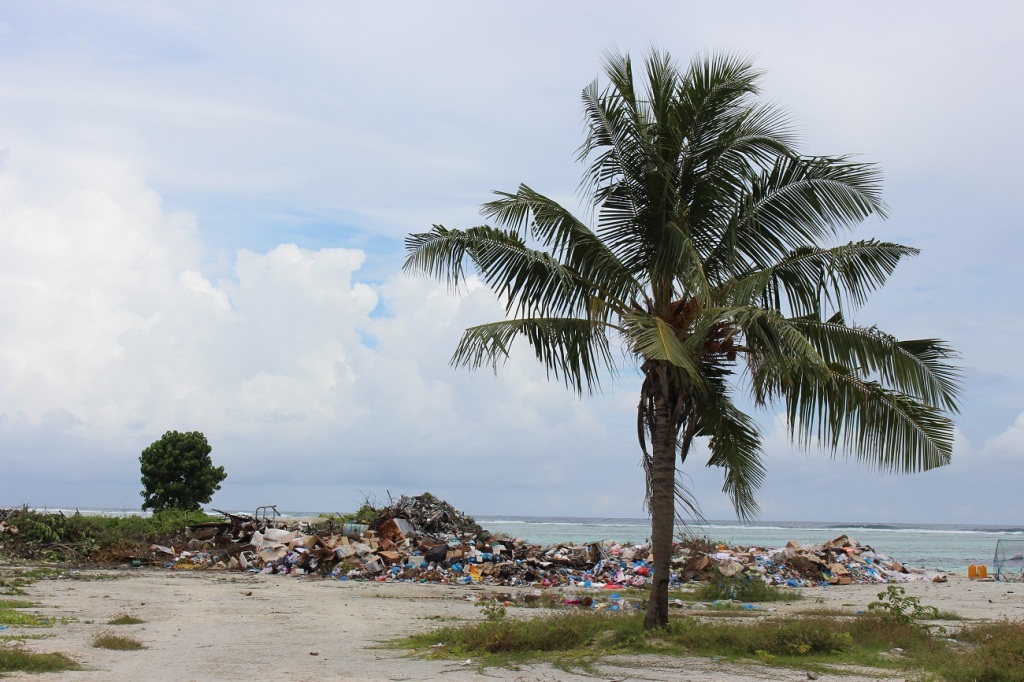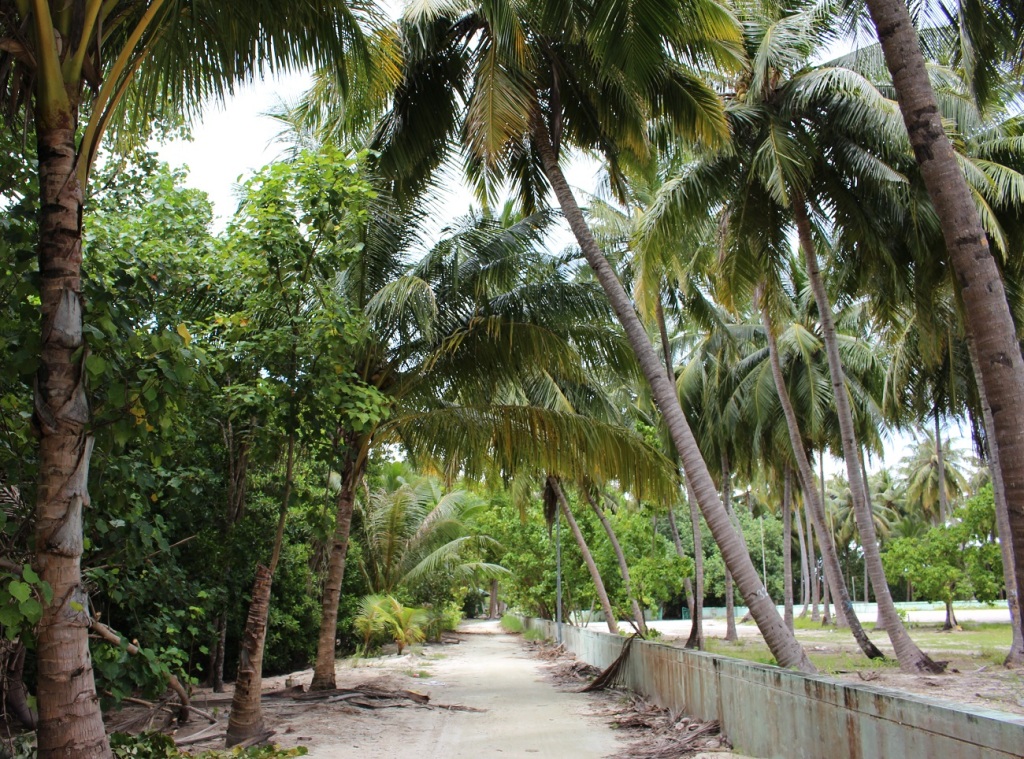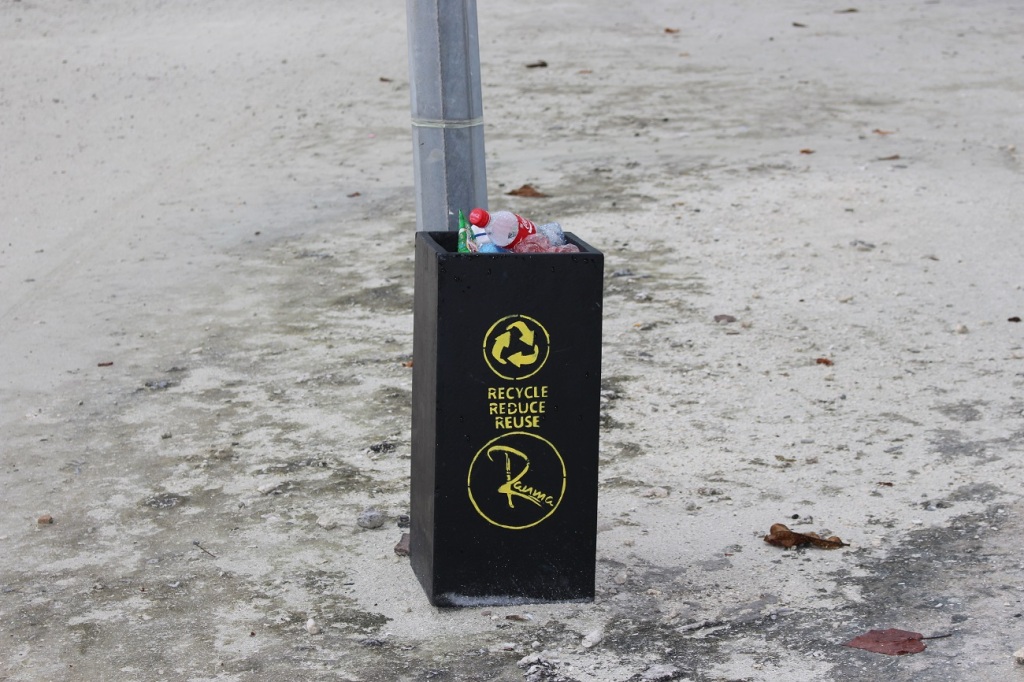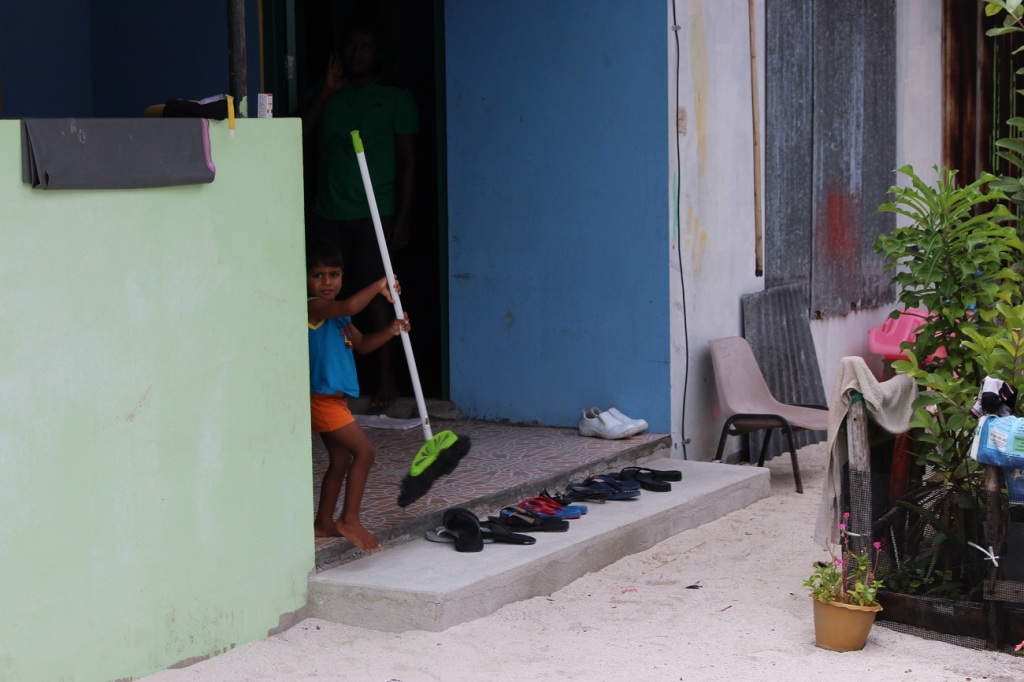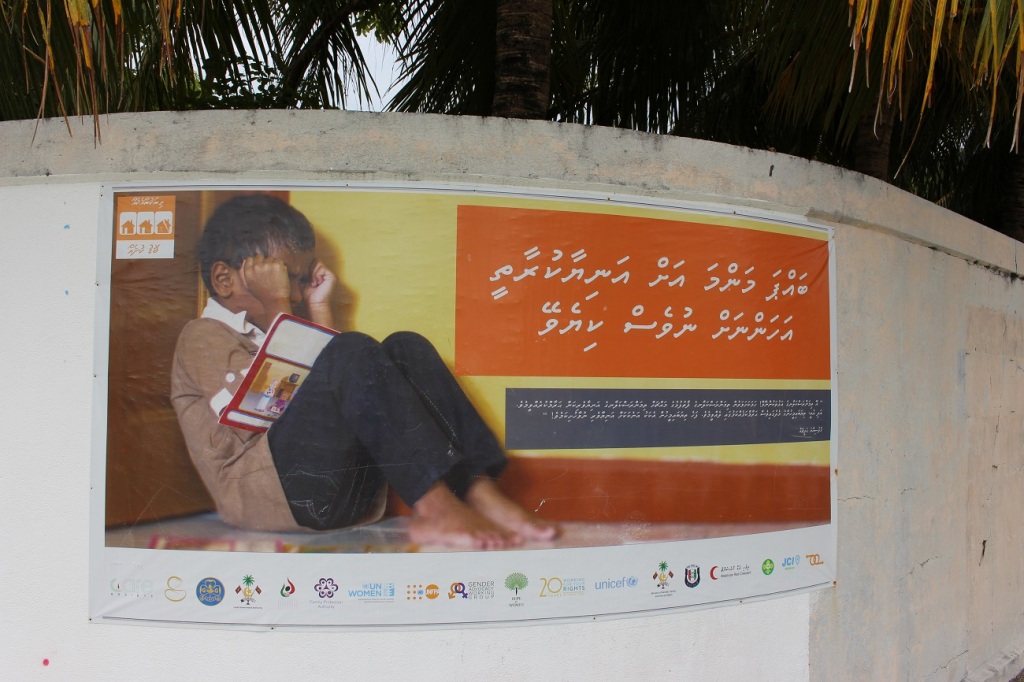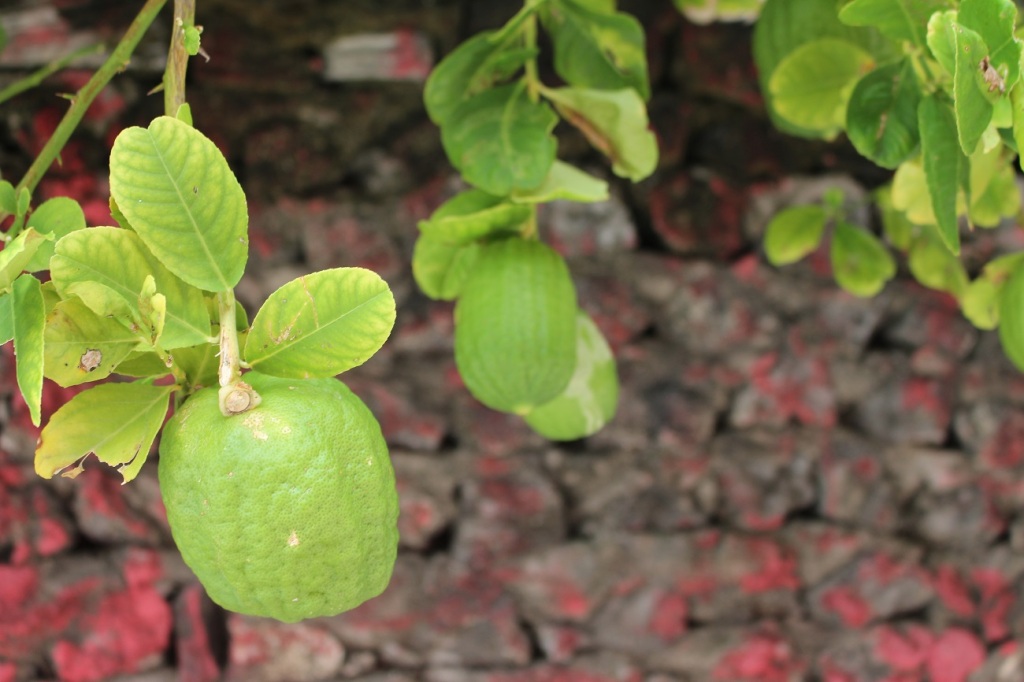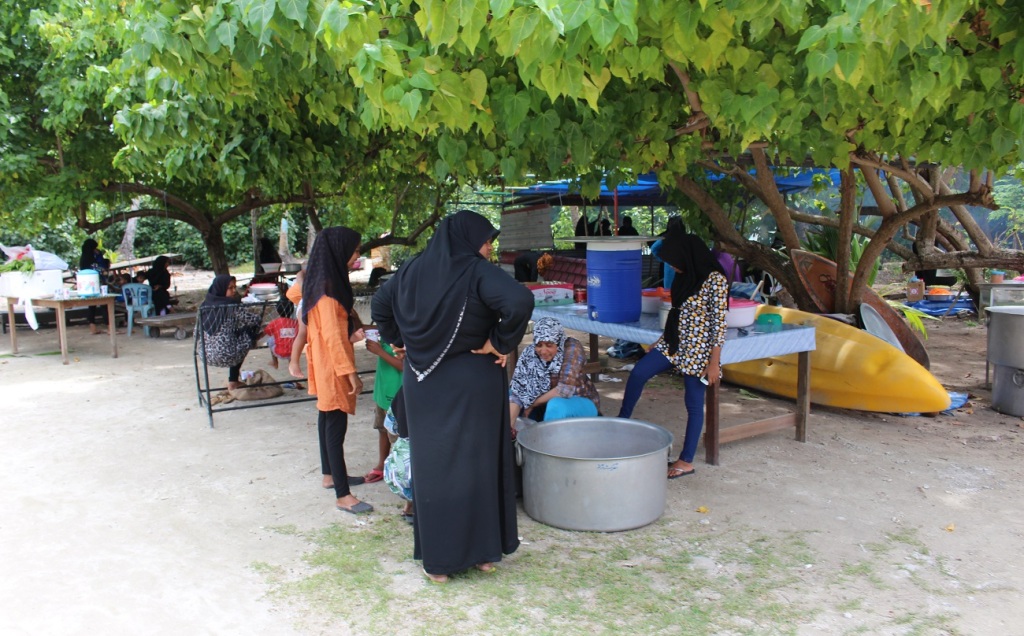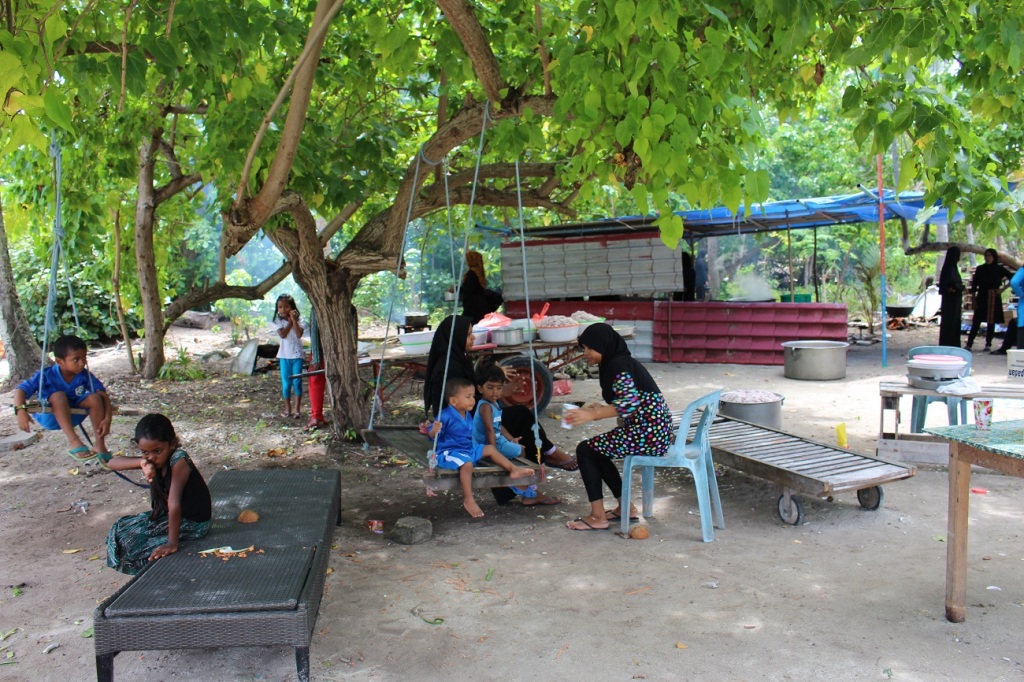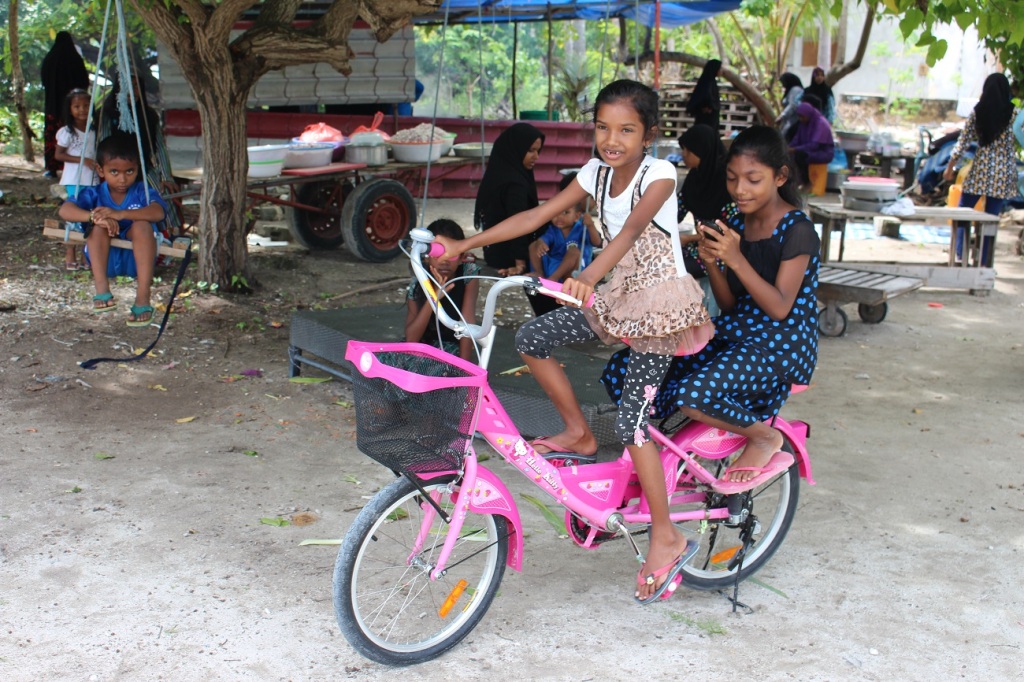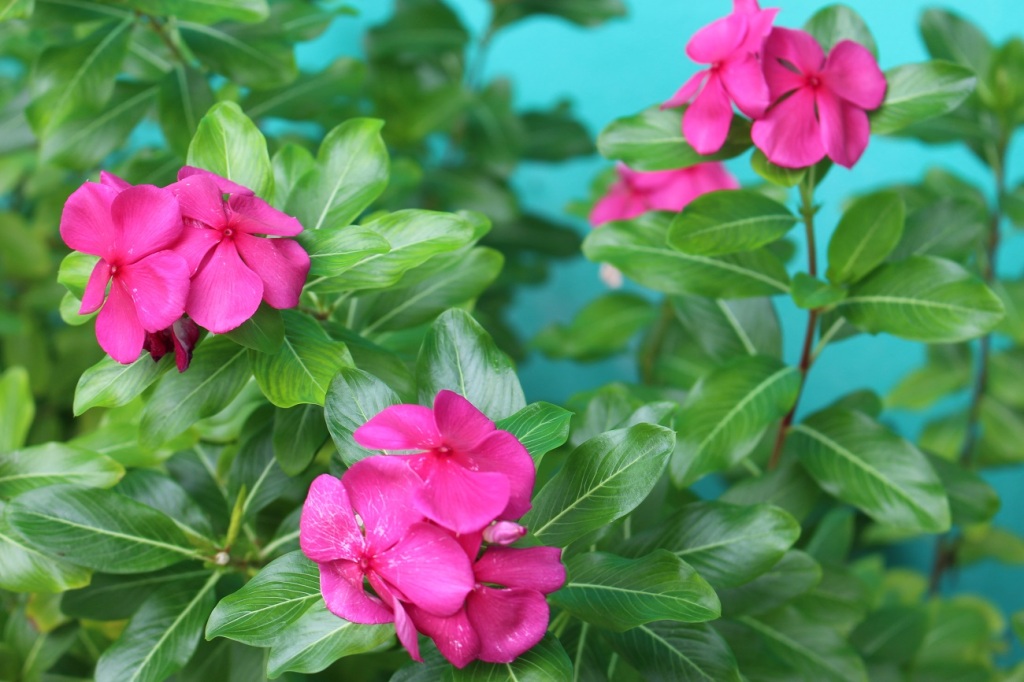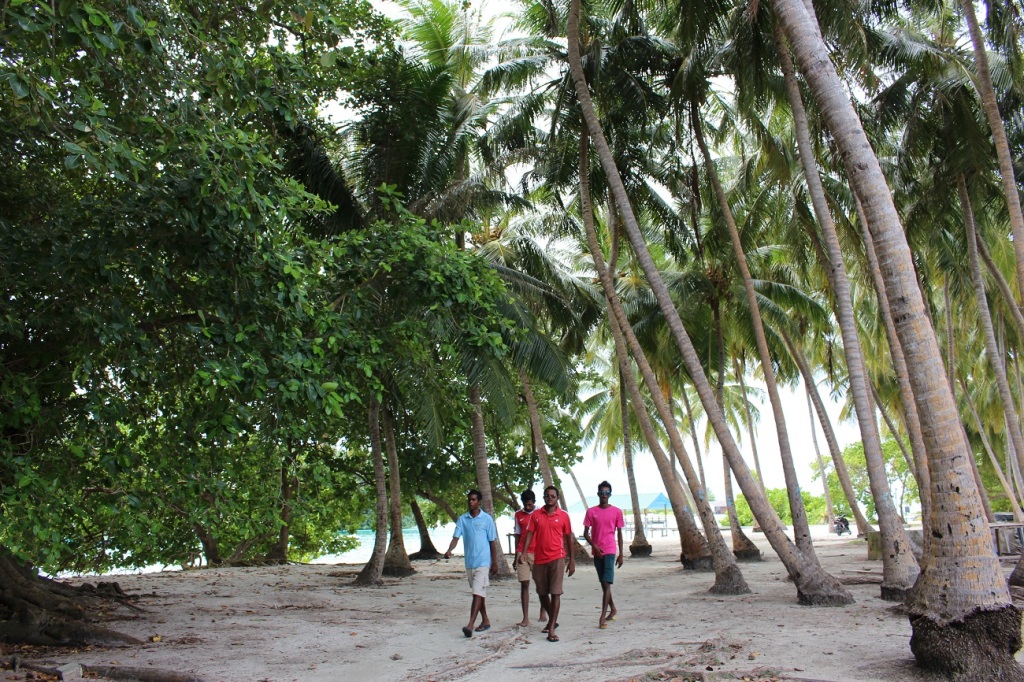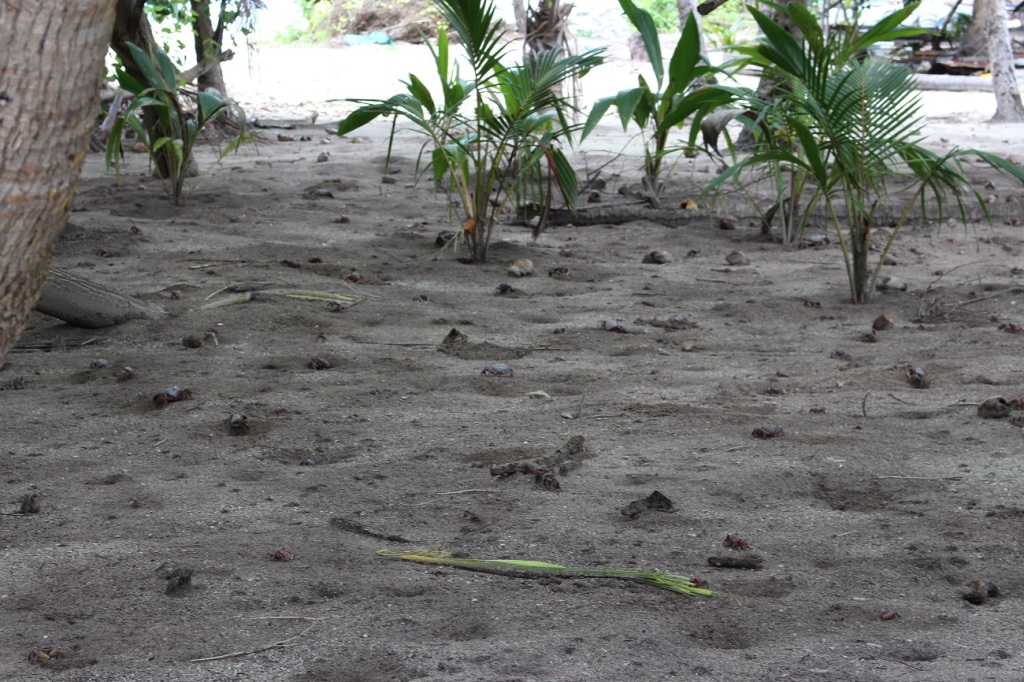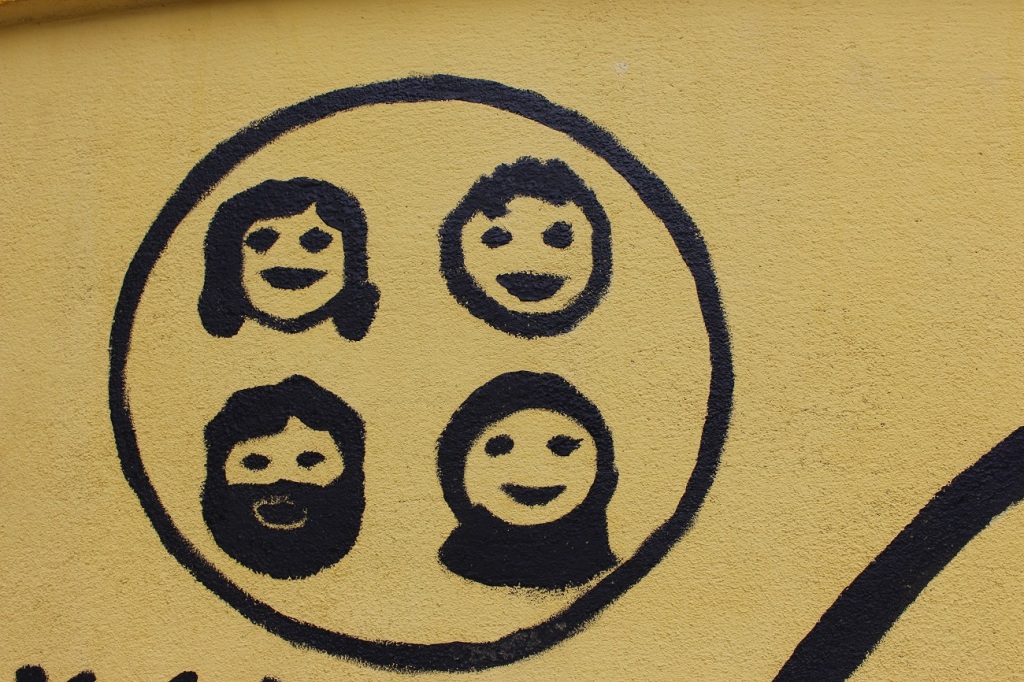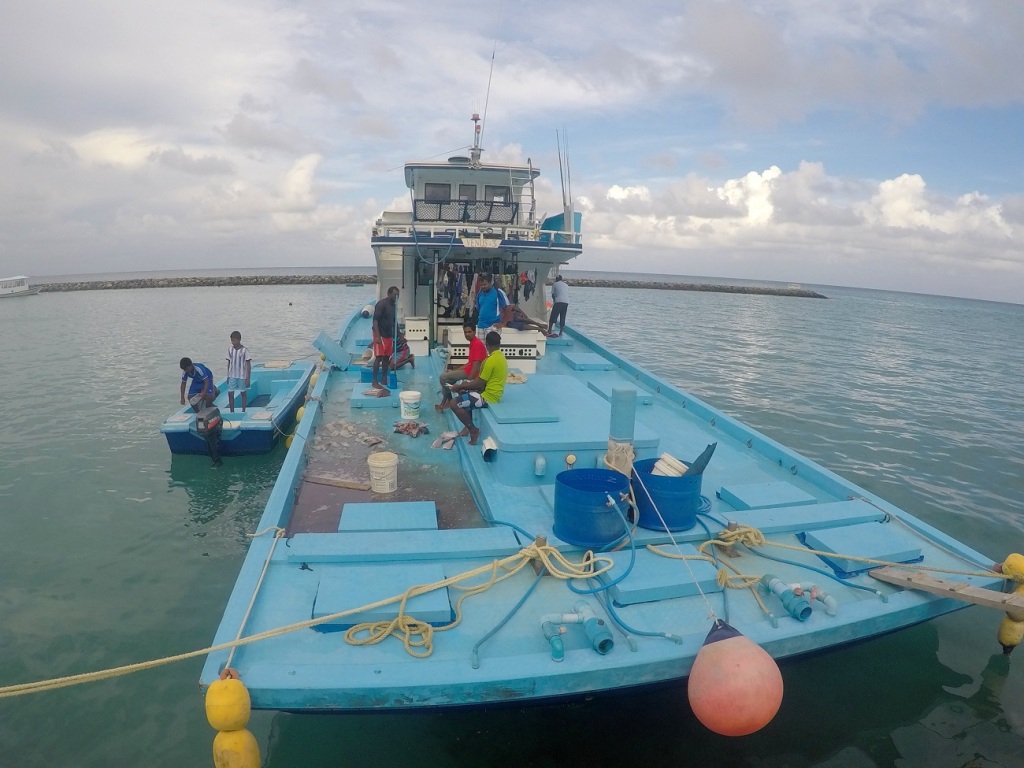 After prayer finished, Huraa got it's island vibe back again, not to mention a massive downfall of monsoon-type rain! Running and dodging puddles, we stumbled into a wonderfully quaint restaurant, tables lined with pink and white tablecloths and an abundance of short-eats ready to stuff ourselves with (you just go up and help yourself, they count how many you take and add it to your bill). The waiter didn't speak much English, and the restaurant didn't have a menu, but he suggested Bami Goreng (noodles) and Nasi Goreng (rice), two yummy Indonesian dishes that I'd had a few times before back in Hulhumale, so I went with Nasi; fried rice mixed with small bits of beef, chicken, sausage, prawns and vegetables, topped with a fried egg and garnished with slices of cucumber, served with crackers similar to papadums but thicker.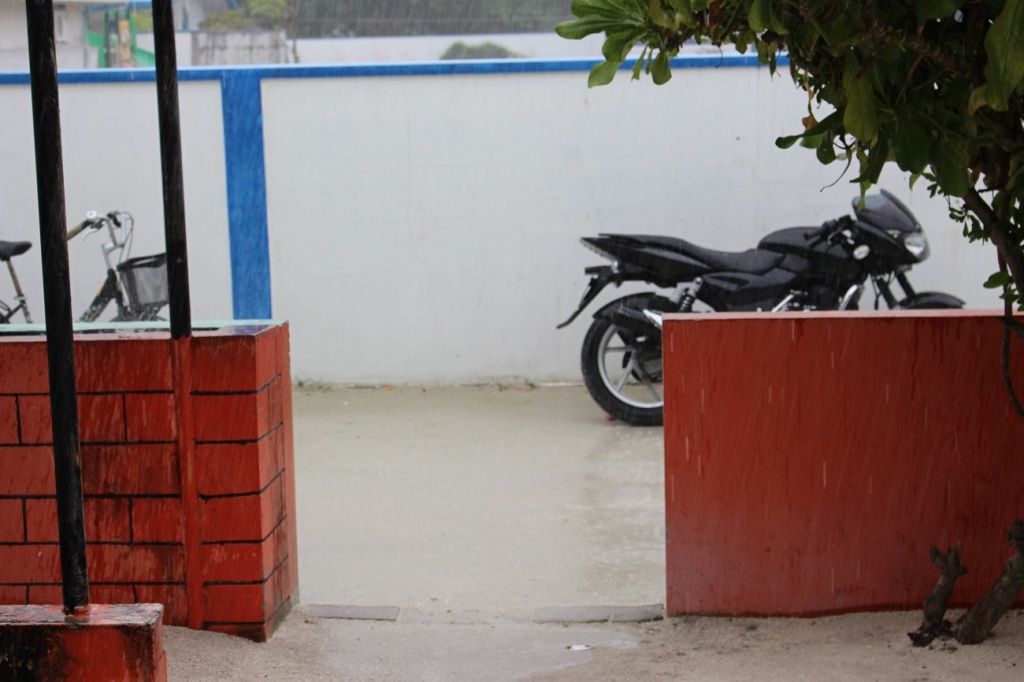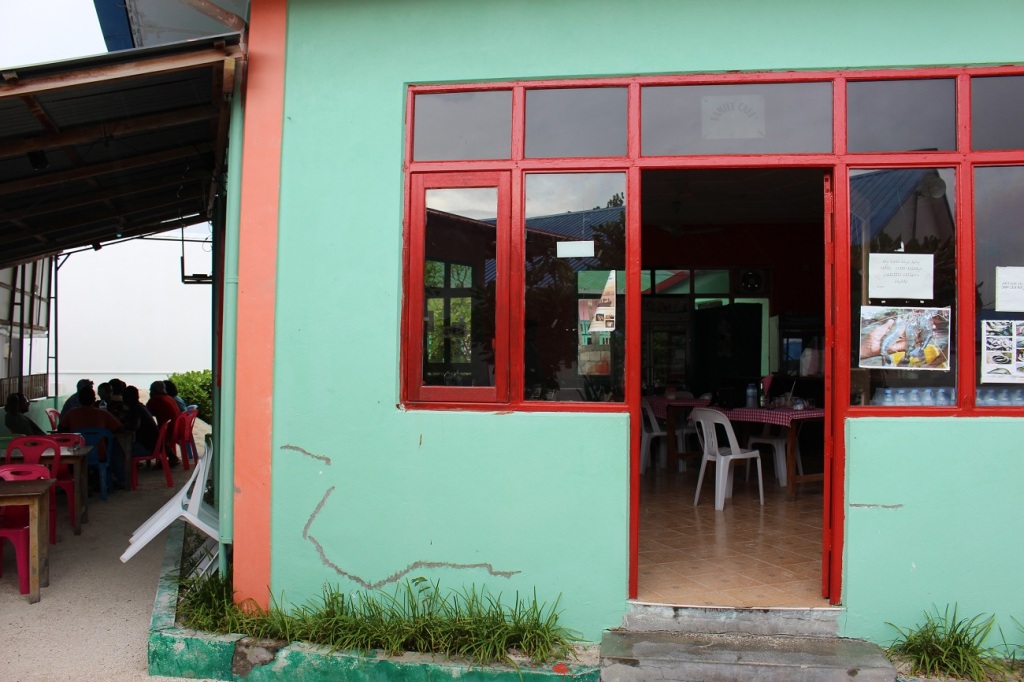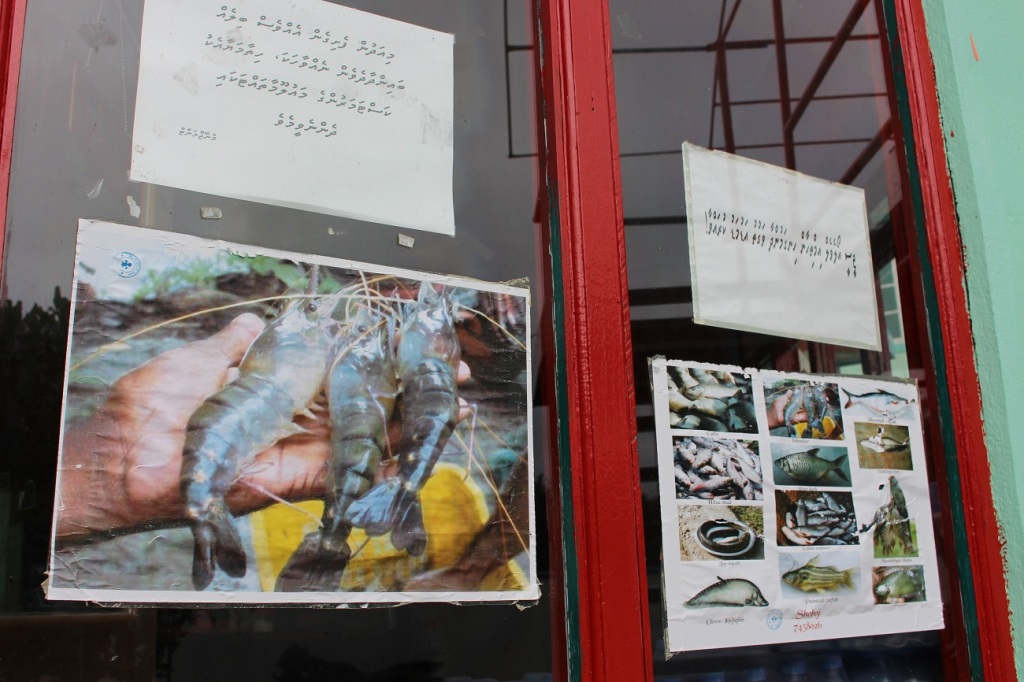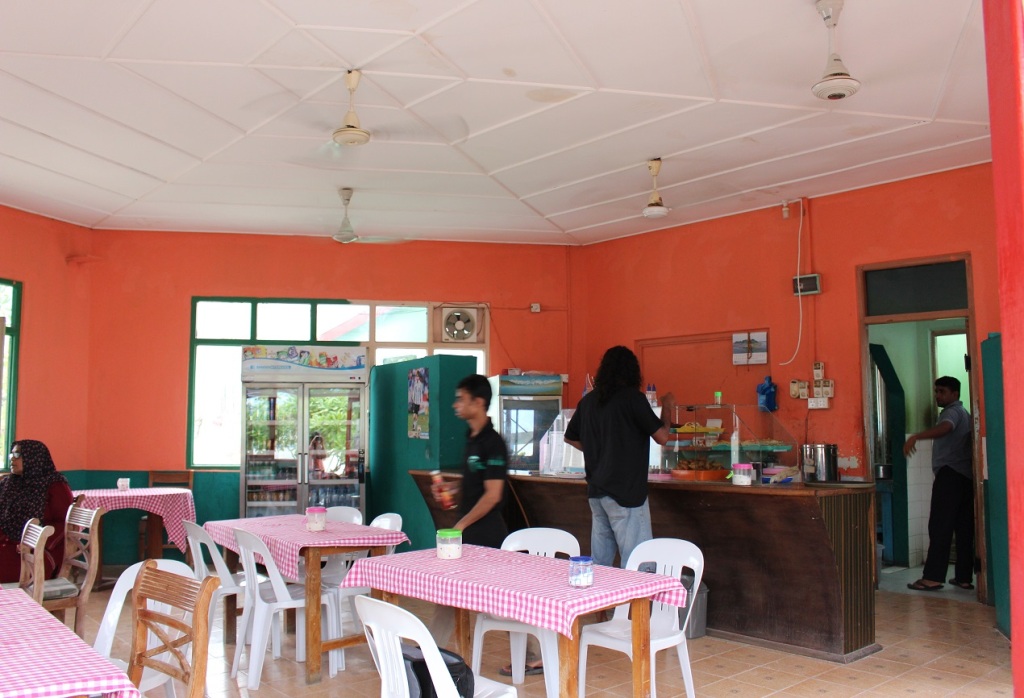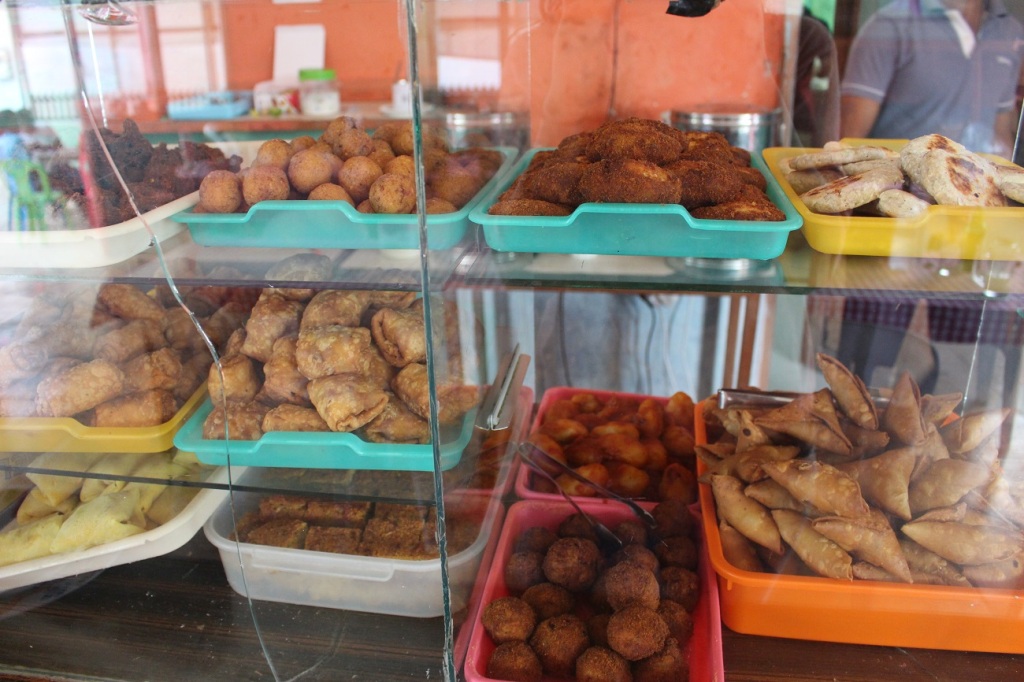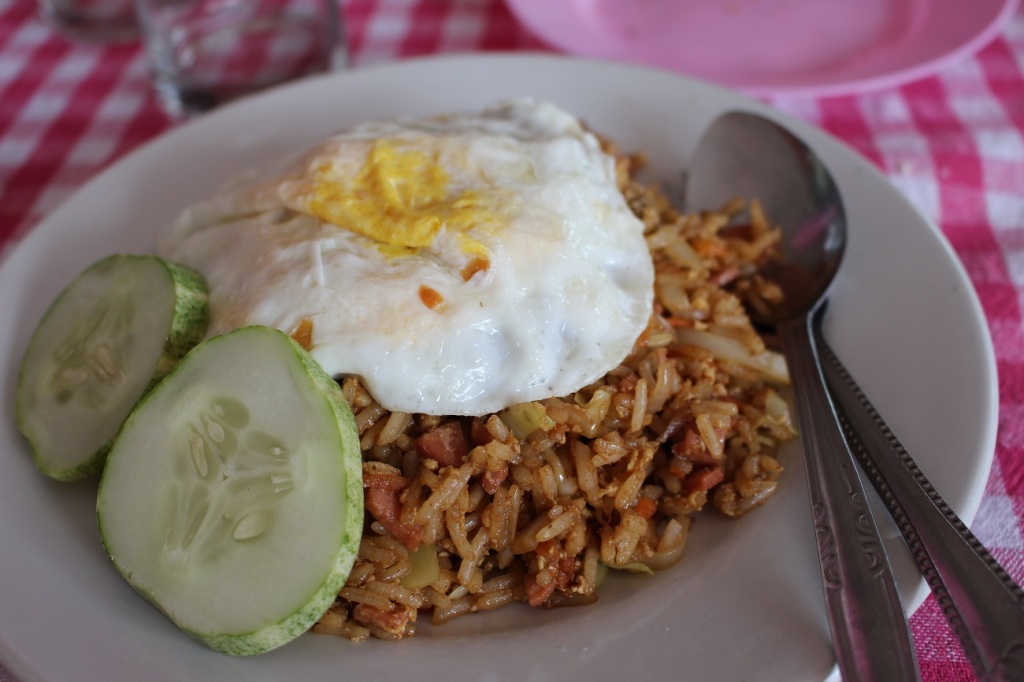 With more heavy rain, I took to my bed and read some of Into The Wild (an excellent read) and took a nap. In the evening I felt lazy (and kinda moody for some reason) so I asked the guest house owners to help me get some food delivered; sweet and sour chicken with vegetable fried rice= a happy Sarah. I spent the next few hours chilling with friends outside the guesthouse on traditional chairs called a joali. The air was warm and the sky lit with stars. It was a lovely night to end a super day!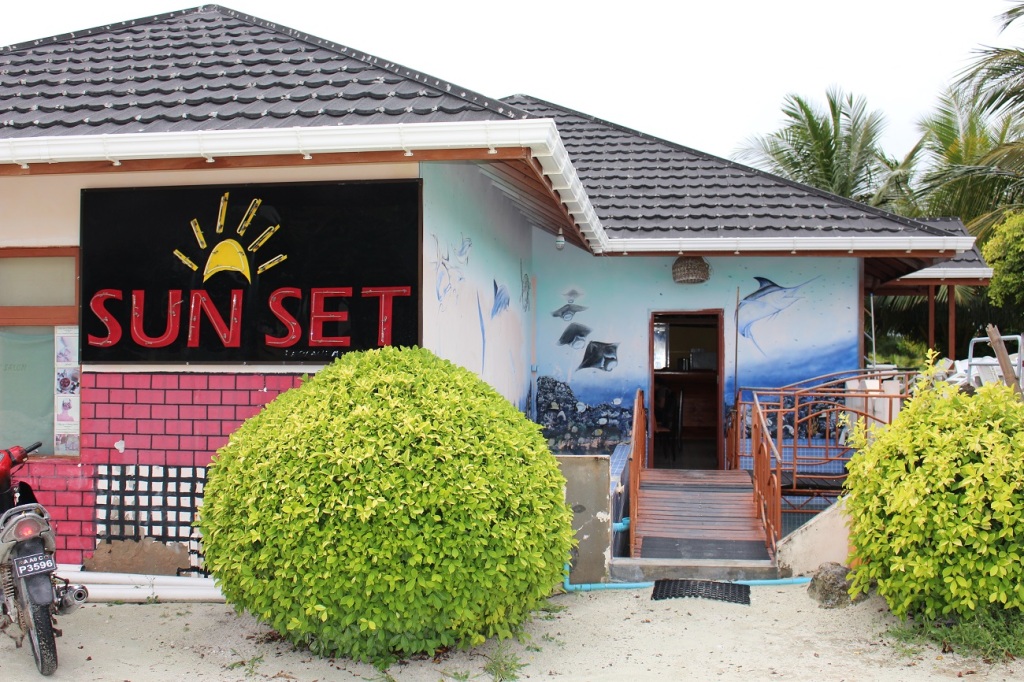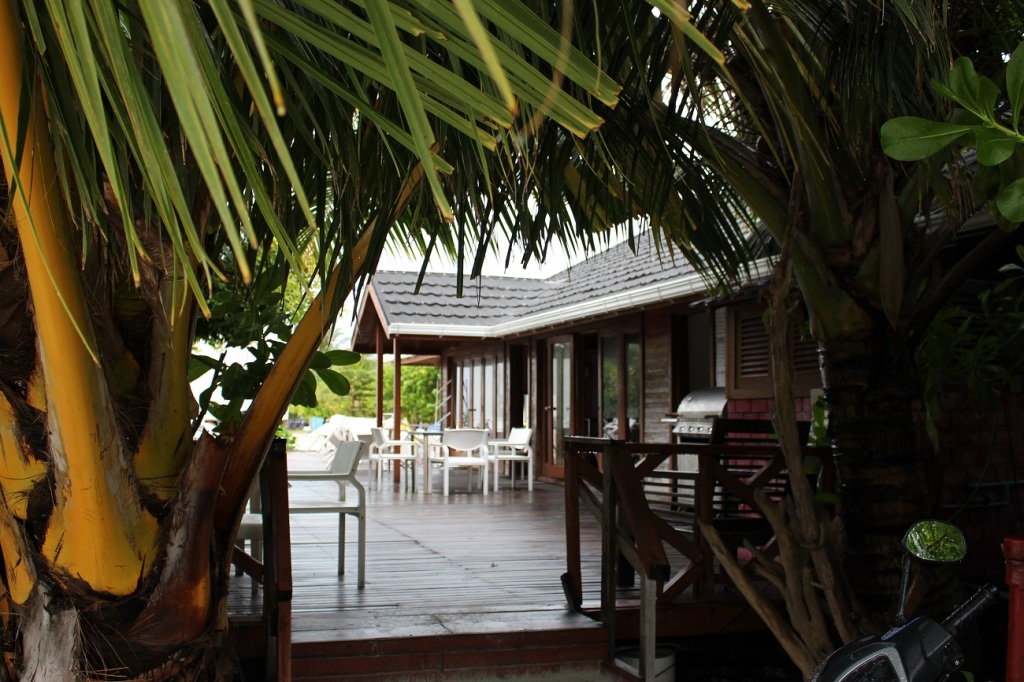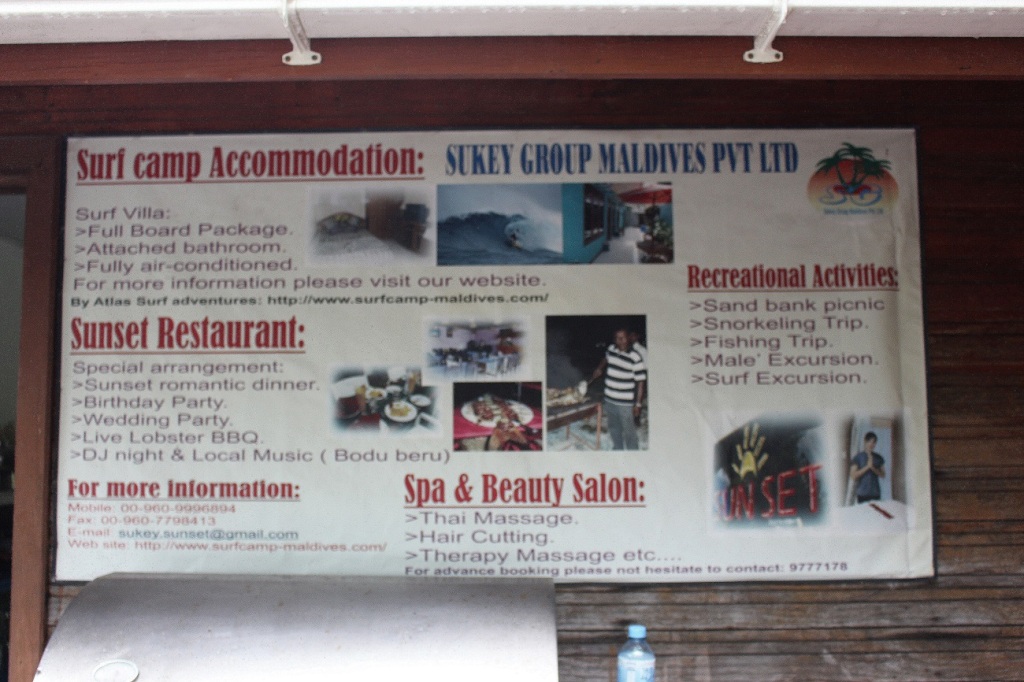 The next morning I had a lay in and lazed around. There's actually a bikini beach on the island, allowing tourists to unveil themselves without disrespecting anybody, but I never got around to walking over there. 8 months living in Maldives, suddenly a beach isn't so exciting. Instead, I booked a Shark Safari organised by my guest house which had me snorkelling with sharks. SHARKS! The weather was perfect, if it wasn't for the sharks and fish down there I'd have happily stayed on the little engine boat and get lost staring at the sea and into the horizon.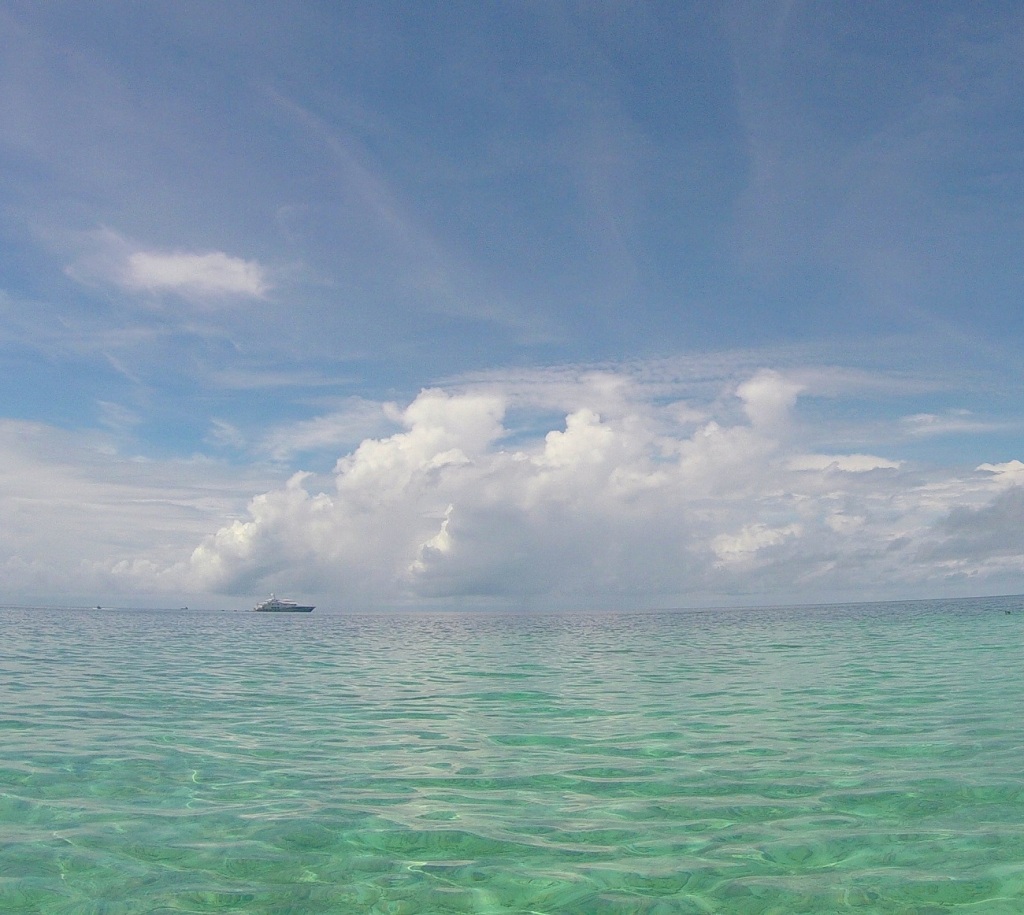 The sharks were quite afraid of us so when we saw one, we let the waves nudge us closer and tried not to kick our fins. Sometimes it felt like I was too close to them! Especially when at one point there were THREE of them together! Ah I really enjoyed this experience and would definitely recommend! Sea Shine offered the trip at first for $60 each, but then as we were the only guests and had gotten on really well, gave us a nice discount. Decent guys!!! Oh, and if they couldn't be any better, they actually turned into heroes when our speedboat transfer got muddled up and cancelled. They took us all the way back to Hulhumale for just $50 on that same little engine boat, even though a storm was fast approaching!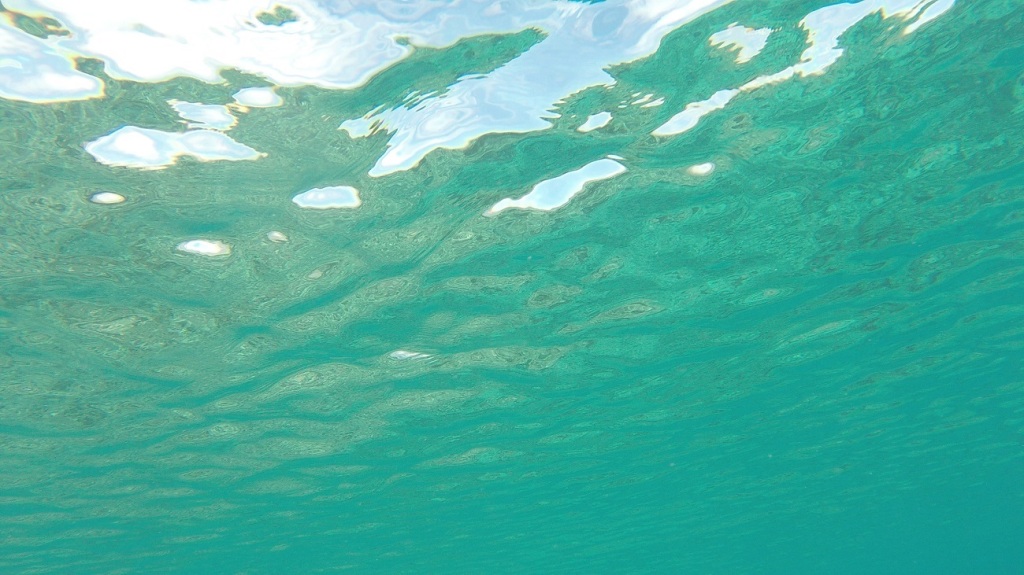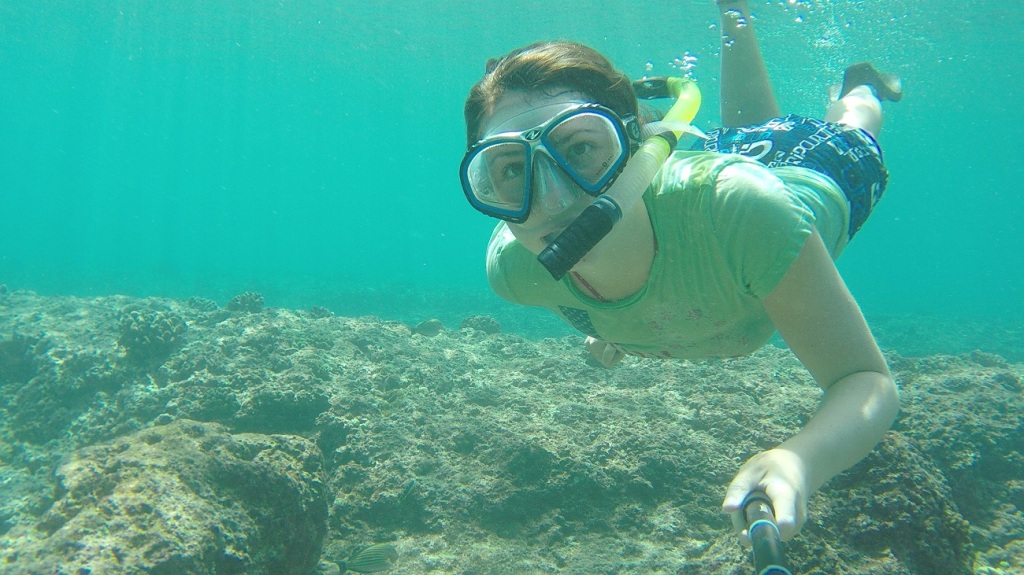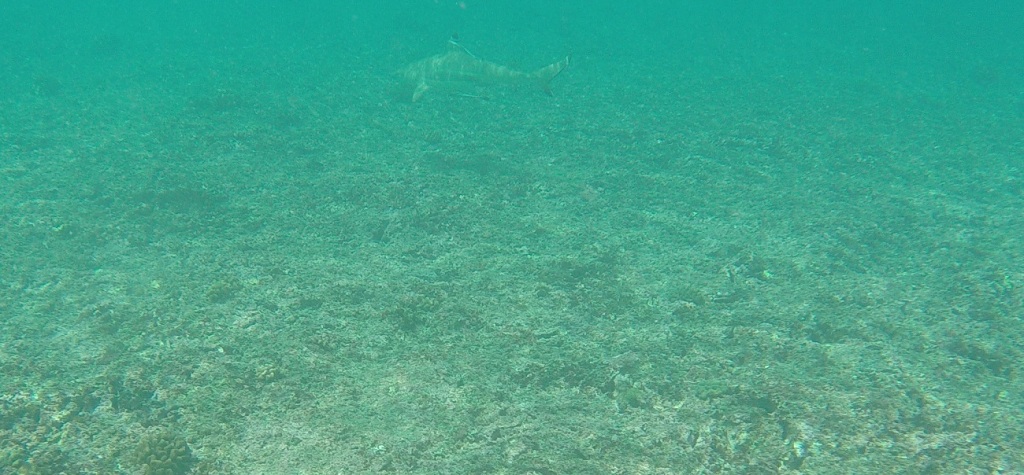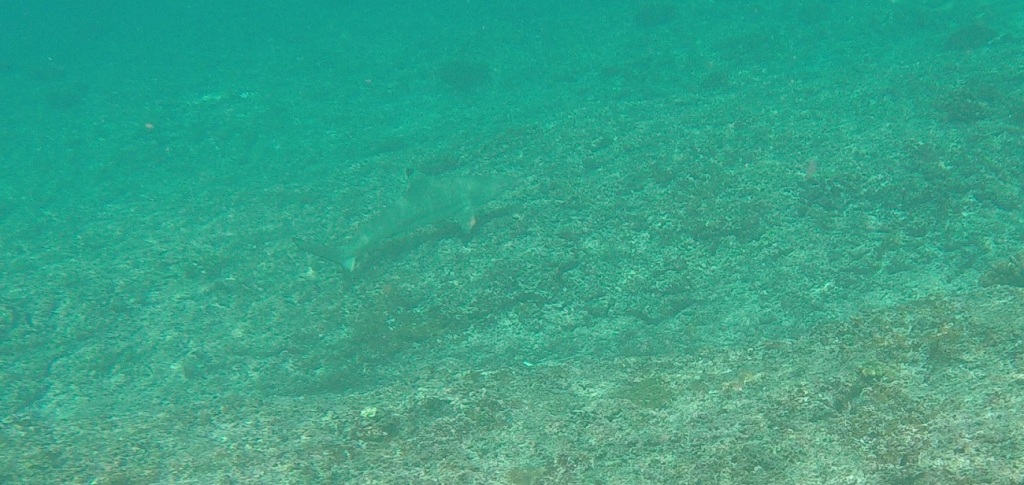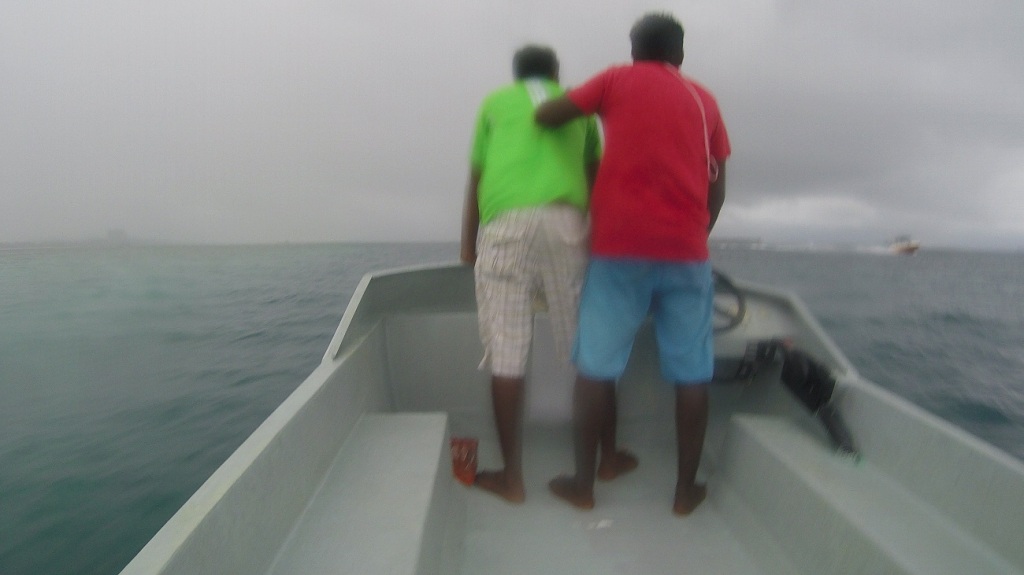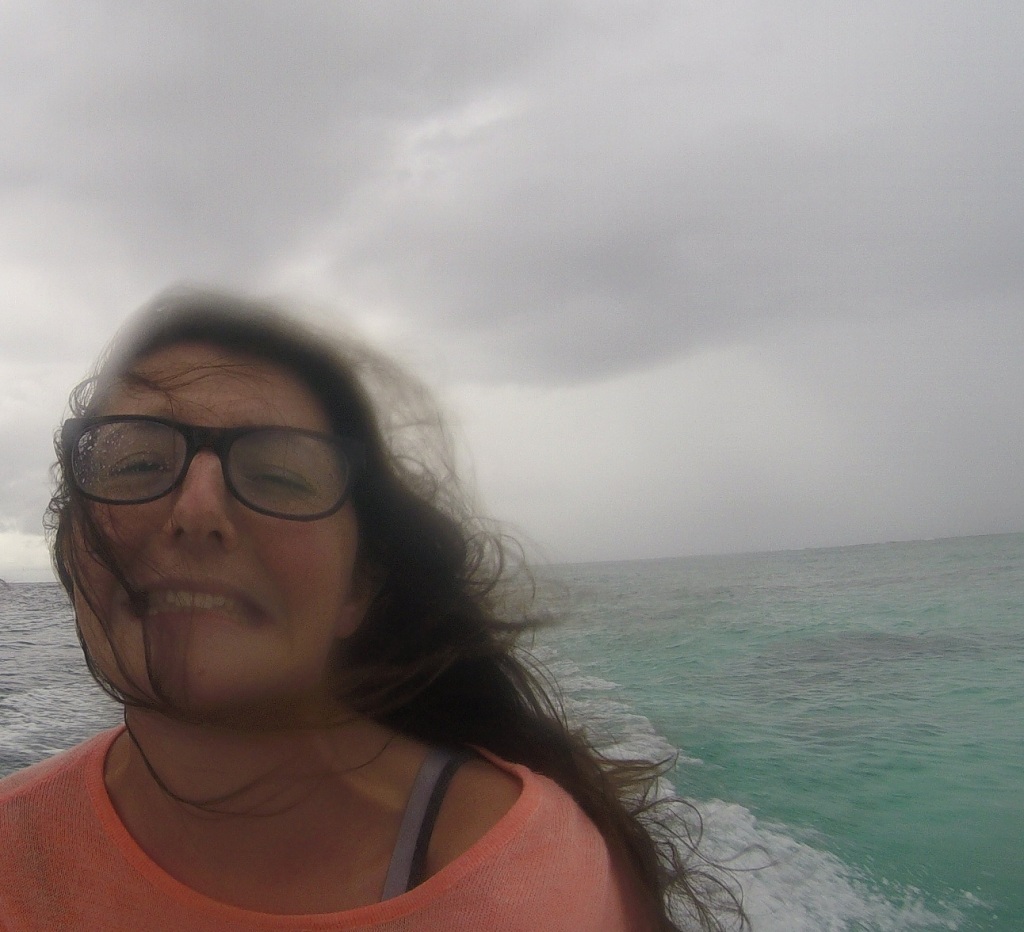 Huraa is apparently a great spot for surfers with several surfing points in easy reach. Sadly I can't surf… perhaps I should squeeze in some lessons before I leave…? Other things to do here in Huraa include a visit to a private sandbank, watching dolphins, taking a fishing expedition and snorkelling with turtles. My guest house also offered a wonderful traditional dance show (Boduberu) which you MUST see if you get the chance- they are excellent and the beat really makes the island come alive. In addition, if you're fancying a bit of luxury, the guest houses work with several resorts and can get you cheap entry passes, where you're free to use the water-sport facilities, as well as restaurants, spas and bar.
If this wasn't a good deal for a weekend trip to an island in Maldives, I don't know what is! Be sure to check out my previous post if you missed it, Ditch the resorts: Stay on Local Islands. For more insight into local islands, check out this great link titled "Faces of Maldives", with some captivating photographs of local people on their islands.
Thank you for reading!