Last month I was invited to stay in the private home of an incredibly welcoming Maldivian family, The Naseem's. They live on a local island called Hithadhoo, one of 5 districts in Addu City- a city in Maldives in the southernmost atoll of the archipelago.
The Naseem's son-in-law, Ajay, was good friends with my good friend, Siraj. After a discussion about us really wanting to visit local islands in Maldives, and Ajay wanting to pass on a giant electronic car to his little brother in law (we call him "Kokko" – a term of endearment in Dhivehi for a young boy), me and Siraj were invited to stay with The Naseem's.
This itself is fantastic, right? I've been living in Maldives for just over 8 months now, and sure I've stayed in my expat friends homes, here in Hulhumale and over in Male, and I myself in this short stay have lived in THREE apartments and a guest house! But I've never visited a local family here, and it got me thinking.
Homestays are MASSIVE in most parts of the world and why not! It's a great form of tourism allowing someone to rent a room from a local family- this is not only good for the family financially, but also since it allows locals and visitor to meet and share their experiences, as well as norms and values of their country's. The visitor is fully immersed into the hosts culture, whether from a complete family experience or just basic room rental, they will learn more about the country by living with locals. That's why in Italy last year, I took a job teaching English in summer camps across Italy. I stayed with five different families during 3 months and I learnt so much, far more than I would have just backpacking and staying in hostels. I learnt how to make fresh pasta, I was eating and drinking just like an Italiana, meeting all the family, I attended a family Christening, they took me to some real hidden gems in the evenings or even on weekend trips! It was truly wonderful, I don't have a bad thing to say about my homestay experiences.
Why aren't there homestays here in Maldives?
There are your fancy-pants resorts, budget-resorts, and now thanks to new laws, there are guest houses. I've gone on and on about why you should stay in a guest house on a local island, but I completely overlooked homestays. So I did some research and found this:

(http://www.bluepeacemaldives.org/pdfs1/The%20Tourism%20Act%20of%20Maldives%201999.pdf)
Uhhhhhhhh… so your average Maldivian family can't rent out their spare room, something millions of people are doing on sites such as Air BnB and making decent money, or on Couchsurfing, -tag line "Stay with locals instead of hotels" – designed for visitors to stay with locals for an incredibly cheap price, or even for free, with the focus on the experience for both involved. Then of course if you're volunteering in a place, there tends to be some kind of lodging with a local family to cut down costs.
I've also just realised that this means tourists can't go and stay with a friend who lives in Maldives, which is interesting because this just happened to my beautiful friend earlier this week. Airport security wouldn't let her into the country because she didn't have a guest house or resort booked! She thought she could just stay with her boyfriend, and openly told them so! I don't think they were happy at all. Thankfully we got her booked into a guest house after-which she was allowed into Maldives.
Why no homestays in Maldives?
My first thought was that perhaps a Maldivian family wouldn't want a visitor staying with them– especially as sometimes there's two families living in one apartment, or one family with every extended family member- you've got the living room turned into an extra room to accommodate everyone. There's simply no room for a visitor.
Then you've got the language barrier. The visitor would have to speak English, but even then not all Maldivian's can speak English. In Italy, one family of the five families couldn't speak much English, but we found ways to communicate and respect each other. I always helped to clean up after dinner, tried to speak very slowly and with lots of actions, and tried my best at speaking Italian, I never came home late… those kinds of things. The same could be done here, no?
Then I remembered that guest houses and resorts are paying bed tax and other kinds of taxes and things for each night that a tourist stays there. The tax is included in the booking charges and then gets forwarded on. Of course in a homestay, this whole tax thing could get a little muddled. So perhaps that's why?
The Guest House Complex
I did a bit more researching and I found some interesting things about guest houses, local tourism, and people referring to the "average Maldivian". I'll leave them here for you to have a read through: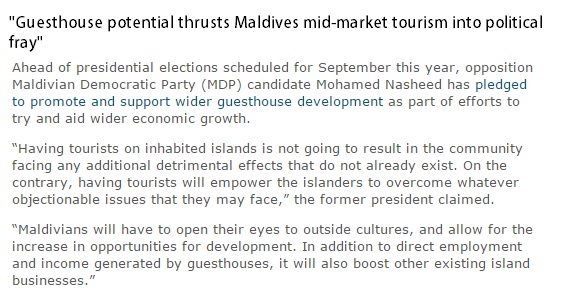 http://minivannews.com/politics/guesthouse-potential-thrusts-maldives-mid-market-tourism-into-political-fray-57229
Here guest houses are being talked about in a positive way. Some people are worrying that too many tourists on local islands will disrupt normal Maldivian life and culture too- especially if tourists are gallivanting around in bikini's and drinking beers while roasting sausages on the BBQ's (because I'm sure all of us would be completely disrespectful when in another country and break every tradition and law.. hmmm).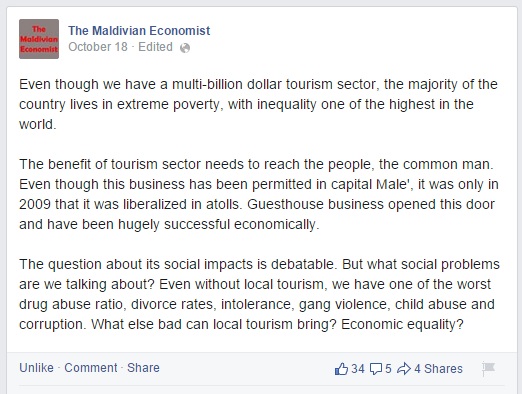 https://www.facebook.com/TheMaldivianEconomist?hc_location=timeline
I love the tone at the end there.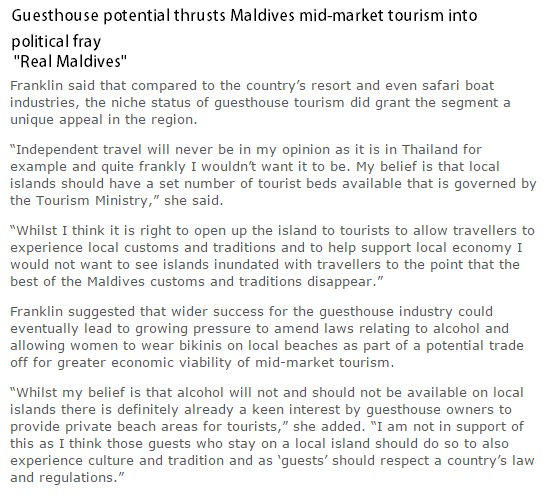 http://minivannews.com/politics/guesthouse-potential-thrusts-maldives-mid-market-tourism-into-political-fray-57229
Franklin refers to Ruth Franklin, a business woman from the UK who co-developed Secret Paradise, a business aimed to provide affordable holidays in Maldives. I can see her point, but it all seems kinda naive. Like does she think that all tourists are completely uncultured? Surely if a tourist is coming to stay in a local island, they're going to read up on norms and things like what they should wear, what's allowed, what's not allowed, etc etc. Not every tourist has an innate compulsion to wear a bikini on a beach. I'm used to wearing a t-shirt and shorts these days, not a big deal. Then the remarks on alcohol?! Why do tourists automatically mean alcohol? It's as if they can't imagine tourists lasting 5 minutes without a pint of lager or a whisky on the rocks.
I've stayed on several local islands now and alcohol doesn't even cross my mind! My aim in exploring local islands, like all tourists, is not at all to rid Maldives of it's culture and tradition. Ironically, isn't that what RESORTS are doing?! What on earth does a tourist learn from arriving in an international airport that could be any airport, and being immediately bundled into a private speedboat and whisked away to an island where more than 50% of the staff are foreign?!

A thought-provoking comment on one of the above articles I mentioned. The first part I agree with for sure. 
http://minivannews.com/business/millionaire%E2%80%99s-dream-and-maldivian%E2%80%99s-reality-can-coexist-in-tourism-industry-nasheed-91287
Again pointing out how the local community ceases to gain much, if anything, from fancy-pants resort tourism. There's LOADS of stuff about guest houses and local tourism on the internet. But nothing about homestays.
So tonight I was reading these different things, thinking about why there aren't any homestays in Maldives, when I came across these two sites with homestay listings in Maldives: HomeStay.com and HomeStayBooking.com.
One of the listings is a home very close to where I live now. I wonder if they have this "guest house licence" thing from the Tourism Ministry. Only because I sincerely doubt the Tourism Ministry would give out a licence to the average Maldivian. 306 Rufiyaa a night! That's like $20! I wonder if he actually gets guests coming. Independent travel in Maldives is still very new…. but it's very exciting.
I guess it's too early to really talk about homestays in Maldives. They're only just getting over the fact that guest houses are popping up all over the place. You know I read here, that since tourism first began and Maldives, they've been marketing to grade A guests (I didn't even know we were graded?). And that grade B, C, D, E, guests aren't their prime concern because they'll always be coming and going. The pressure is on ensuring grade A guests think of Maldives as a grade A kind of holiday. I think there's some worry that by promoting independent travel, especially if there was the ability to stay in a Maldivian's private home, all these once "hippie" backpackers are going to come and, I dunno, make Maldives seem too affordable? Too average? Not grade A enough? Maldives once was a place few could ever visit…. family and friends now even can't quite believe I live here.
It seems then, a knock on effect of budget travel is less of these grade A guests, the footballers and celebrity actors paying in excess of $10,000 a night. I can understand that's a bad thing. Although, I mean, that's not money out of my local community's pocket. In fact, it's money out of the guys at the top's pocket and into my friends and their families pockets who work hard to promote local tourism. But the Tourism Ministry doesn't want any "riff-raff!"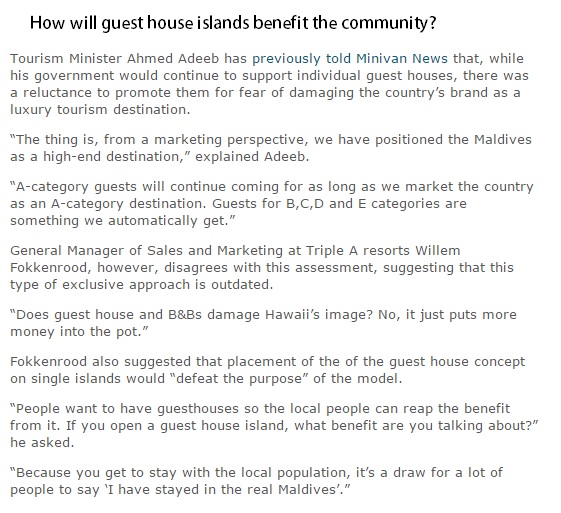 http://minivannews.com/politics/how-will-guest-house-islands-benefit-the-community-ask-experts-87675
I have stayed in the real Maldives. Have you?
NB: The photograph at the top was taken in Laamu Atoll on local island Gan. The guest house is called Reveries.
Other guest houses I've stayed in:
Male Atoll , Hulhumale – Travel Lodge Hulhumale
Male Atoll, Hulhumale – Coral Queen Inn
Male Atoll, Villingili – Sea House
Kaafu Atoll, Huraa – Sea Shine
Kaafu Atoll, Maafushi – Holiday Lodge