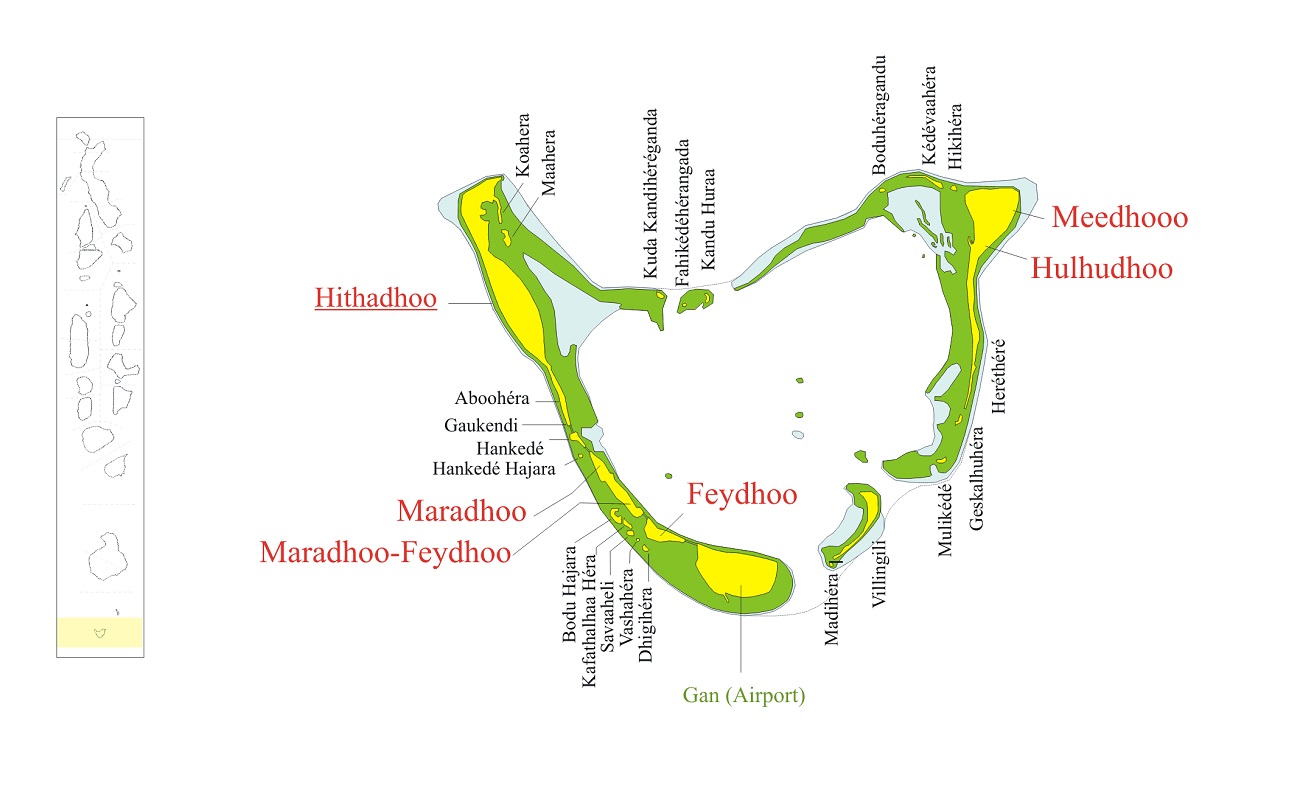 Following on from my thoughts on guest houses and homestays in Maldives, I'm excited to tell you about my very local trip to the southernmost atoll of Maldives: Addu atoll, which is made up of a collection of islands both inhabited and uninhabited. The inhabited islands of the atoll together form what is now known as Addu City, the second inhabitance in Maldives to get the status of "city" (after the capital city, Male). These inhabited islands resemble the 5 districts of Addu City; Maradhoo-Feydhoo, Maradhoo, Hulhudhoo, Meedhoo and Hithadhoo– which is where The Naseem's live and where I was invited to stay. Unlike any other atoll in Maldives, these islands are really well connected by causeways- making backpacking around the atoll incredibly easy. Just rent a bicycle, take a taxi or even hike it!
The Naseem's are a sweet and very generous family who welcomed me and my Maldivian friend, Siraj, to visit Addu and stay in their home for the weekend. Neither I nor Siraj had met The Naseem's before but Siraj is friends with their son-in-law, Ajay. After a quick chat he said his family would love to have us visit for the weekend and show us around Addu, while we do Ajay a favour and bring a big electronic car with us on the flight for his little brother-in-law, Naavy (or Kokko). Everyone was happy, especially little Kokko!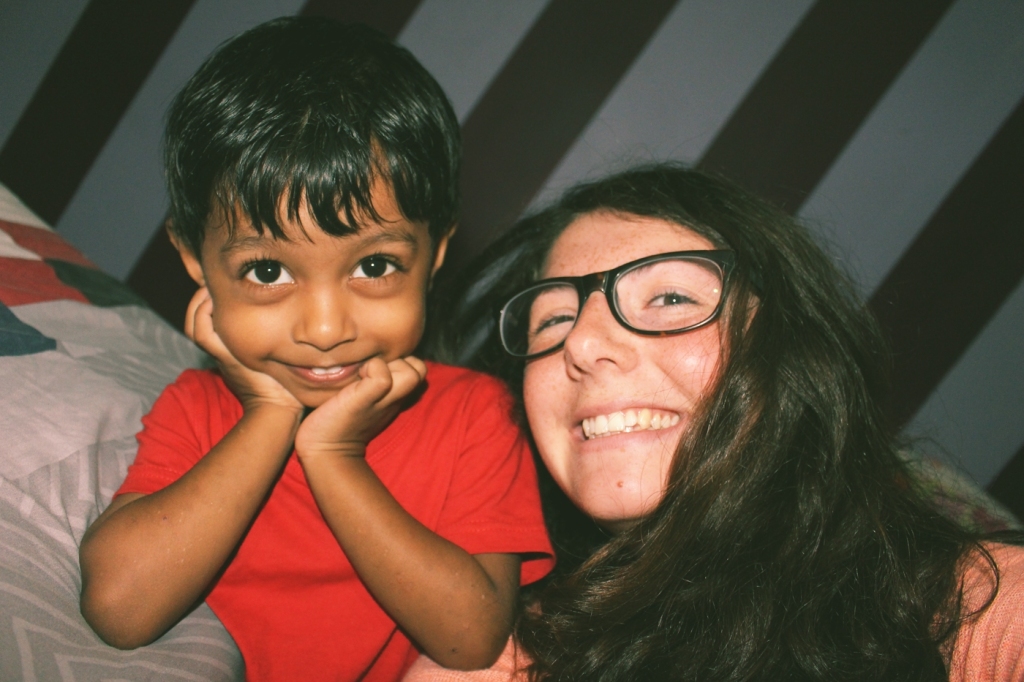 There's an abundance of stuff on the internet about Addu's history, a really good site to check out is Maldives Culture, in fact go here for background information about Addu and how it was used as a secret port for the Royal Navy during the second world war. Those causeways I mentioned before, they were actually built by the British while they were over there. That's also the main reason people from Addu can speak English so well. They were exposed to another culture in a way that the rest of Maldives wasn't at all. World war 2 was decades before the beginning of tourism in Maldives, which didn't start until the 70's. Mind you this was resort tourism, a world away from staying in guest houses on local islands, which has only just started in the last 5 years.
Addu now has an International airport situated on Gan island. We took a domestic flight here from the airport back in Hulhumale. Once in Gan, The Naseem's had a taxi already waiting for us, which took us through Maradhoo-Feydhoo and Maradhoo, across to Hithadhoo. Unfortunately tickets for an earlier flight were sold out, so we had to take a late flight – meaning we arrived at around 3AM! Thankfully Naseem, my host father for the weekend, was waiting up for us and greeted us with such a massive smile! He showed me my room and I was surprised how high the ceilings were! It was lovely. The bed was sooooo comfortable, without a doubt the most comfortable bed I've slept on in Maldives. I felt so lucky to be there in their home.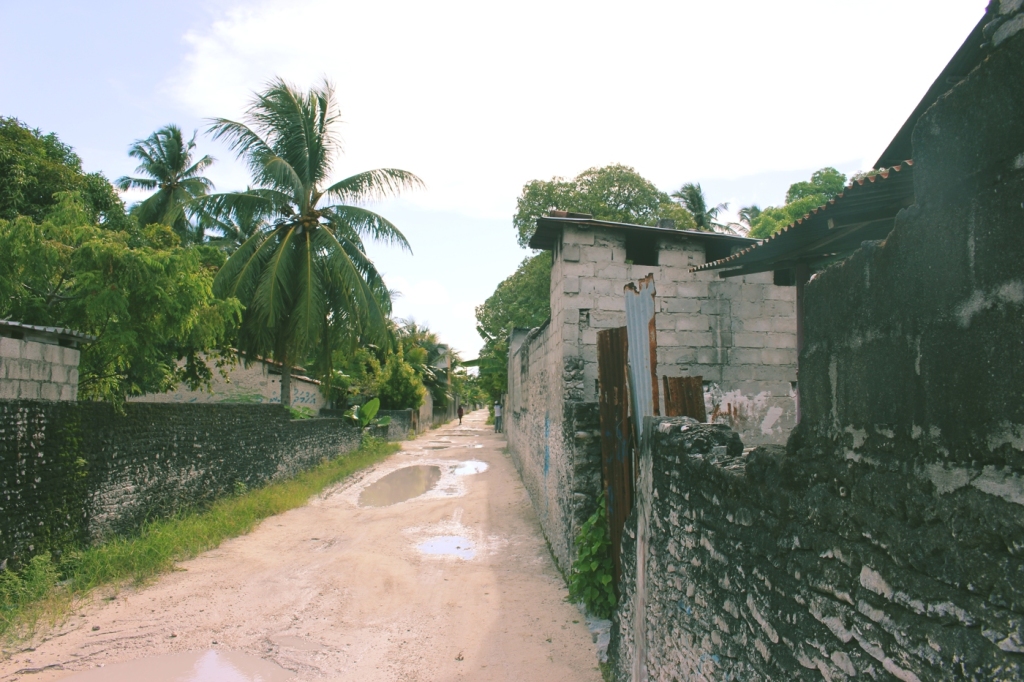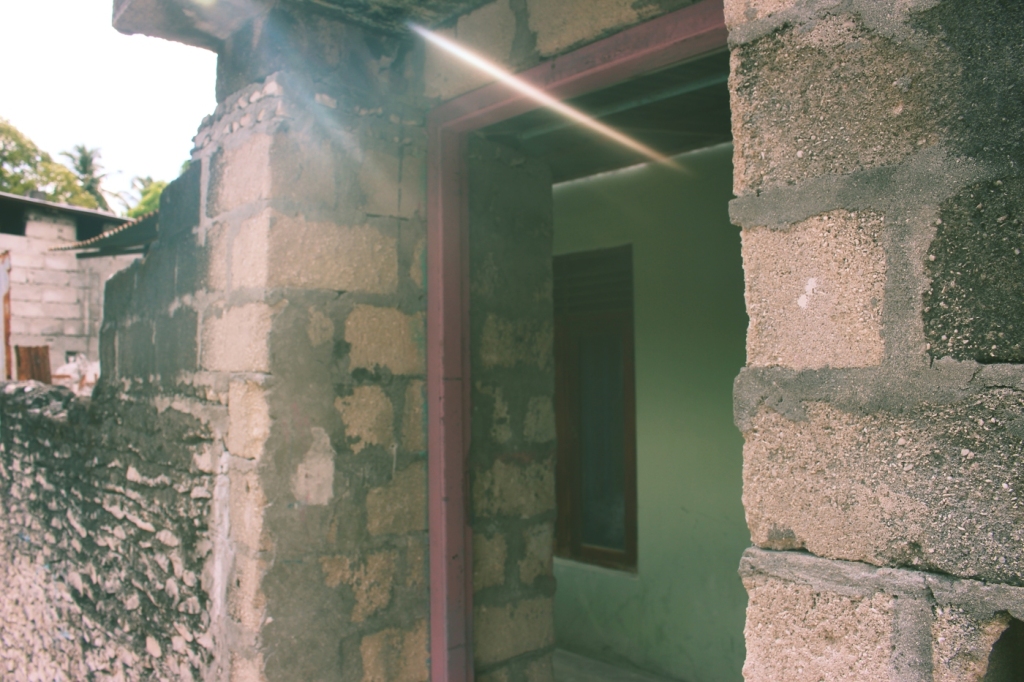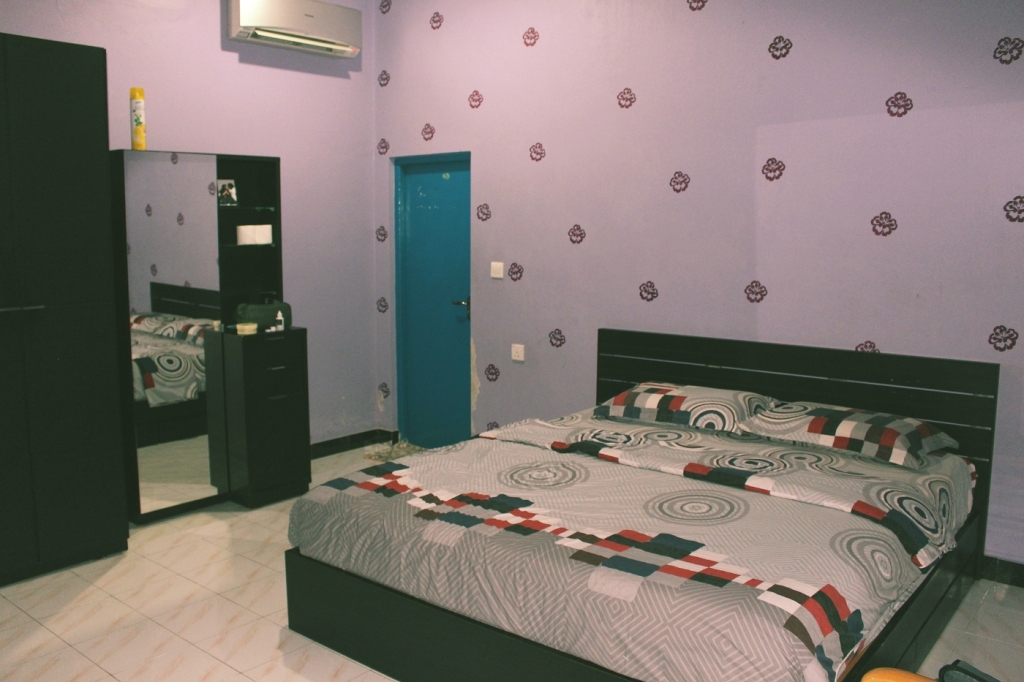 In the morning I had breakfast with the family, a traditional meal called Mas huni, made by mixing diced tuna, grated coconut and finely sliced onions and chilli, served with Roshi (Maldivian flat bread). I love Mas huni because it's so light but at the same time it really fills you up. I spent the morning playing with Kokko and chatting with his big sister, Naba. Naba's a teenager studying very hard but always thinking about travel. She's practically fluent in English (like a lot of the people from Addu) and it was so wonderful just to talk and talk and talk! She's actually the first Maldivian girl I've really made a friendship with. The girls I work with tend to keep themselves to themselves, and outside of work I only seem to mix with Maldivian guys, like when I go diving etc.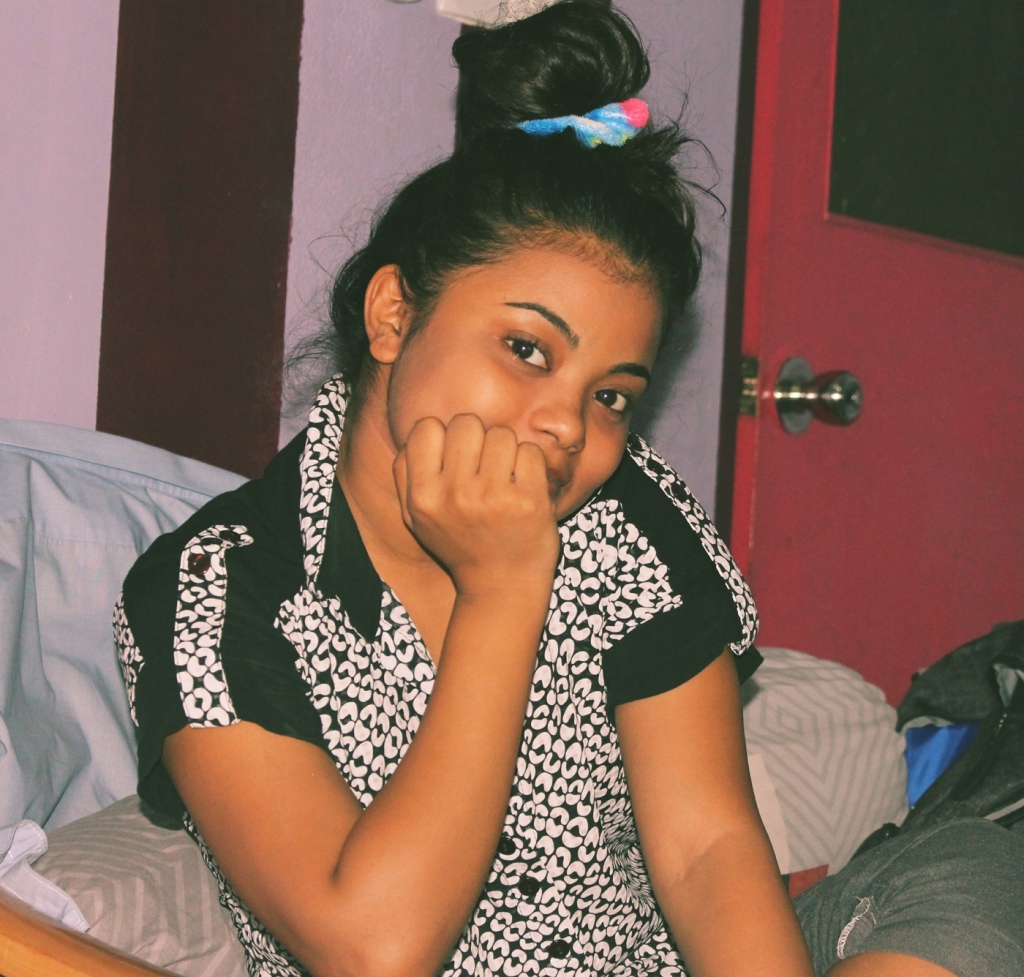 Since it was Friday, we had to wait until after Friday Prayer for when restaurants would open again so we could take lunch. So around 2ish, we found a beautiful restaurant called Royal Plus. The tables are isolated from each other and surrounded with trees and flowers and shaded by large umbrellas. I ordered a seafood mixed rice which was really tasty (but VERY fishy!). The service was super fast and the waiter was extremely polite, even though shortly after we arrived 20-something men all wandered in for lunch and coffee after their morning prayers!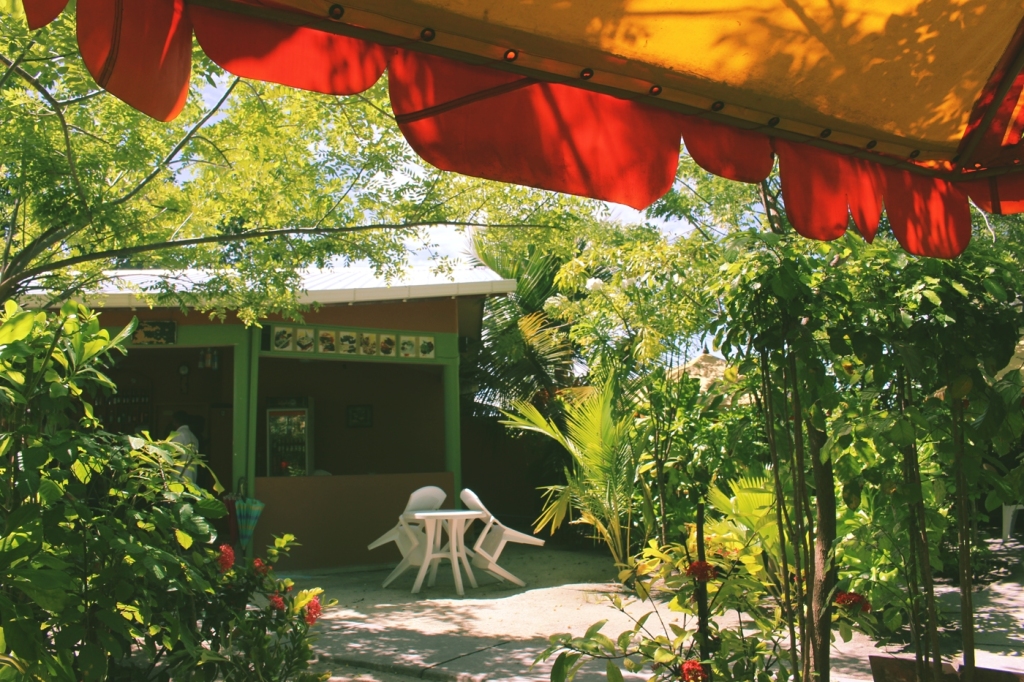 Realising the time, we grabbed a taxi and rushed as fast as we could over to Maradhoo island, where the dive centre "Aquaventure" is situated. Annoyingly we were just a few minutes late and missed the boat. We booked ourselves again for a dive the following morning, and took a walk around the island and the long road the connects the islands together. On these roads it's the law for motorcyclists to wear helmets, I might be wrong but I think it's the only place in Maldives where this law exists. Perhaps the law will also apply when/if the bridge gets built to join Hulhumale and Male together- I hope so!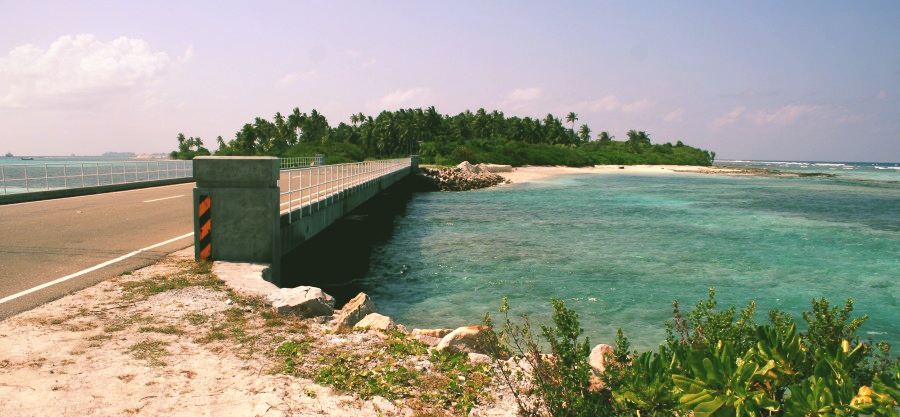 The rest of the afternoon we wandered around the neighbourhood of Hithadhoo before being invited out onto Naseem's small boat to do some sunset fishing! I didn't take my camera out with me so there aren't any photos, but I had so much fun! It reminded me of those Sunday afternoons fishing with my own dad. Me and him would be there hours and maybe catch one if we were lucky- no actually, I distinctly remember one time not catching a damn thing, so sad that a fisherman near us actually GAVE me one of his fish so I could go home with something. That fish was delicious. Back to Maldives, it was only a matter of seconds and you could feel a tug on the line! Naseem certainly knew his trade. We took a bucket-full of fish home with us and barbecued a couple of them for dinner!
The funny thing is there wasn't any cutlery on the table. I knew at breakfast how to eat roshi with mas huni, tearing some roshi and using it to pick up the mas huni. All fairly easy. Now I was digging at this fish, and I actually found it's so much easier not using cutlery all the time. Pah, us Western folk have it all wrong. Life can be so simple if you want it to be…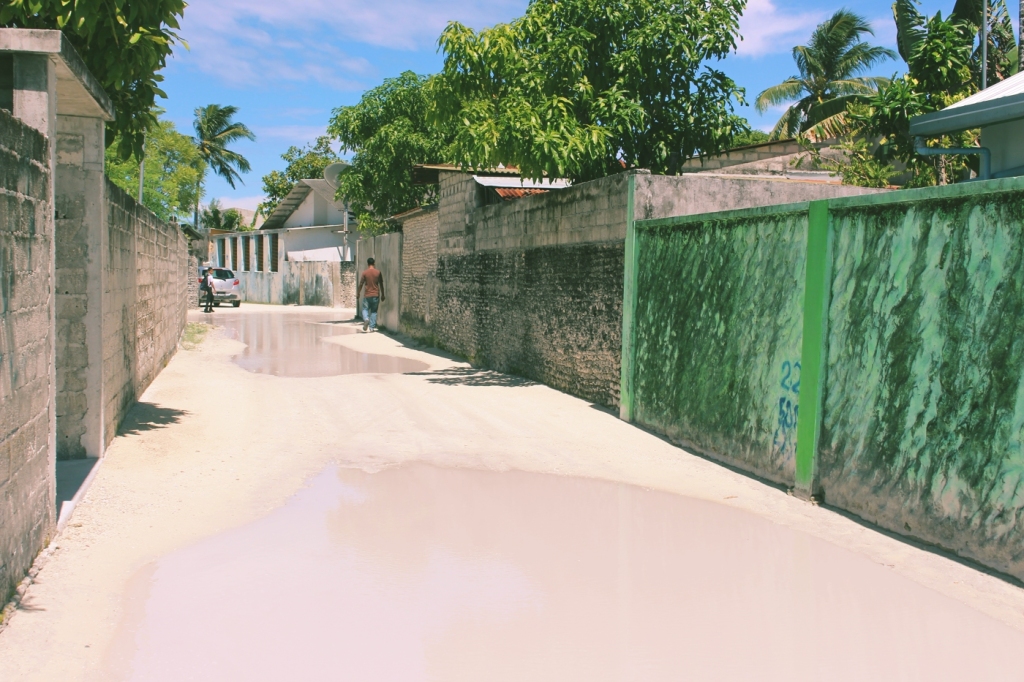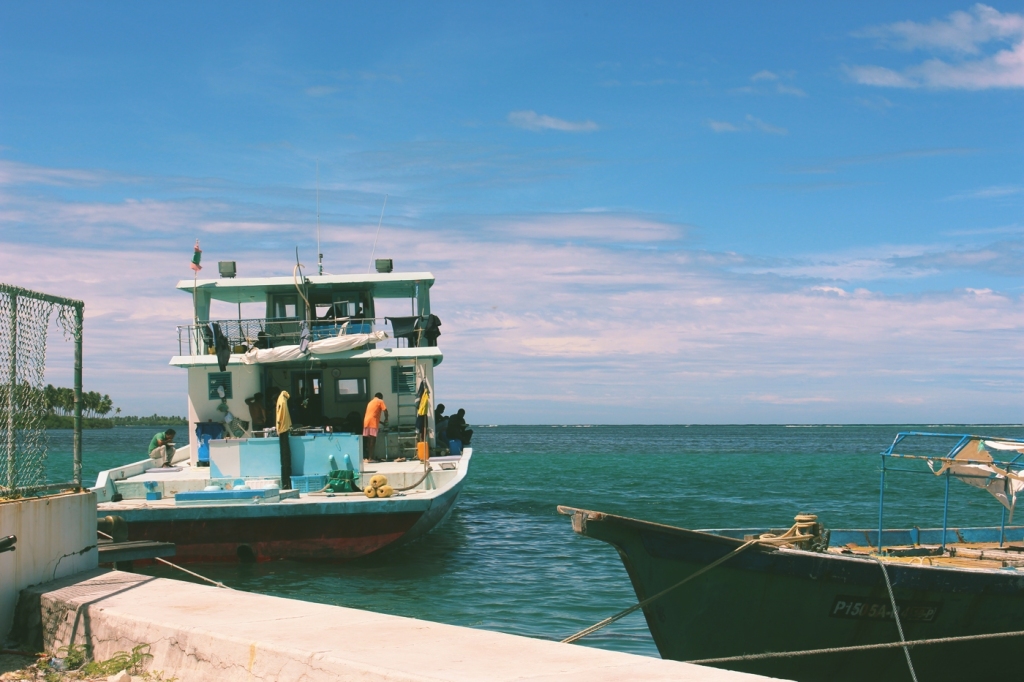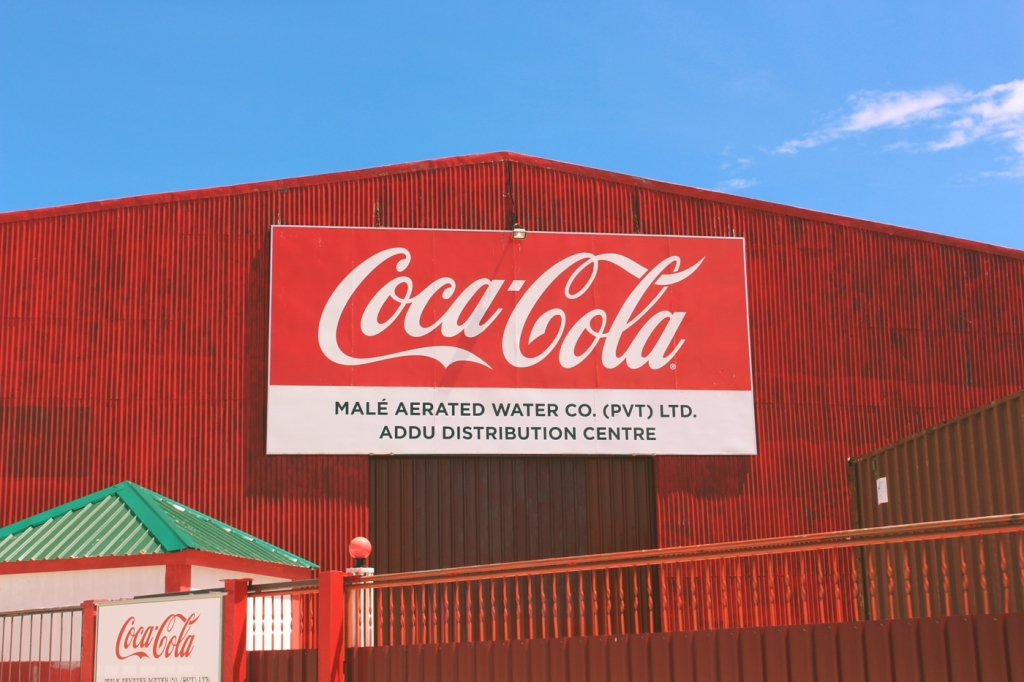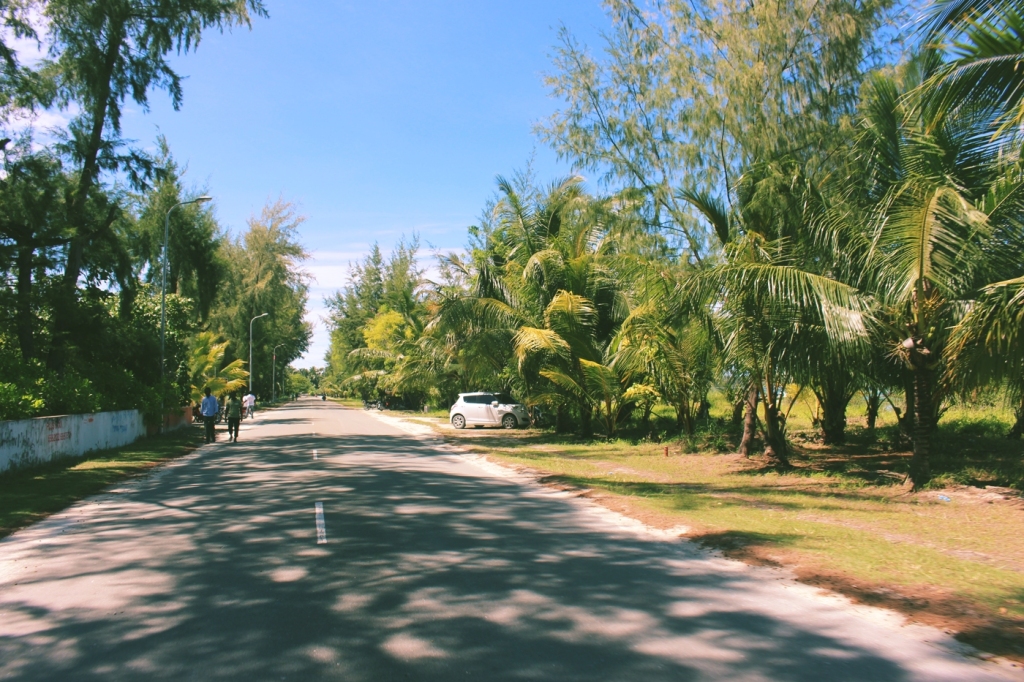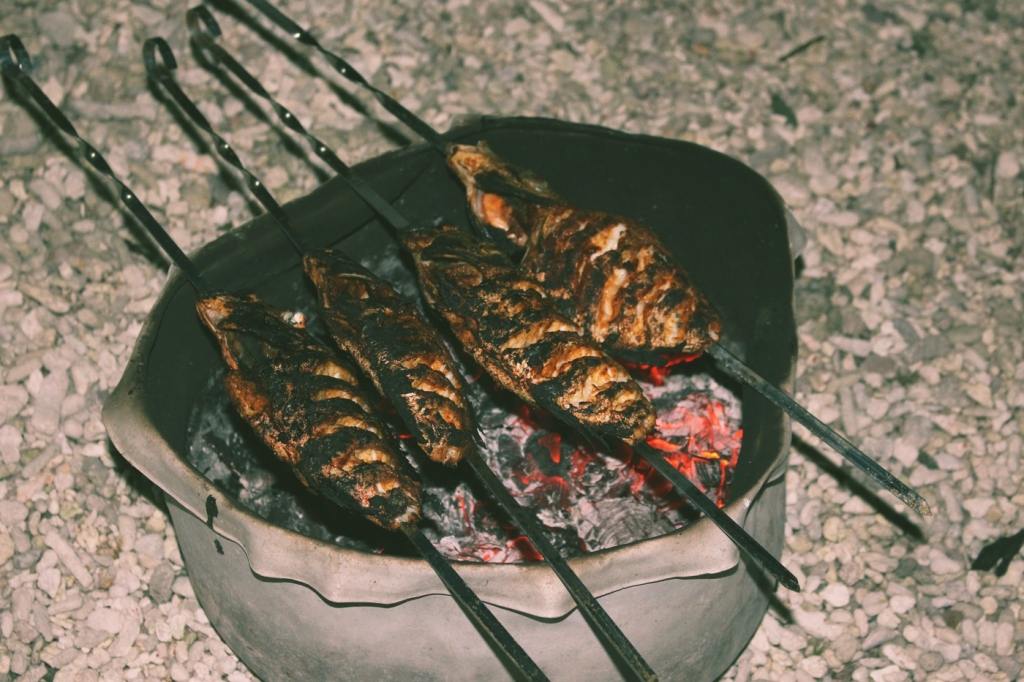 In the evening we went for a wander around with Naba and relaxed on some joali's (traditional Maldivian chairs) listened to music and chatted. Then we went for a smoothie in one of the cafe's. I was enjoying myself because it's always nice to get away and I adore weekend trips… but I think the local islands here do need to try and cater more to the teenagers/young adults of Maldives. More fun things to do… maybe kinds of evening classes or art/sport clubs, but nothing too strenuous, especially since they study so many hours of the day anyway! Naba for example loves her home, loves her country, but I could see she was desperate to get out there and see the world, learn everything, experience it all. I tried to give her a little advice but it's hard since it's likely she's going to find difficulties sometimes in attaining visa's, or getting work that only natives are hired for, e.g. in teaching English. She thought about training to be cabin crew – the only thing is the extortionate cost for all the training. Despite the difficulties she may face in the future, it was still so refreshing to see a young woman thinking about other paths and life experiences and keeping marriage and babies to the back of her mind.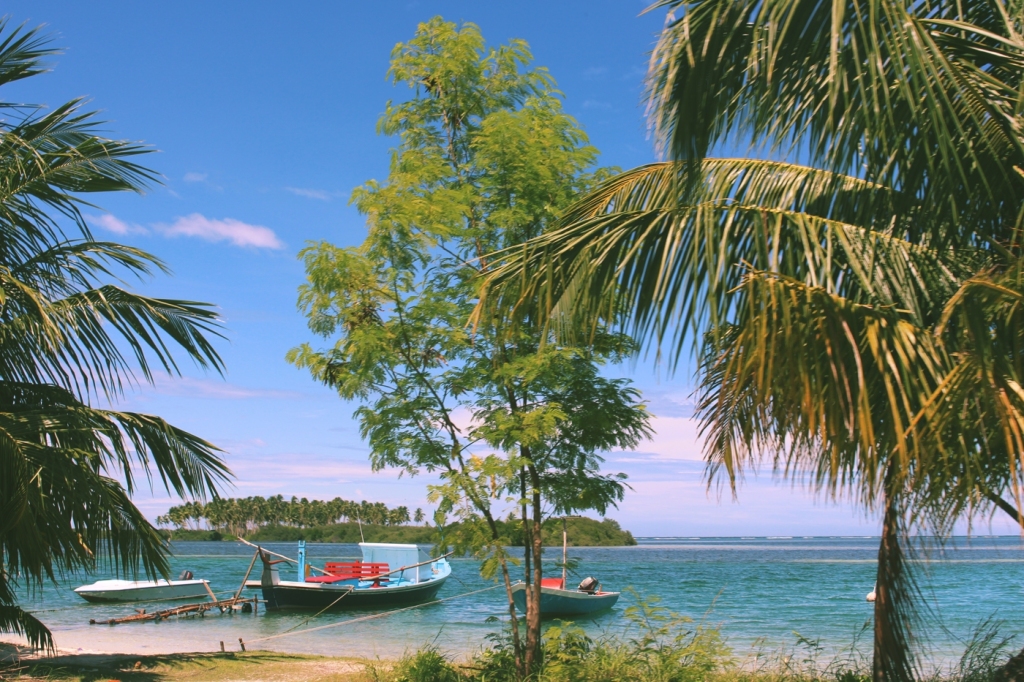 On Saturday bright and early we got up, had to skip breakfast because of course we were running late, and dashed back over to Maradhoo to Aquaventure for a dive! I was hoping to dive at a wreckage called British Loyalty, but they weren't going to that spot. Nevertheless, we did go to an excellent Manta point and I saw SIX Manta's really close up! Didn't have the Go Pro back then though, wah. Professional dive centre, I felt safe and well looked after.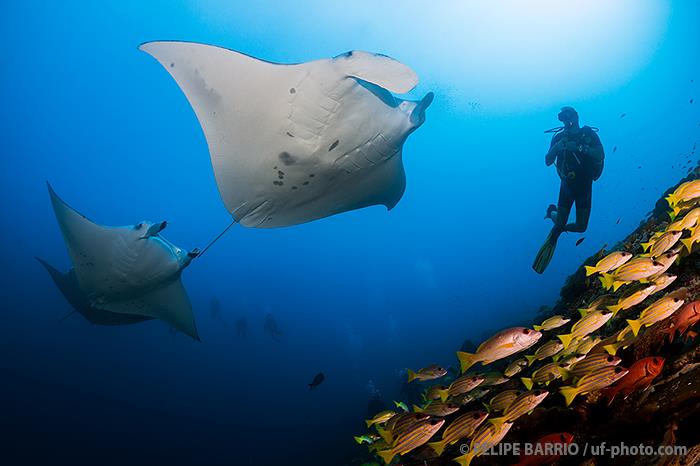 (NB: Rates for dives depend on what kind of package you get. It's roughly $50 a dive though, plus extra for gear rental. Work-permit/local rate was the same price but without charging for gear rental.)
After the dive back at home, Naba and her mother had been working hard on a delicious lunch. We had a kind of rice, well the texture was more like shredded coconut?, with garudiya (fish soup), some spiced chicken and delicious yams! Again we ate this meal without any cutlery, a little bit messy but so tasty! It was interesting to see how different cultures work, for example, after everyone was finished I naturally wanted to help tidy and clean up, but was told to stop! I was taking over mum's job hehe.
Later on we got ready and took a family day out. We first went to a stunning lake called "Kilhi" and then walked through a small woods and out to the coastline. It was quite rocky with corals but I really enjoyed the walk, not to mention the views and tranquilly. Our last stop was another lake called "Running Fenganda", which was beautiful! The guys told me a fascinating story about this historical lake. They say that a loooooong long time ago, several paries (angels) lived there and bathed in the lake. The water used to be the most stunning colour but now with heavy rain and floods it's more like a muddy green. I really felt like I was on a day out with my family, I just felt so relaxed, so easy-going. It' a shame I only had the weekend free to visit. That evening we said our good-byes and I flew back home to Hulhumale.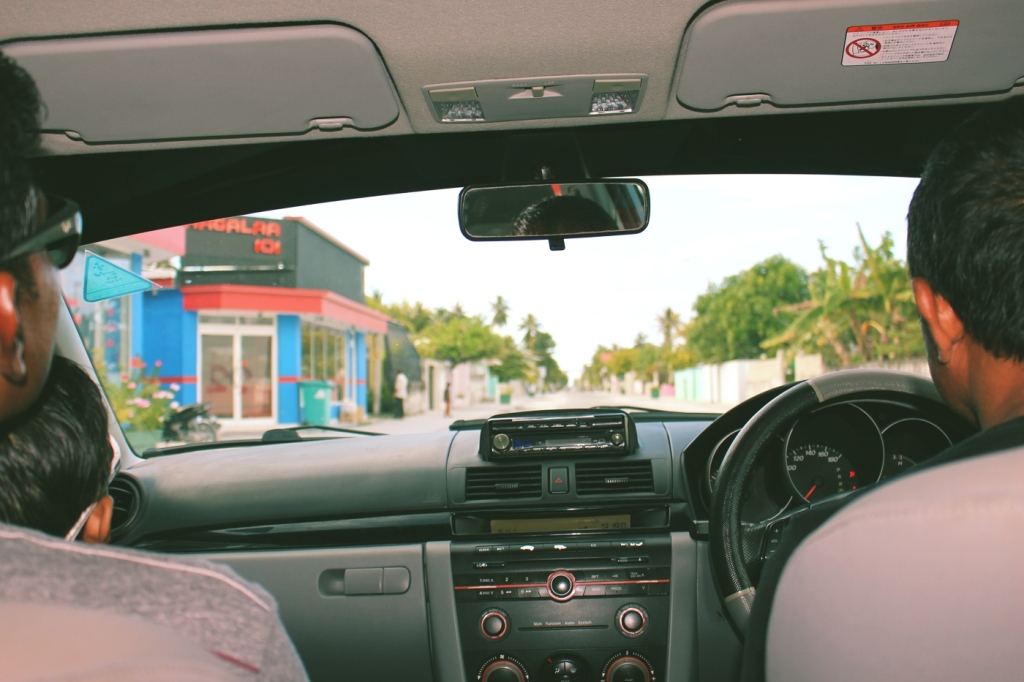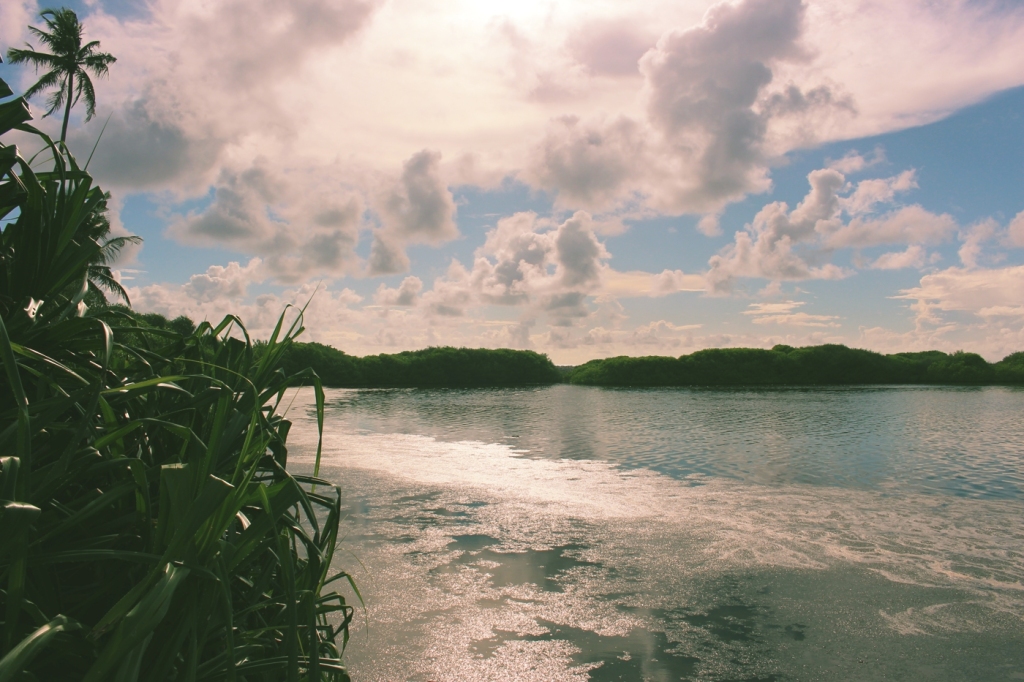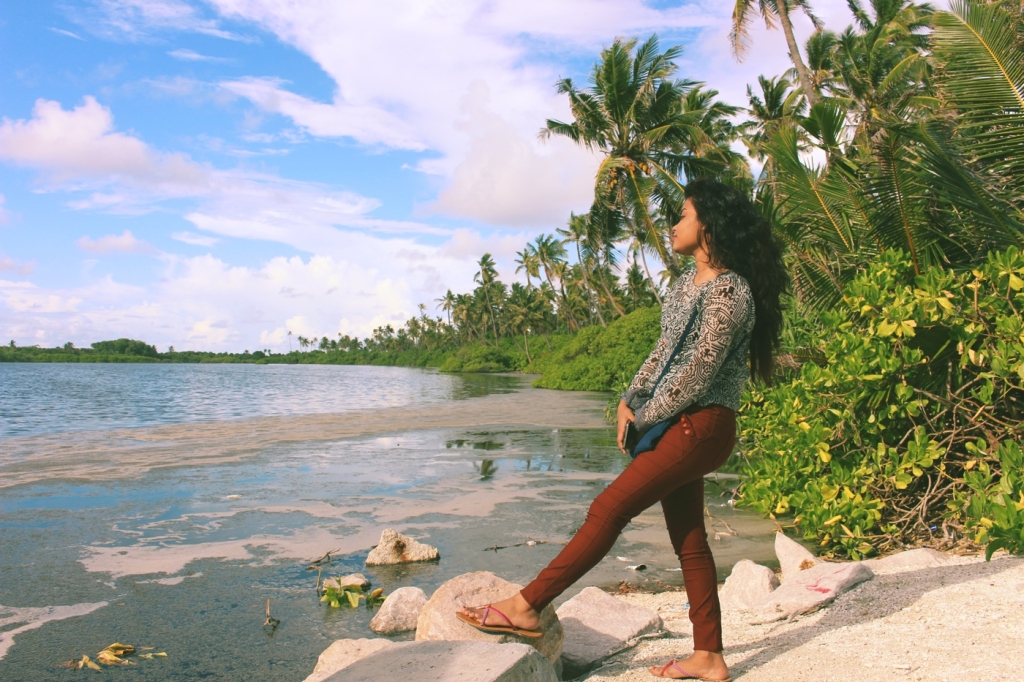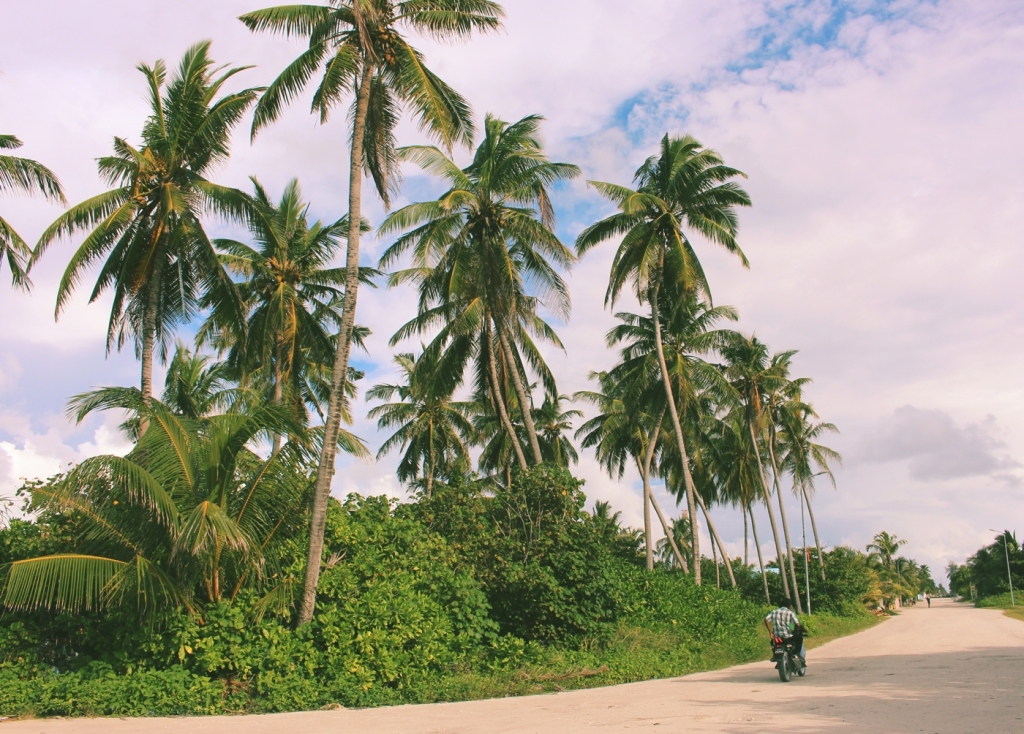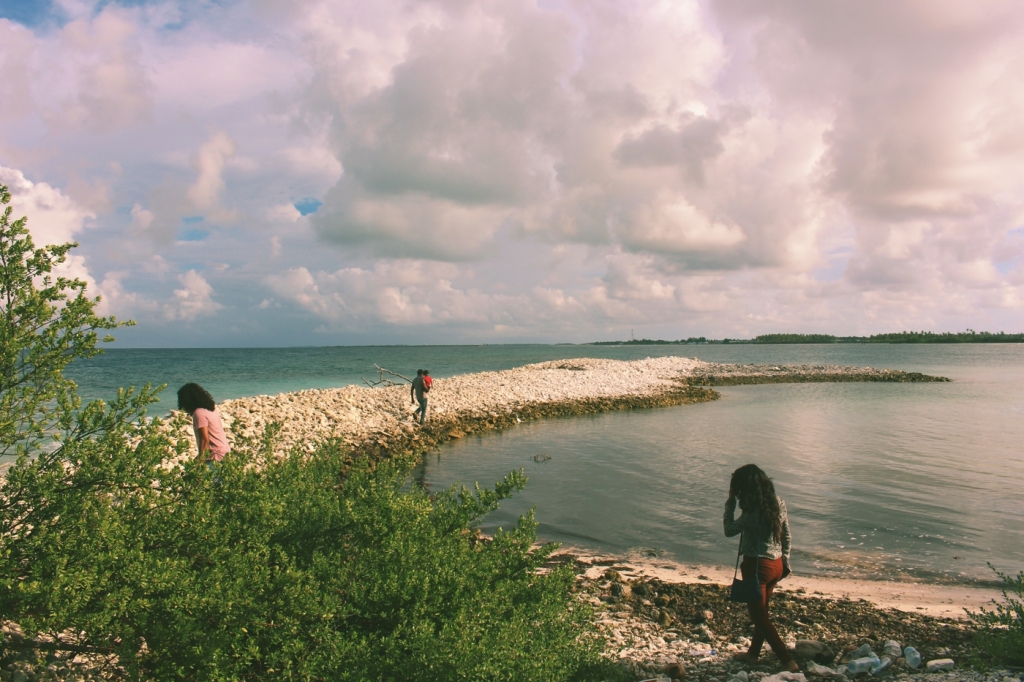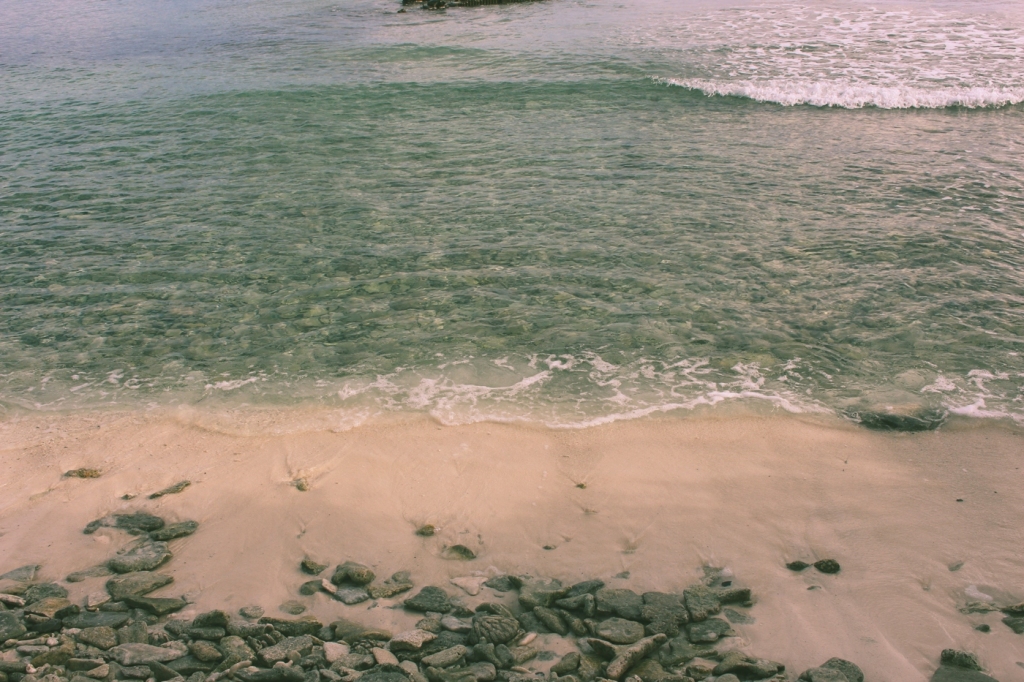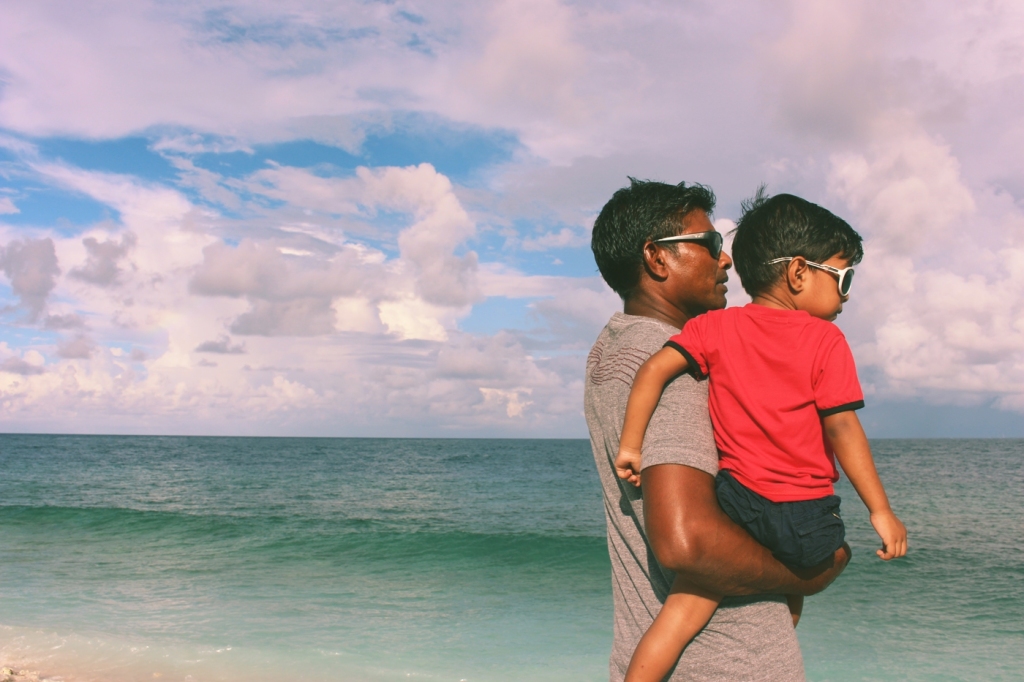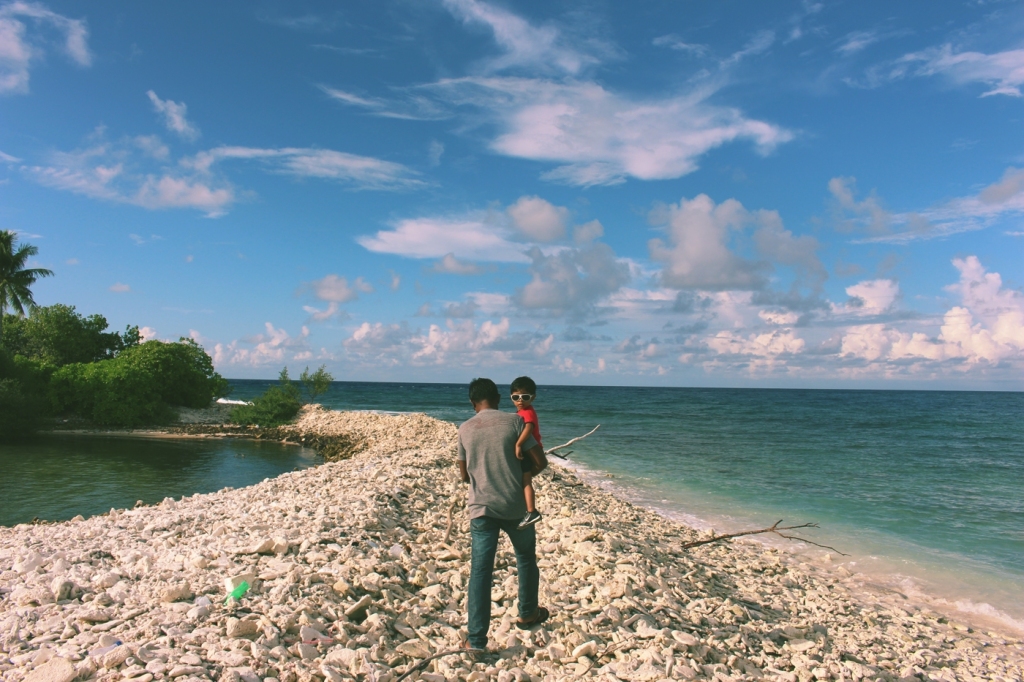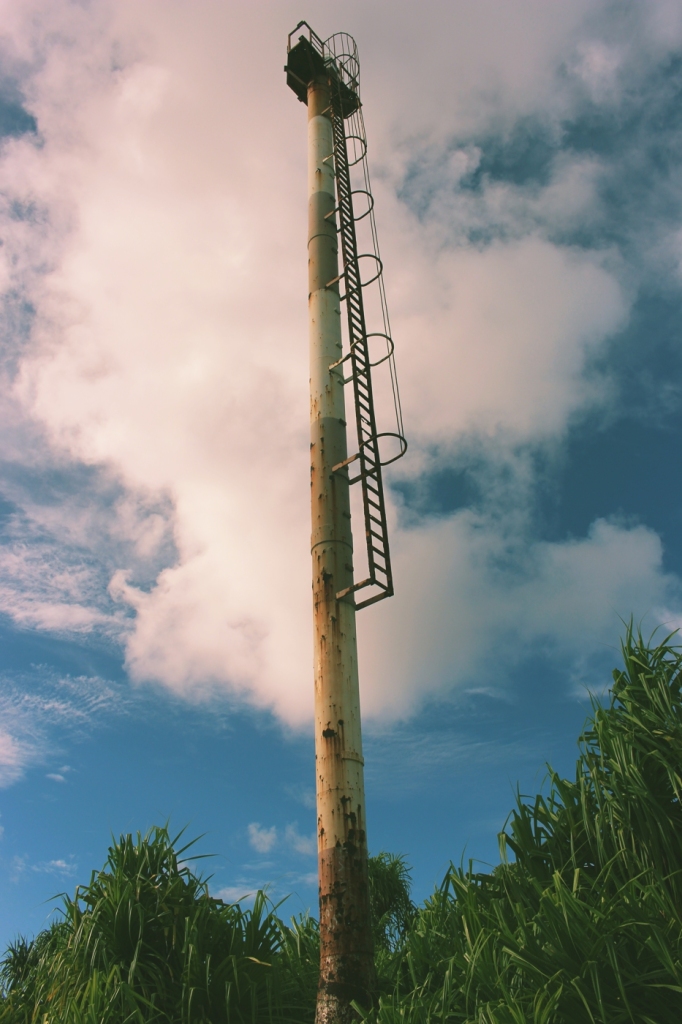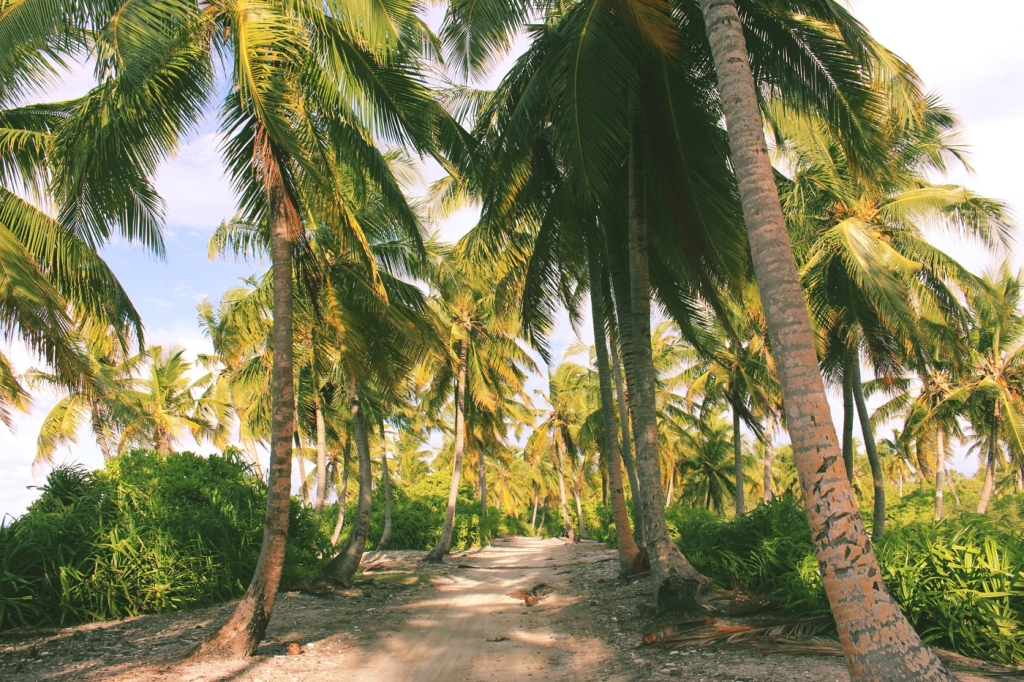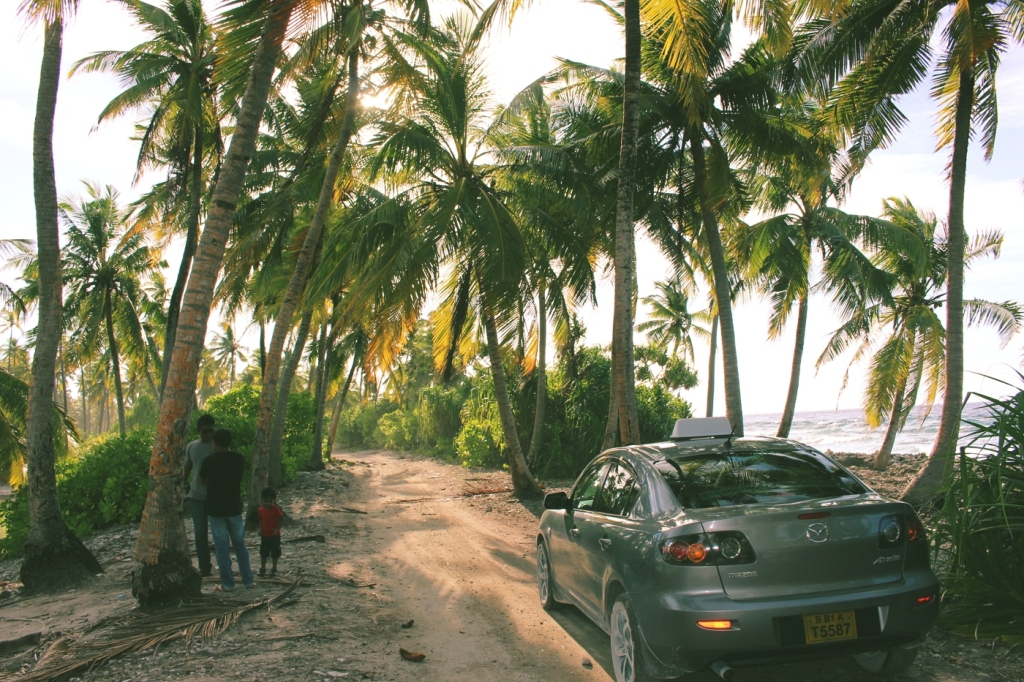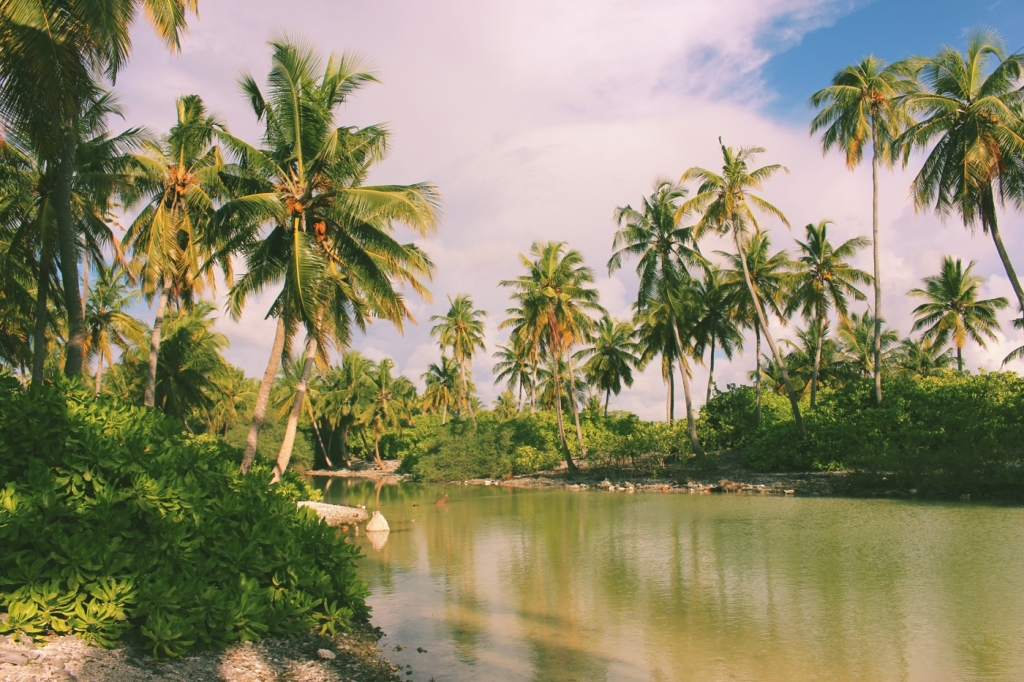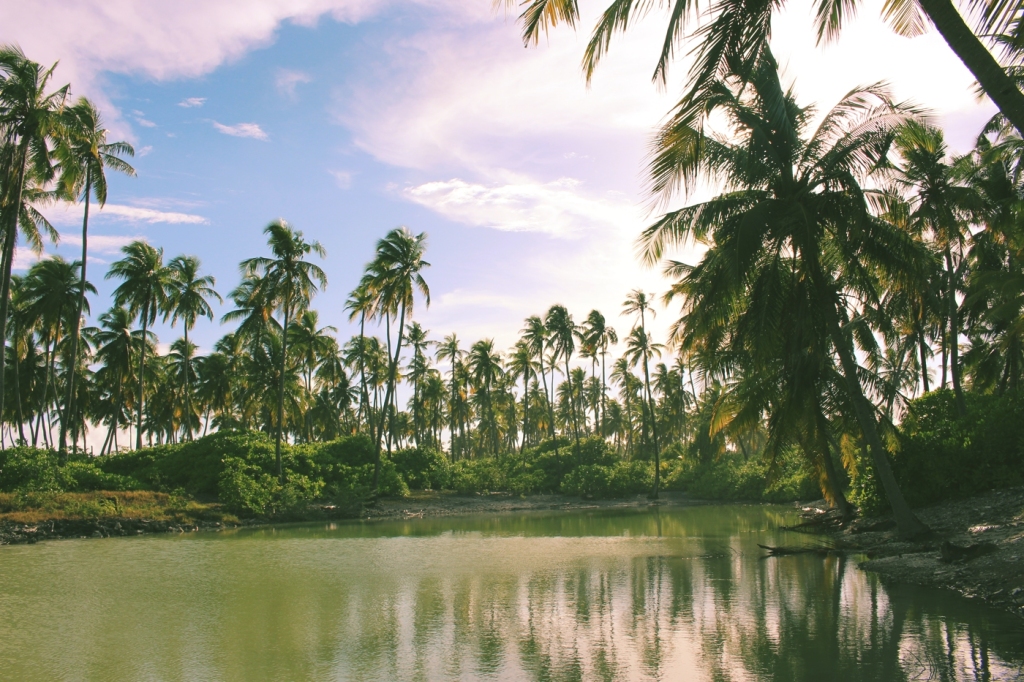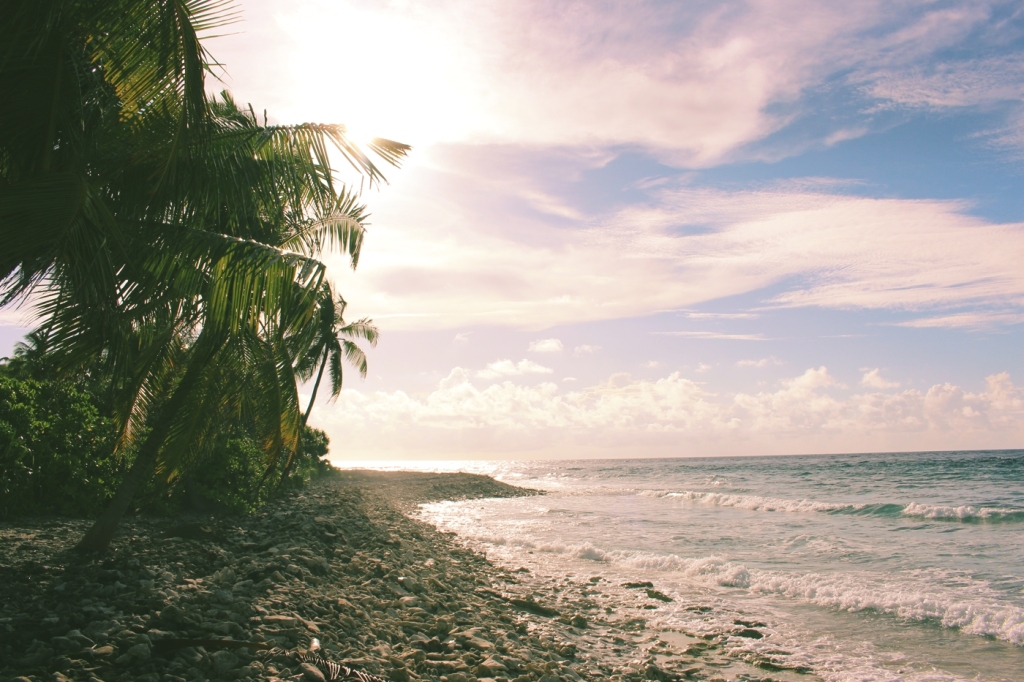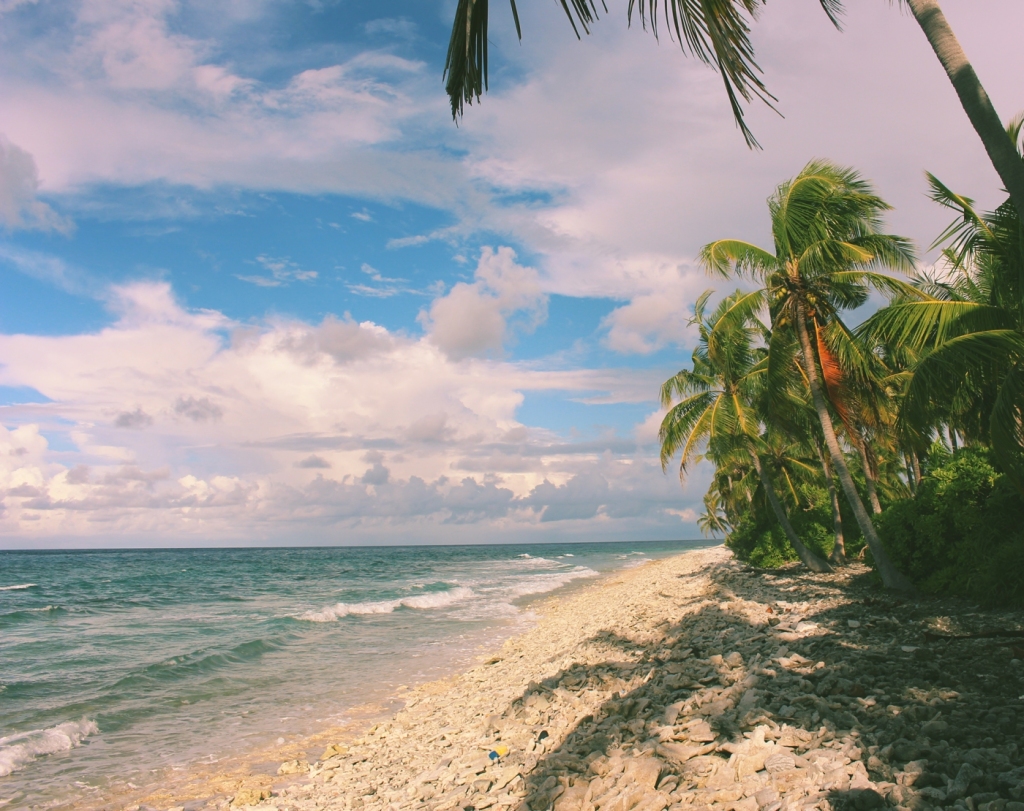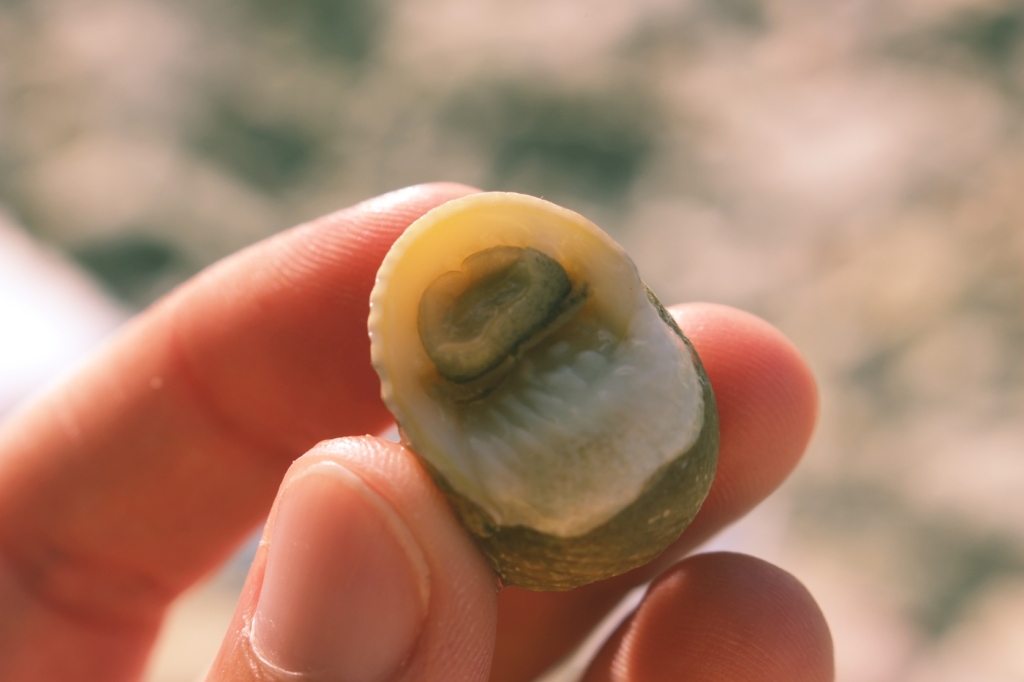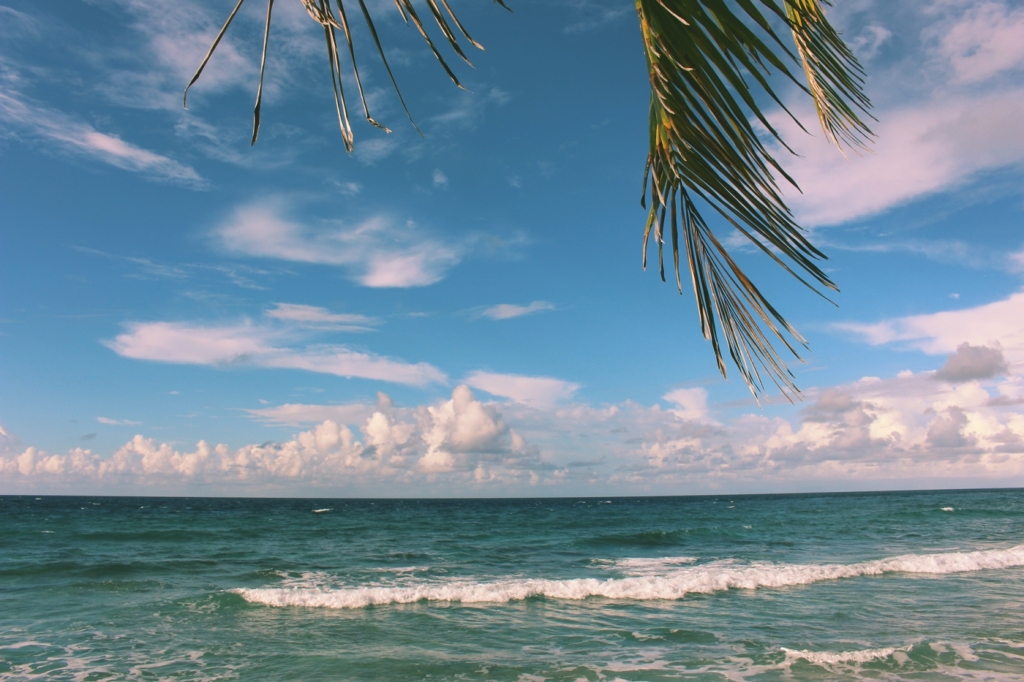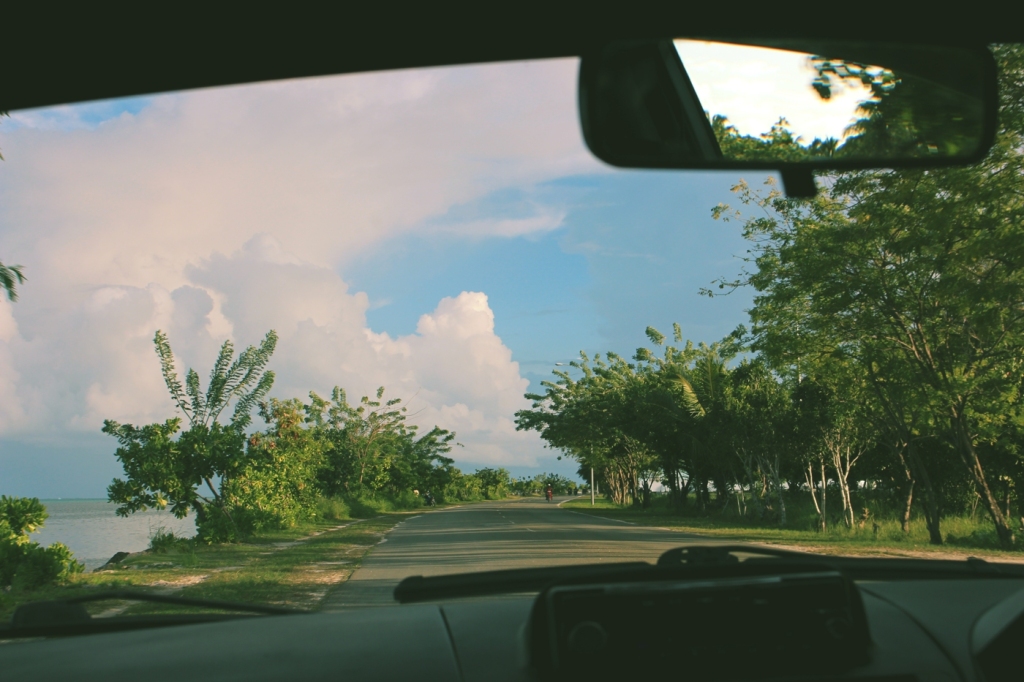 Oh and something else! Naseem was kind enough to give me a bag of "Addu Bendi" – a sweet treat from this atoll made with coconuts and sugar, wrapped up in dry banana leaves. So tasty!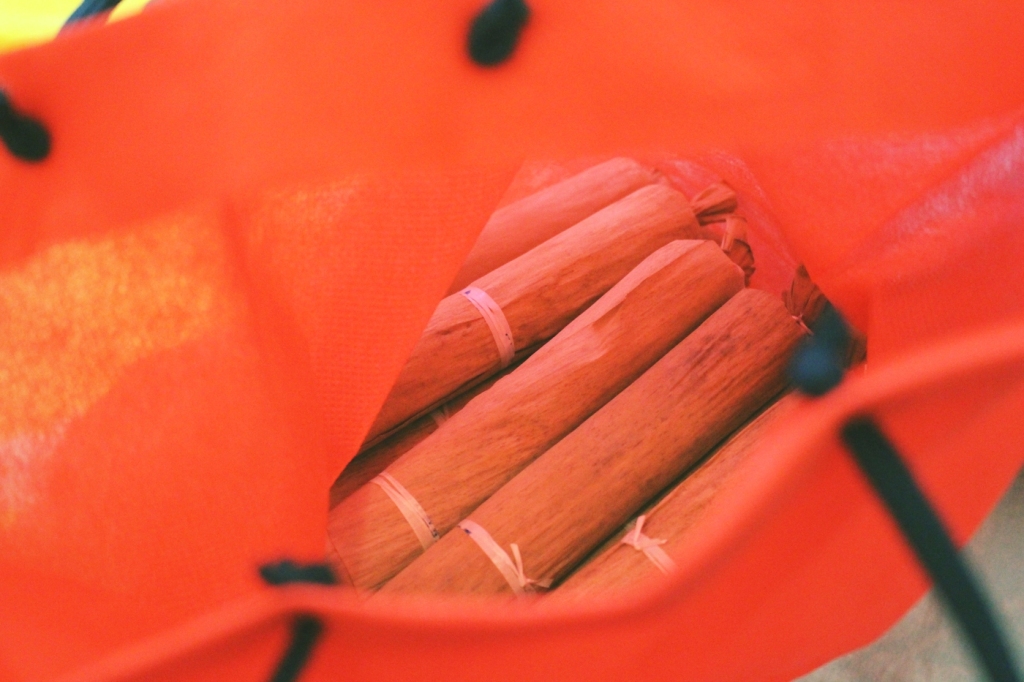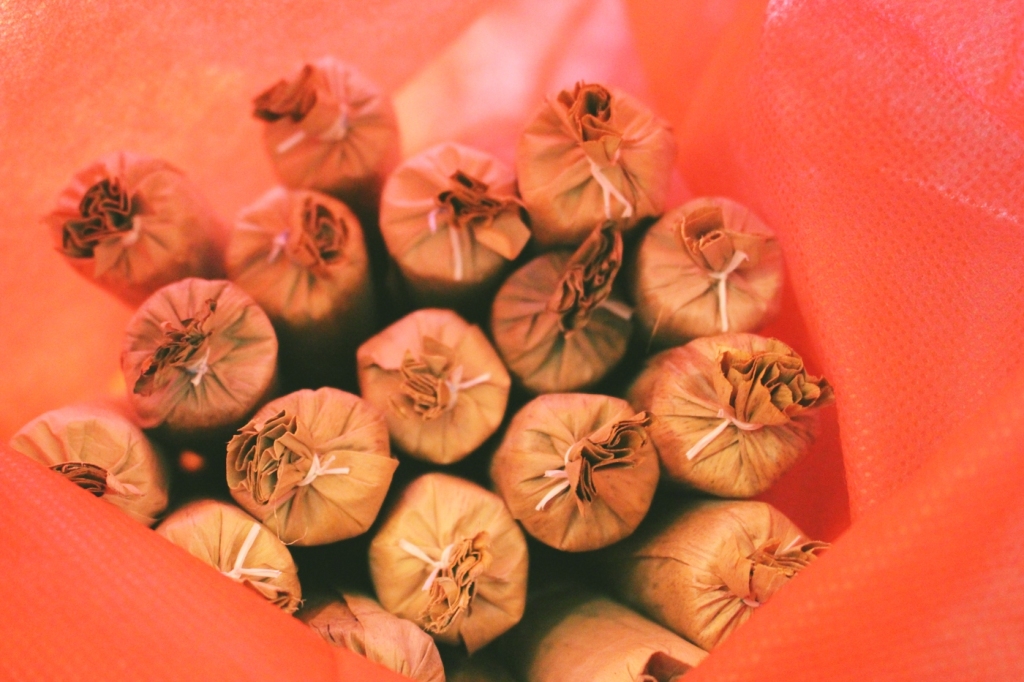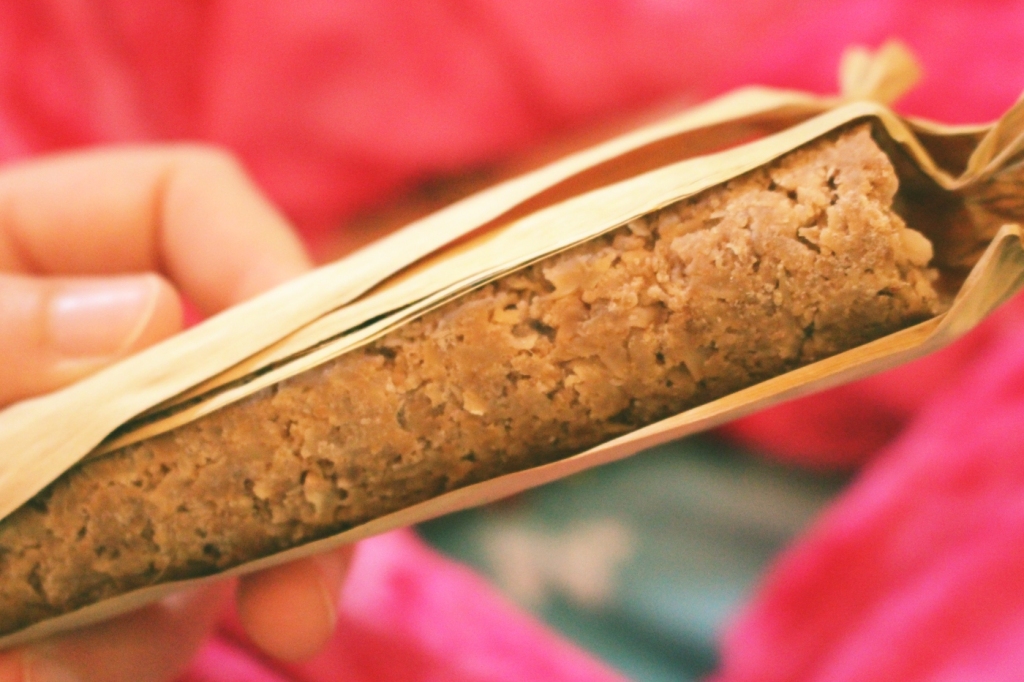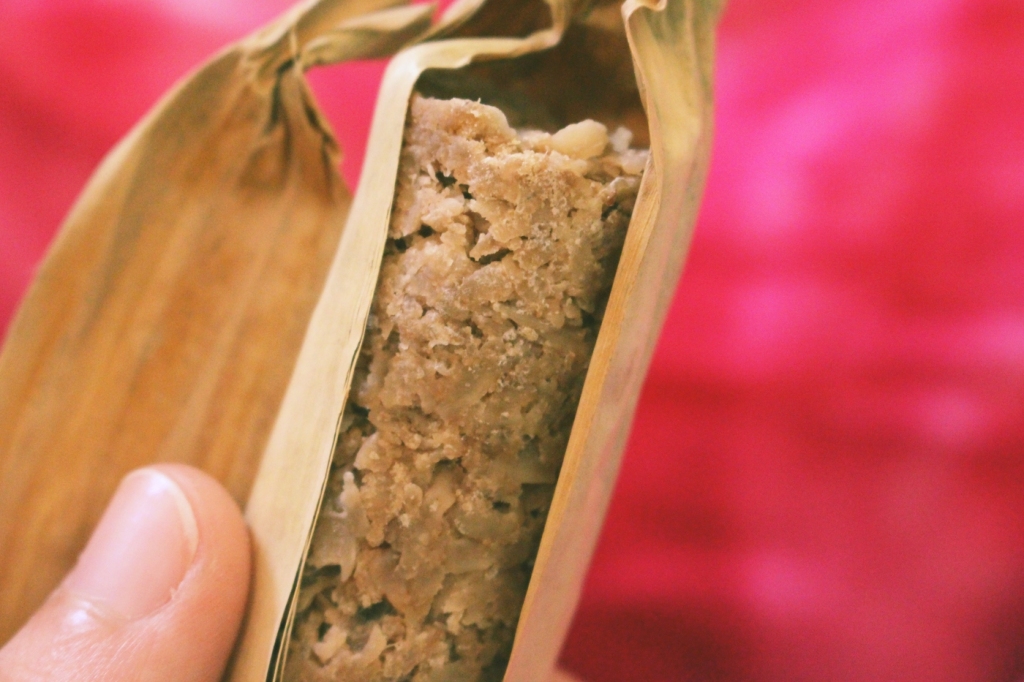 If you're interested in independent travel in Maldives do check out my other posts on islands Maafushi, Huraa, and soon to come posts on Thulusdhoo island (Kaafu Atoll) and Gan island in Laamu Atoll. Here's an excellent resource for getting to know the geography of Maldives, the various atolls and just how many local islands there are!
Extra info about travelling to Addu, including staying in resorts or on local islands, go over to Discover Addu. Here's a wonderful video from the site's manager, Misbah, showing Nora and Egaz exploring Addu!

Thank you for reading!