Florence is the kind of place that made me wish I knew a thing about art. The history, the literature, the fashion, the music, the architecture… and all that's encompassed by The Arts is to be found in Florence. From the heart-wrenching statue of Pieta hosted in the Museo dell'Opera del Duomo, and the iconic works of Renaissance art history unearthed in the Uffizi, to the medieval tower of the Palazzo Vecchio, the bronze Gates of Paradise hanging on the Battistero San Giovanni, the 414 spiralling steps of the extraordinary striped gothic bell tower, Campanile. Walk along the city's oldest bridge, Ponte Vecchio, and take in the colours and noise, the sweet gelato stalls and the view of The Arno river. Art is everywhere, in the rich street markets flogging leather bags and jackets, the paintings of the city laid out on the floor, even in the silky brown of my espresso. Then of course there's David, the most beautiful and mesmerizing man I've ever seen, and finally, made up of stunning whites, greens and pinks, the symbol of Florence itself, one of Europe's most unique cathedrals with it's celebrated dome; the Duomo.
Hardly ever involved in art myself, I left Rome in the morning and took the regional train North to this glorious open-air museum that is Florence. Far smaller than Rome and easier to navigate, I found delightful to simply wander. After obtaining my rather typical tourist shots of the city and stumbling back down the 400-odd steps of Giotto's Campanile, I rummaged my pockets for a cigarette. Just across the piazza, through the smoky haze of my exhale, I saw one man's small collection of handmade paintings and drawings, some just the size of a postcard. I slowly made my way across, although by this point in my travels, I had so little money my meals includes two tomato and basil salads a day- could I buy one of his delicate memento's to pin on my notice board or give to a friend, absolutely not.
He laid his tattered tool bag of pencils and sharpeners on the floor under his stool, lit a cigarette and came and stood beside me. "Ciao!" I turned to face him. He was handsome, mature- in his 40's. Spoke several languages, left his town in Russia to study in Florence when he was around my age. "You don't want one of these paintings," he asserted, "Let me draw you." Now, this particular spot was packed with street artists like him, all desperate to make a sale, and although I'd have loved a hilarious caricature of myself, I simply couldn't afford it. "No," he smiled, "If you don't already have plans, could you sit for me? I draw all day, I rarely get to talk."
He patted the stool opposite his and I figured why the hell not. I felt the other artists gaze over at me, as if in awe at how easily he managed to get me to sit down. "I make a lot from these portraits." he replied as he got a sheet of A3 paper and took out a pencil. "People like them. Especially the Germans." he looked up, winked at me, then dropped his eyes back to the paper and then onto my face. He studied me carefully and started to gently move his hand, creating soft lines that would soon resemble the natural frizz of my hair. "You like Italy?" he asked, eyes batting back and forth between me and the paper. I told him about teaching, where I've been so far, where I'm going after. Although he was listening, I liked that his mind was really elsewhere, deep in the process of his drawing.
Just then, a young boy and his father stood close by and my artist slid the paper of me by his side. "Would you like a picture of you?" he asked the smiley child. "How much?" his father asked. "€90." The father turned to the kid and asked him – in German- if he wanted to be drawn, and before I could even gasp the father handed over the cash and the boy sat down on another stool. I lit another cigarette and got comfortable.
The hour that followed I saw him draw several different people as we continued to chat about all kinds of things. He has to spend quite a lot to "reserve" this particular spot by the Duomo and bell tower, but it paid off he said. "Does it ever get boring?" I asked him, "Sometimes. So then I go for a walk around the city, have a beer, look around at the people, the buildings…suddenly it's not boring any more." He signed the bottom of the paper and wrote the date, then passed it over to me. "I love it!" I couldn't stop looking at it. It wasn't a caricature at all. I've never had anyone draw me before. "You really don't want any thing for it?" I asked. "No Sarah, come on, lets go for a beer."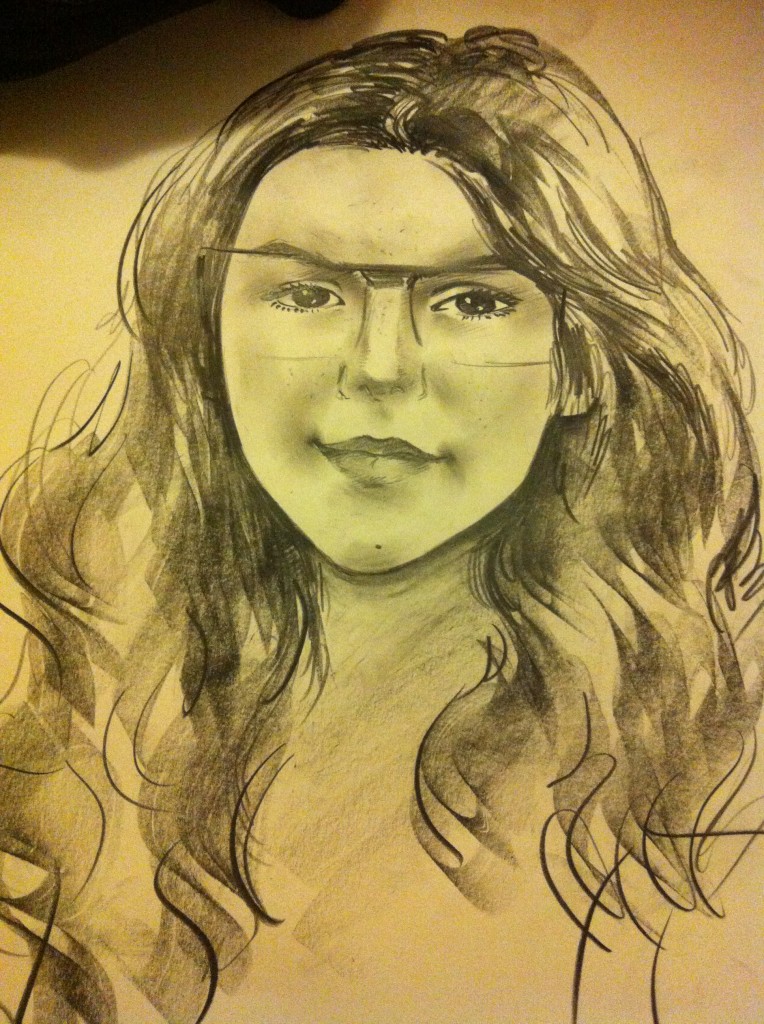 He tucked his tools back beneath the stool and then folded away his colourful display of paintings. He gave a quick nod goodbye to the several artists nearby and led me to a shop down one of the city's narrow cobbled side-streets to buy us two bottles of Birra Moretti.
Beer in hand, I followed him round a corner which led us to the Piazza della Signoria, where a copy of Michelangelo's David stands, just outside of the medieval Palazzo Vecchio. Dotted around were many café's; the sound of chatter, the clinking of cappuccino cups on the waiter's tray and dozens of tourists snapping away at the buildings and statues, and the square in general. We took to a bit of path perfectly shaded by the canopy attached to the cafe' next to it. Side by side we sat and sipped and quietly observed the scene before us. That's what I love about town squares; people from all walks of life coming together. People sit, or smoke, I see friends greeting cheek to cheek, travellers with heavy rucksacks, children chasing pigeons and lovers walking hand in hand. Twenty minutes or so later, he said "Well, I best get back to it," and we both stand up as I pat down my skirt. "Where is next?" He's looking into my eyes, not so he can draw them accurately, but as if to remember them. "I'm off to Venice tomorrow!", I tell him, "Ah, Venezia!" he smiled, "Sarah, enjoy every moment." He held out his hand and clasped mine in his, slowly lowering his head to give me a quick kiss on my cheek. I stood and watched him walk back up the street until he was out of sight. I imagined him returning to his spot, opening his displays and sharpening some pencils, until someone is lured to him and his colourful stool and he lets out an eccentric, "Ciao!".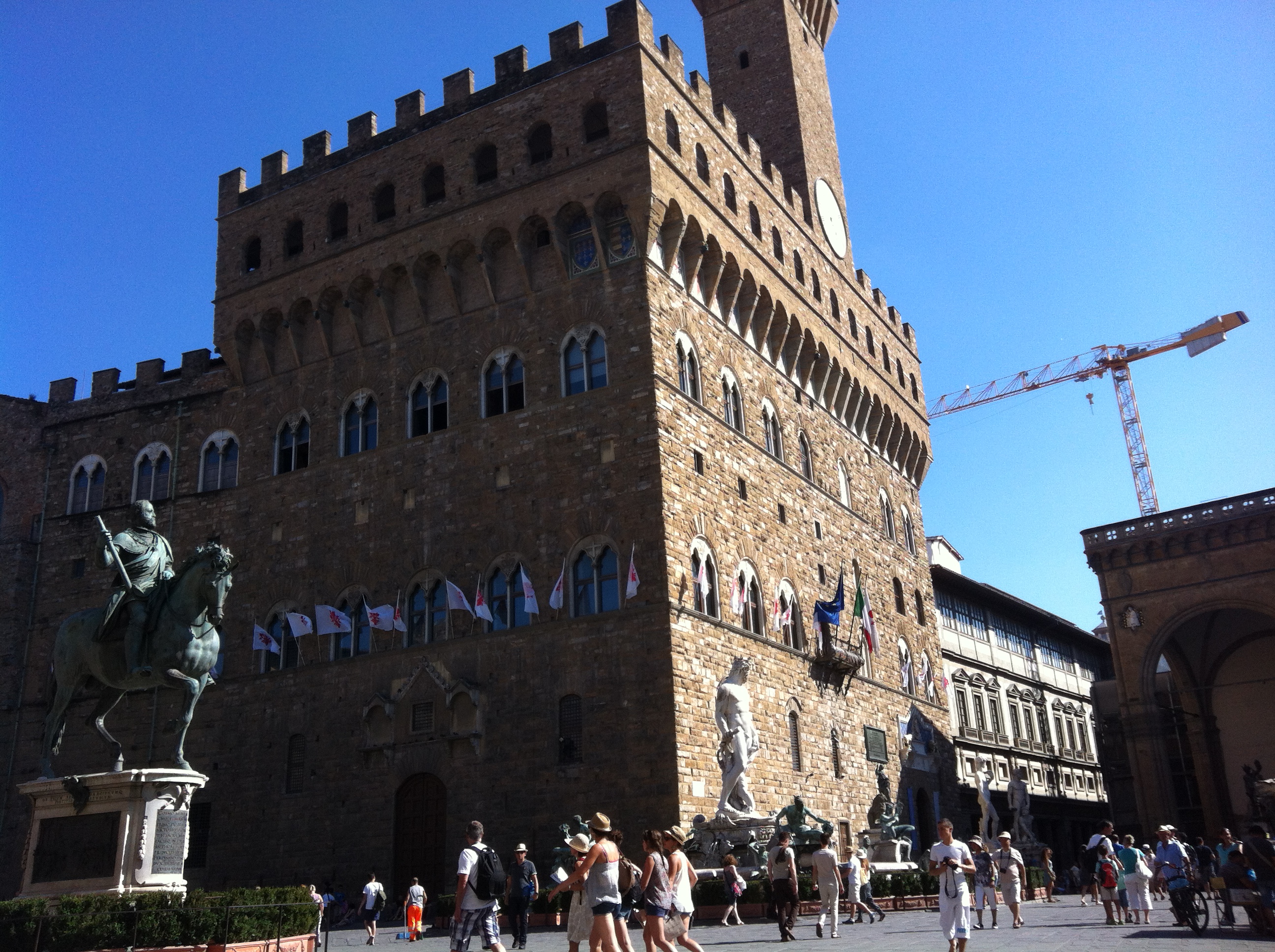 After exploring other bits of Florence and queuing up for the Galleria dell'Accademia to lay my eyes on David, it had gotten dark and I headed back to the hostel. When I got to the door, two blonde girls with flowers in their hair, probably in their 20's, laden with rucksacks and a guitar were stood leaning against the wall smoking a cigarette. They'd been ringing the buzzer for reception for the last half an hour. Been on the road for a few weeks, using money gained from busking. They were sisters from Germany. The younger of the two, Letta, was just 18- she was the one with the voice. The older sister, Kristin, was responsible for the two of them. She was the one who would make sure she had the keys and passports, somewhere to sleep and a plan B if it all went wrong. I opened the door and led them in and up the stairs. The guy must have fallen asleep, which is why he didn't hear the buzzer. He took them to the office to sort out their booking and I went to my room to shower. I shook off my flip flops and placed my guidebook to Italy on the bedside table.
About an hour later, the girls knocked on my door- "We're heading out for dinner, do you wanna come?" Awesome! I grabbed my bag and joined them back out into the vibrant city streets. Another hour passed with great chat, couple glasses of vino and our tongues tingling with the delicious tastes of Italy. As we settled the bill, Letta ran back to grab her guitar. We strolled around for 10 minutes or so until Letta was sure she'd found a good spot- she was always in charge of picking the spot- "Lets sit over here" called Kristin, and we sat on the steps of the Basilica di Santa Maria del Fiore, our backs to the three grand doors beautifully adorned with scenes of Saint Mary. Letta placed her hat on the ground in front of her and began ever so calmly to strum the guitar strings. She looked at her sister, smiled, then closed her eyes and began to sing. It was as if no-one else was there at all. Time stood still as I watched her, performing with such ease, her talent so natural and perfect it seemed a wonderful complement to Florence herself.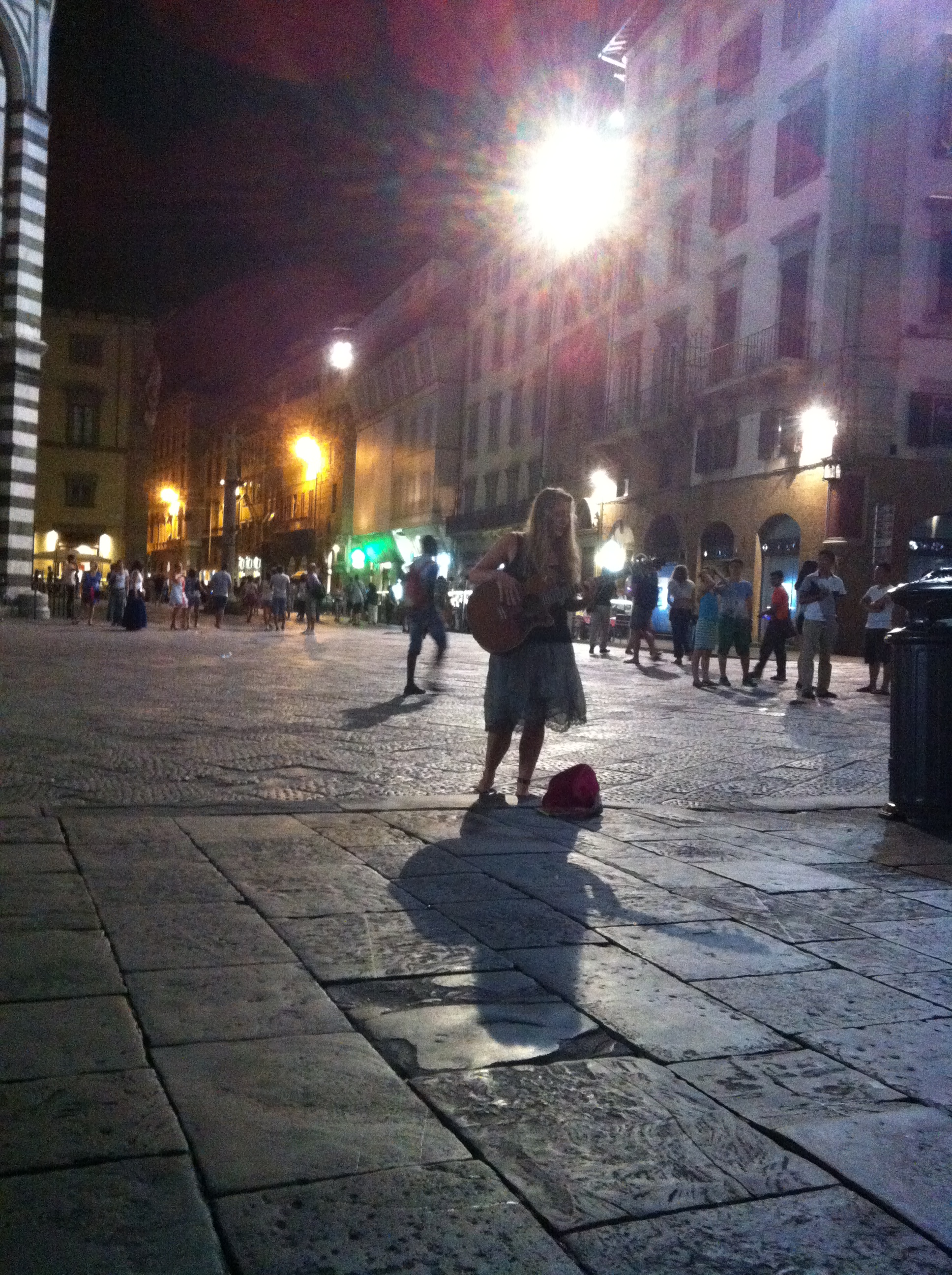 Florence in pictures